Hitchiner Manufacturing hires MY TURN graduates
Training program for unemployed and underemployed high school graduates produces results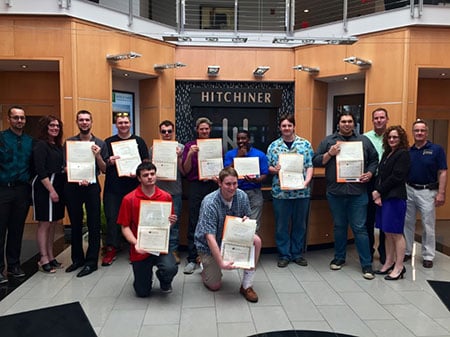 Nine students have completed the joint training program created by Hitchiner Manufacturing Co., the Manchester nonprofit MY TURN and Nashua Community College. All nine have been offered entry-level positions with the Milford manufacturer working in the metal cell, metal grinding and in the machine shop. Seven have accepted positions with Hitchiner while one student has accepted a position with the United States Postal Service and another at a boy scouts summer camp, with plans to return to Hitchiner in the fall.
The nine graduates accepted a certificate for manufacturing processes training on Thursday, June 1 for completing the four week program during a ceremony attended by DRED Commissioner Jeff Rose.
"It's awesome Hitchiner is making this kind of commitment," said Rose. "They're another example of a quality New Hampshire company that understands its workforce needs and makes an investment in them, as well as the community college. I congratulate MY TURN as well as an example of how a frontline agency can make a difference in the workforce. I can't tell you how proud I am of you," Rose told the graduates.
The four-week program consisted of soft skills training and basic training to prepare them for entry-level manufacturing positions — the two most common issues raised by manufacturers last summer during the kickoff of the Manufacturing Sector Partnership Initiative.
"The 10 students we broke into groups of 5, so we did classroom learning in the morning for one cohort and the other group was in the hands-on training cell and then they flip flopped," said MY TURN Executive Director Allison Joseph. "So we covered things like resume writing, cover letters, all of that basic work readiness and then we did how do you behave at work, communication, [and] we did a lot of financial literacy. For a lot of these guys it will be their first job."
The program took place entirely on Hitchiner's campus. The program also included speakers, such as from local banks, to talk to the students, and blueprint reading and shop math taught by Hitchiner's mechanical design technology professor.
The program also incorporated speakers, including bank representatives.
"It was definitely a partnership between Hitchiner, us and the college. It was all integrated," said Joseph.
Most of the students hired by Hitchiner will be going into the metal cell, where they will be performing visual inspection an burring.
MY TURN has been recruiting students through high schools, CTE centers and the state's work rehabilitation program. It currently has seven students identified for the next group, which will start in six to eight weeks, said Joseph. The class will be moved to a new building Hitchiner is working on that will provide a new classroom space and training cell.
The program has been funded by the Workforce Innovation and Opportunity Act through this fiscal year.
"As long as we can find the students and they have openings, we'll keep going," said Joseph.
Jonah Simmons, who recently accepted a job as a mail handler at the United States Postal Service, thought the program was helpful, providing lessons on general life skills. "It helped me understand how to focus more, how to money manage," said Simmons, who said he would also consider working for Hitchiner in the future.
When asked if there was a gap between what is taught in high school and what is necessary to know for the working world, Simmons and another student, Timothy Martin, overwhelmingly said yes.
"We don't learn as in high school as you do in this program. You don't learn how to manage money right, you don't learn how to buy a house correctly or rent or anything like that in high school, so with this program, it teaches you a lot more," said Martin, who will be taking on a role at Hitchiner. "Actually in high school the only things they provide you are basic needs. Here they prepare you for things you actually need."