Hidden Collective's online marketplace
New Hampshire-based team highlights 'undiscovered' makers of outdoor goods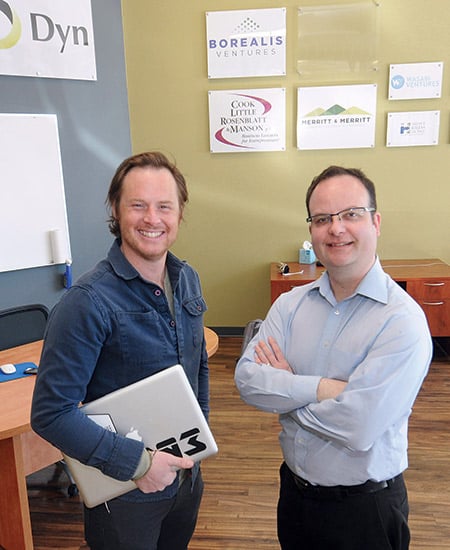 An avid outdoor sportsman, Tyler Matzke wanted to make it easier for consumers to find and buy unique outdoor recreational goods, often made by small-batch manufacturers.
"Coming from New Hampshire, I've always put a lot of value in small businesses," said Matzke. "My dad was a small businessman my whole life. I enjoy being connected to what I buy, and in outdoor retail I found there was a disconnect."
It was after meeting Dan Hanlon, a maker of custom longboard surfboards in Brentwood, that Matzke dove into extensive research to discover other hidden small businesses providing outdoor goods.
"It wasn't the board that got me, it was my connection to him," said Matzke. "I thought, 'This is awesome, to buy something locally made and have a connection with the owner'."
A year ago, Matzke and his team launched Hidden Collective, an online marketplace that features individual brands supplying unique outdoor goods and apparel, largely U.S.-made.
"It's been a valuable journey for us," said co-founder Todd Boucher. "When we launched Hidden Collective last March, we launched it with five makers in our marketplace and now we have over 70. That's been a great testament to the commitment of the makers and the value they see in creating this type of marketplace and community."
Hidden Collective lists products, provides background on them and features badges on the site to denote brands with locally sourced materials or that provide custom work.
The site also serves as a storytelling outlet for brands. Each brand has a page with information about the company and its philosophy that often includes pictures and videos of the product and those who make it.
"Because they are undiscovered makers, we focus on telling their story," said Boucher. "So the consumers that come to our site spend the time getting to know the people behind the brand and what their values are, and they can purchase products with who they feel aligns with their values, and we think that's powerful for the consumer."
Clif Bar partnered with Hidden Collective to give away custom-made products made by two brands featured on the site: Parlor Custom Skis and Deviation Ski & Snowboard Works. (Courtesy photo)
Instead of choosing an item off the shelf with no knowledge of how it was made, Hidden Collective consumers can see the time spent on many products, which are often made by hand.
"That's why we wanted to tell their stories in that way on the site. We're really proud of the storytelling piece of the storefront, and that's why we think it's unique. If you go to a retail store, you don't get to hear those stories behind the piece," he said.
A changing consumer
As Boucher noted, the appreciation of and interest in small businesses and locally made products has grown among consumers for other products, such as craft beers and locally grown farm produce.
"Culturally, I do think the Millennial generation is impacting the consumer market," said Boucher. "Their needs and preferences are changing. I think that's really positive when it involves supporting American-made products, supporting small businesses, those I think we can all agree are positive."
But it's not simply Millennials that desire these goods, said Boucher.
"People in the outdoor industry are interested in finding unique products, and I think the market has been dominated by large brands," he said. "People of all ages are looking for something that uniquely fits their preferences and is representative of their values."
"A lot of the brands we're working with are Millennials themselves, so I think that culture is around," said Matzke."But I think, in my heart, we need to brand out past them. They'll make us culturally relevant, and in the eyes of the Millennial I want to be cool, but I want to show the older generations the value there. It's not just the Millennial thing. The Millennials drive the push and it seems other people jump on."
Whoever exactly is Hidden Collective's consumer market, Clif Bar certainly wants to appeal to them.
The California-based family and employee-owned energy bar company reached out to Hidden Collective to partner on its "Fresh Tracks Giveaway" promotion.
After entering their information, contestants were instructed to follow Clif Bar and Hidden Collective on Instagram and share photos of their winter adventures, tagging Clif Bar or using the promo's hashtag. The winners — yet to be announced — will receive a custom pair of skis from Parlor Custom Skis or snowboard from Deviation Ski & Snowboard Works, both of which are brands featured on Hidden Collective.
"I think it shows the big brands see this trend coming down the line, and they're trying to align themselves with this trend anytime they can," said Matzke. "I think Clif Bar is trying to get back to the kitchen like they use to be, and we're a great vehicle for them to do that — to connect to the community they want to be a part of. And it's great for our makers. It's a great opportunity for these ski and snowboard manufacturers."
Gaining exposure
Operating as a team of five, Hidden Collective is one of nine startups currently in Alpha Loft's 14-week accelerator program Accelerate NH.
Hidden Collective's Tyler Matzke works with Alpha Loft's Josh Cyr and Mark Kaplan as part of the incubator's 14-week accelerator program. (Photo by Jodie Andruskevich)
In addition to connections to entrepreneurs, venture capitalists and angel investors, the startups are offered one-on-one mentoring, co-working space and weekly seminars. The program culminates with Demo Day, on May 23, when the startups will present their business and products to the Manchester community.
Matzke said the program provides both the positive reinforcement and pushback that a startup needs.
"They're good challengers in the best way you can think of," said Matzke. "And obviously the opportunities and doors they open is a whole 'nother thing. Everyone is so genuine behind it. They seem like they just want you to succeed, which is an awesome community to be a part of."
Hidden Collective wants to grow its customer base while continuing to build the number of brands featured on the online marketplace.
"That's really the focus of the first part of our program — refining who your customer segments are and finding them," said Joshua Cyr, director of education and acceleration at Alpha Loft. "So for Hidden Collective, they have two audience sets they have to be compelling to. One of those is vendors — the people who will be selling their product on their site — and they've done a great job of curating that. The other would be the buyer. That's where the improvement for growth is."
Dan Hanlon works on a longboard surfboard at his workshop in Brentwood. (Courtesy photo)
There are a lot of different ways to reach more customers, said Cyr.
"A traditional path that most businesses do is advertise — you pay to acquire customers through exposure. But there are also partnership channels, and they have a lot of partners already. How do you leverage them?"
While 2016 started off slowly, Hanlon, who sells his custom longboards on Hidden Collective, has seen an uptick in hits on his website through his brand page on Hidden Collective.
"I found it was also a good way to sell soft goods, things like T-shirts and hats and sweatshirts, because I work primarily out of my house, so I don't have a shop for people to stop by and window-shop, so it was good in that regard," said Hanlon.
Hidden Collective currently earns 15 percent off of each sale, which Matzke said is much smaller than the average retailer that can ask for 30 to 40 percent or higher, depending on the profit margin.
"It's really hard as a small manufacturer to beat out those big-budget brands all the time," said Hanlon, who readily admits he makes his boards out of his passion and not to pay the mortgage.
"But there's this group of people who if they knew you existed would give you that business. And I think Hidden Collective is giving us that voice — that there are lots of manufacturers of surfboards and soft goods right here in New Hampshire, but you never knew they existed."
Not until now.
Liisa Rajala can be reached at lrajala@nhbr.com.