Hernia mesh litigation mounts
Hundreds of lawsuits filed over NH-made medical product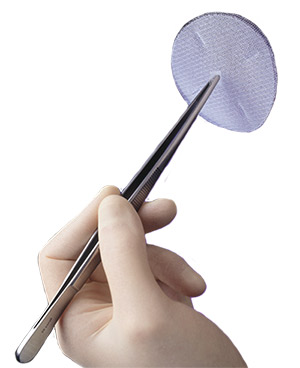 William Dalton of Hancock was 73 in December 2013, when doctors first attempted to patch the hernia in his belly. But the mesh curled up and failed, and he was back in June 2014 to get another one. Six weeks later, that mesh became infected.
For Nicole Young, a 34-year-old Charlotte, N.C., resident, the mesh was first implanted in August 2010 near her umbilical area. She complained of severe pain three years later but was only admitted to Mercy Hospital for surgery when the mesh protruded in June 2015. In September of that year, the rest of the mesh was removed, including a piece stuck to her bowel.
These are just two of similar allegations made by more than 435 federal and state plaintiffs in litigation filed in New Hampshire against Atrium Medical Corp., a medical device firm that employs 600 people in Merrimack. All of the lawsuits blame Atrium's C-QUR hernia mesh products, which are coated with fish oil derivative (an Omega 3 product similar to the nutritional supplement), the company's unique solution to adverse reactions.
The plaintiffs' attorneys allege that the fish oil is a large part of the problem, along with the plastic mesh itself, the way that is manufactured and the Federal Drug Administration's medical device approval process.
They also cite FDA documents, including a warning letter about human hair found in the product and a consent decree that halted mesh production at Atrium's former plant in Hudson.
Attorneys for Atrium — which was acquired by Getinge Group, a publicly traded Swedish firm, for $680 million in November 2011 — contended in court that the product is safe, that complications are often due to improper implantation by physicians, and that patients are more susceptible to infections because they tend to be obese and smoke too much.
Atrium declined to comment on pending litigation.
These meshes are a small part of Atrium's business, and the lawsuits it's facing are a small fraction of the number facing the entire medical mesh industry.
All told, there are 54,000 mesh cases pending, according to Avram Blair and Associates, one of the law firms that specializes in such litigations and that number has been reduced in recent years, after Endo International paid $830 million to settle 20,000 cases and C.R. Bard paid $319 million to settle 6,000 others, both in 2014. Johnson & Johnson paid $120 million in 2016 to settle 3,000 cases, but still faces 40,000 other lawsuits. But even those large numbers are small compared to the over 1 million hernia surgeries completed every year.
A hernia occurs when part of an organ is displaced and protrudes through a weak spot in a cavity wall. Once doctors just stitched that weak spot up, but that solution was not permanent, so in the 1960s they started repairing it with mesh, like what you might use to patch a large hole in drywall, only instead of using a joint compound to fill the tiny spaces in the mesh, tissue naturally grows into them.
However, the body may reject the foreign substance and infections can develop. Manufacturers tried to coat the plastic (usually polypropylene), but that could create problems too, since the coating substance didn't stay on long enough or caused irritation.
There was essentially no FDA oversight over these and other changes because of a 1976 law that allows devices to go on the market though a 90-day premarket notification called a 510(k) if it could be deemed "substantially equivalent" to a product already on the market.
The Institute of Medicine, in a 2011 report requested by the FDA, called the process — which does not require any human trials — to be fatally flawed, but the FDA rejected those findings.
Adverse incidents
Atrium Medical was founded in 1981 by Nashua inventor Steve Herweck. It didn't start researching hernia mesh until 2003, and the FDA approved its first mesh three years later. It had developed and marketed other products, including vascular grafts and balloon expandable covered stents, which first used the fish oil.
The company grew quickly from $67 million in sales in 2004 to $200 million in 2011, according to Getinge Group's report to shareholders when it announced it was buying the company.
At that time, Atrium's biosurgery unit (primarily meshes) accounted for 15 percent of sales (or $30 million) making it the fourth best selling mesh provider (in units) in a $300 million market, Getinge said. The company was a "fast-growing emerging player" in the mesh business.
That's because in August 2010, Atrium announced a three-year national contract with Premiere, a Charlotte firm that supplied 2,300 hospitals and 68,000 other health care sites.
Getinge got into supplying products for surgical procedures in the United States when it acquired Maquet Cardiovascular, based in Wayne, N.J., in 2000. It was Maquet — which had about $1 billion in revenue — that actually bought Atrium. Since Atrium was privately held at the time, it is unknown who received how much of the more $680 million sale price. Herweck — who was listed on the patent of one of the meshes in 2007 — was no longer CEO. It was Trevor Carlton, president since 2005, who announced the sale. Carlton would stay with the company until May 2015.
Herweck and Carlton did not respond to requests for comment.
(None of the lawsuits name former executives or owners of the firm, but they do name Getinge and Maquet. That could be because Getinge, with nearly $3.5 billion in annual sales, has much deeper pockets and allegedly acquired Atrium's liabilities, a point the company contests in a court filing.)
It was shortly after the acquisition when problems with the meshes began.
In August 2012, the second of 33 adverse incident was reported, a patient died when an infected mesh contributed to a small bowel obstruction.
Two months later, following an inspection resulting in citations at the Hudson plant, the FDA issued a warning letter about the company's sterilization procedures and failure to investigate complaints.
The letter cited "35 confirmed instances of hair being found in your sterile medical devices" and that investigators noted that line workers' hair was not contained in their hats.
Several studies by medical journals pointed to poor performances. In December 2012, an article in the British Journal of Surgery reported that 15 out of 16 rats with Atrium mesh implants developed infections.
Then in July 2013, 145,000 mesh products were recalled to reissue instructions that coating adhered to the packaging during high humidity. An FDA inspection in October 2013 issued nine more citations.
On Feb. 4, 2015, the U.S. District Court in New Hampshire issued a consent decree with the FDA, which enjoined the company from "manufacturing, processing, packing, labeling and distributing any device" at the Hudson plant — except for "medically necessary" devices shipped overseas — until the company showed that it had corrected various deficiencies verified by regular third-party audits. It also fined the company $12 million.
'Compliance gap'
The decree also required audits should Atrium operate at another plant, since the company had announced in 2012 it planned to move to Merrimack. The company did make the move in May 2017, releasing it of medical necessity certification on certain products, the company said in an update following the consent decree.
According to the update, there were audits of the Hudson facility in April 2015, and the following month in Merrimack. The auditors found "some observations indicative of a compliance gap" in both places. The Hudson problems would be fixed by the first quarter of 2016, and in Merrimack the correctives actions were implemented, the company said. NH Business Review could not obtain any information from the FDA or Atrium on subsequent third-party audits required by the decree.
But on July 13, 2016, the FDA conducted an inspection and listed another nine citations, several having to do with not investigating complaints, the lack of procedures for corrective action and routine maintenance of equipment.
Jonathan Orent, the Providence, R.I., attorney who is heading the plaintiffs class action, told NH Business Review the FDA violations "are directly related to the lawsuit."
"The manner and method in how they were produced resulted them in being unsuitable for human implantation," he said.
'Breeding ground'
In May 2016, federal suits began appearing in U.S. District Court in Concord. There were so many plaintiffs (now more than 335) that in December 2016 Judge Landya B. McCafferty set up a "short form complaint" to go along with what would become a 53-page consolidated long form complaint filed in April 2017.
That complaint charged Atrium mesh products caused an "unreasonable risk of severe adverse reactions." The fish oil didn't prevent problems, it charged. Instead, it created "an ideal breeding ground for bacteria."
When it degrades, there are alleged problems with the underlying polypropylene mesh, which can adhere to the organ. In addition, Atrium allegedly misled physicians, misrepresented clinical studies and though it "stealth-recalled" some types of mesh by halting production, there was no formal recall from the market, even though the company had been notified of "catastrophic complications."
The state cases were first filed in Hillsborough Superior Court in Nashua in March 2013 and were consolidated last year. Now totaling nearly 100 plaintiffs, the company had already provided discovery releases totaling a third of a million pages.
The company has denied most of the allegations both at the state and federal levels.
In the Oct. 27, 2017 "science day" hearing (during which both sides lay out their version of the case) in front of both McCafferty and Superior Court Judge Charles Temple, Atrium's attorney Rebecca Ocariz said that fish oil "reduces the inflammatory response that occurs around the wound," and that "the rates of occurrence with these known complications with C-QUR products was no greater than reported complication rates associated with other hernia repairs."
She added, "It's also the defendant's position that proper surgical technique and proper fixation is critical to aid against mesh migration or mesh contraction."
As for infection, the most common mesh to fail among the plaintiffs involved open surgery, which takes longer and increases the risk of infection. Surgeons' use of drains can also be a pathway for infections.
Finally, of the 56 patient-plaintiffs questioned so far, 60 percent are smokers and 31 percent are obese, both factors that increase infections risk, she said.
Ocariz did concede one point: Atrium never tested these product in humans, just rats and rabbits.
The federal trial is scheduled for November 2018.