He keeps on truckin'
These days are 'very, very long' for one of NH's remaining canteen truck drivers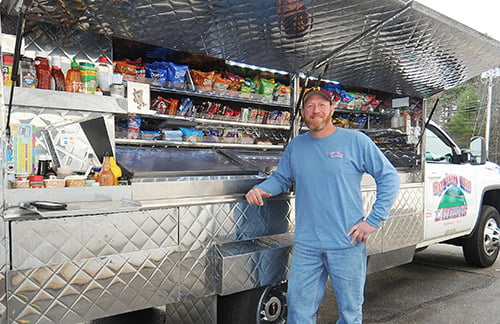 For Matt Reddig, Mondays start about 3:30 a.m. so he can travel to Massachusetts to get supplies. It ends more than 12 hours later, which is fine because he usually gets to sleep in until about 4 a.m. the next day.
"I call it adult recess," he said.
Long before the current food truck craze, the Hudson resident bought his first route nearly three decades ago. He worked as manager of a local gas station in town, often talking with the owner of the local canteen truck and sometimes going along on the routes.
"Back in those days, we'd sell fireworks off the lunch truck," he said.
From there, his holdings in the lunch truck business in the Hudson area grew. He bought the standard lunchtime routes, as well as night and weekend routes.
"I wanted another challenge, that's what it was," he said.
His most recent purchase has been a route that runs throughout Hooksett. The previous canteen truck driver in town – Paul Maurais – retired in August after nearly 50 years on the job.
"They loved Paul," he said, of his new customers. "It was just like Santa saying good-bye."
So far, the welcome on the new route has been warm, Reddig said. And though, overall, he said his customer base is loyal, Reddig has noticed a societal shift in the recent years.
When he first got into the business, Reddig estimates that there were around 10 trucks within a 20- to 30-mile radius of each other. But now, he said, there's fewer than two dozen in the entire state.
"We're kind of a dying breed," he said.
Canteen truck driver Matt Reddig, of Hudson, bought his first route nearly three decades ago. His most recent route runs through out Hooksett, where he provides food ranging from salads and fruit cups to pizza. (Photo by Jodie Andruskevich)
But extinction of the business isn't what Reddig predicts will happen in the future – rather he sees adaption.
The future: food trucks
Instead of one truck offering a buffet of choices, Reddig predicts the business will shift toward more specialized food trucks, such as there are in larger cities like Boston. There are dozens that travel throughout the city, selling food like cookies, cupcakes, Asian cuisine, burgers, tacos – pretty much anything you can think of.
It's a change that some communities in the state are working to address. In September, the Portsmouth City Council discussed the idea of allowing more food trucks in the city.
"There's interest in just looking at our food truck program, especially in light of the success Dover has had recently with seeing a lot more food trucks downtown," said Councilor Rebecca Perkins, during the meetings.
But some city officials have some hesitations, though.
Mayor Jack Blalock also cited concerns about the competitive strain this might have on local restaurants.
"One of the difficulties of the food truck is where is it appropriate for a food truck to park where it's not having unfair competition to somebody who's actually bought a piece of property or is paying a high rent in the downtown district?" he said.
And while Councilor Chris Dwyer acknowledged the success the neighboring city of Dover has had with food trucks, she said she's not sure if the two communities are in the same boat when it comes to the need for food trucks.
Nick Lastrina and Meghan Evans operate The Endless Slider Food Truck out of Hampton. Nearby, Portsmouth Mayor Jack Blalock has voiced concerns about the competitive strain food trucks might have on local restaurants. (Photo by Portsmouth Herald)
"One reason we're different from Dover is because they need places to eat," she said.
She did say, however, that she's seen other cities throughout the U.S., like Portland, Maine, and Austin, Texas, where food trucks congregate in vacant lots that people can either walk or drive to. This could be an alternative for city officials to consider, she said.
"It really adds value, so I wonder if we're off-track with the ordinance we have," she said.
City staff are looking into the idea and are expected to put forth a recommendation over the coming months.
Keeping creative
Although this sort of change has posed a challenge, Reddig said he has continued to work hard. As has always been his focus, he said he continues to drive his decision-making based on what his customers want and are asking for.
"We have to be creative because, like everything, people want more," he said.
There have been instances where he's stocked a drink on his truck that only one person has bought, he said. He's added healthier options – salads, grilled chicken, fruit cups – as well as some hearty classics like pizza, boneless pork tenderloin and American chop suey.
"People have a lot more options than they used to have," he said. "People are more health-conscious than they used to be."
Despite these changes, Reddig has maintained one important aspect of his business: since he started working, he's missed few days on the job.
Rain, snow or sunshine, he's behind the wheel of his pickup truck, driving throughout his areas.
"I enjoy my customers. I enjoy making them happy," he said. "All the hours are worth it in that respect. I like doing my job."