Hassan joins effort to expand employee ownership
Senator helps introduce measures to boost ESOPs and worker co-ops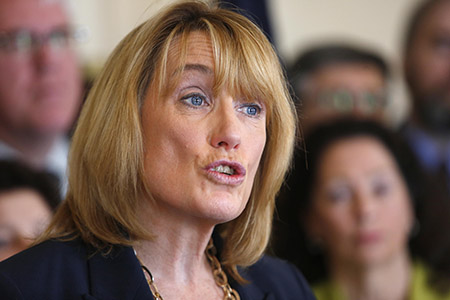 U.S. Sen. Maggie Hassan has joined with three other Northeast senators in introducing legislation aimed at encouraging and expanding the number of employee-owned companies.
Hassan, along with Senators Bernie Sanders, I-Vt., Patrick Leahy, D-Vt. and Kirsten Gillibrand, D-N.Y., in introducing both the WORK Act and the U.S. Employee Ownership Bank Act.
The WORK Act would provide more than $45 million in funding to states to establish and expand employee ownership centers, which would provide training and technical support for programs promoting employee ownership. (The WORK is also being introduced by Sen. Sherrod Brown, D-Ohio.)
The U.S. Employee Ownership Bank Act would create a U.S. Employee Ownership Bank to provide $500 million in low-interest rate loans and other financial assistance to help workers purchase businesses through an employee stock ownership plan or a worker-owned cooperative.
"Studies have shown that employee-owned companies have more productive workers, better working conditions, and greater shareholder returns," said Hassan.
She pointed to a Rutgers University study that found employee ownership boosts company productivity by 4 percent, shareholder returns by 2 percent and profits by 14 percent. Nationally, there are already nearly 10,000 employee-owned businesses which employ roughly 10 million people. New Hampshire has several employee-owned firms – companies that Hassan referred to as "innovative" – including Hypertherm in Hanover, Cirtronics in Milford, Littleton Coin in Littleton, Felton Brush in Londonderry, Normandeau Associates in Bedford and the Upper Valley Press in North Haverhill, among dozens of others.