Guitar hero
New Boston firm's Ridgewing may be the future of electric guitars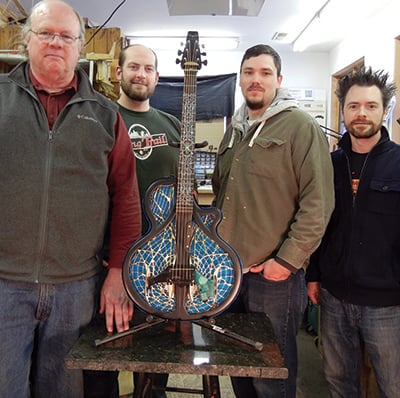 Imagine designing a guitar. The traditional method could take months, perhaps years. But a new guitar design created by a small shop in New Boston could make the process more accessible to music dreamers around the world.
Say hello to the future of guitars: the Ridgewing. It's an electric guitar with interchangeable modules that can instantly be broken down into five pieces for easy travel. Critical to the guitar is its carbon fiber grillwork soundboard, which gives it a professional quality acoustic sound despite lack of an acoustic body.
The concept may be new, but Tim White has been fine-tuning it for more than 30 years.
Having apprenticed as a luthier — a fancy word for a maker of string instruments — after college, White studied acoustics and psychoacoustics. He came up with the idea in 1981 and developed a very early and bulky prototype the following year.
Pursuing an engineering career and raising a family, White revisited the concept in the late 1990s, after selling his company, Northeast Robotics.
In 2000, he finished the Chrysalis guitar, with a modular design and carbon fiber grill-membrane soundboard design that mimicked a dragonfly wing. The guitar got the attention of Guitar Maker magazine and became a favorite of 1981 National Fingerpicking Guitarist Champion Harvey Reid. The Museum of Fine Arts in Boston even added one of the prototypes to its collection, commissioned a composer to create a piece for it, and made a high-quality studio recording of the piece for its archives.
Open-source design
Still, White sought other materials to further develop the guitar. At a technical meet-up in Cambridge in 2012, White met Arjun Mendhi, a student at MIT's Sloan School of Business, who asked to develop a business plan for White's product for an assignment. White was impressed with the plan, and so he and Mendhi teamed up to rebrand and redesign the guitar as Ridgewing.
About a year ago, White hired an electrical engineer and two industrial design engineers, and self-funded the development of the newly redesigned guitar.
"As of December, we shipped our first instrument with the new design," White told NH Business Review. Since then they've shipped four more, one with an aluminum body sent to a heavy metal guitar player they met at the high-profile Austin-based festival South by Southwest, in March. Londonderry-based NU-Cast constructed the aluminum body.
The Ridgewing easily breaks down into five pieces for easy travel.
All Ridgewing orders are currently custom jobs, since the process takes 150 to 200 hours of labor to build one. The most time-consuming aspect of the guitar are the carbon fiber body halves, which are laid out by hand in molds with an epoxy used in boatbuilding.
Nearly as interesting as the guitar is White's concept for manufacturing it.
Previously White considered manufacturing all of the components himself, but after seeing the response to the guitar at different events, he plans to open-source the design to encourage skilled guitar enthusiasts and manufacturers to make different components for the guitar that would be sold through Ridgewing's online store.
"There's a phenomenon with our process, we call it 'you could.' People immediately start saying 'oh you could do this' or 'you could do that' … Their imaginations are on fire, and a lot of the suggestions are really good. We're a small shop, but there's a lot of really good design talent out there," says White.
Unique features
He thinks the concept — precision modularity — will enable a new kind of relationship between musicians and their instrument, especially as 3-D printers develop, allowing more access to customization.
There already is a customer in Australia who is working on a new self-tuning headstock for the instrument, and White is working with New Hampshire guitar maker Bill Daly, in Brookline, NH, on a new neck and body design.
"I've been sharing the design data, but to make the model really work we need proper licensing agreements," says White, who has patented the design. He said he's currently looking for investors to propel the company forward on this endeavor.
"It's a whole new way of purchasing and experiencing a guitar. You can buy a head stock from one guy and a neck from another guy and body from somewhere else," says White. "If you like the combination, that's good, if not you can frequently change it to some other place, substitute another component. Some people like a thin neck, some people like a fat neck."
Ridgewing itself already has unique features, like the self-tuning headstock that uses motorized machine heads to tune the strings in seconds, and a LED light show in the guitar body that is wirelessly controlled by a mobile app, using Bluetooth LE. White threw out the possibility of a concert where the guitarist's Ridgewing beats red in rhythm to his own heartbeat or the crowd's, by connecting to health tracker bands.
With no major innovations since the guitar went electric, 50 years ago, White envisions a grand future for the Ridgewing, especially among the maker movement.
"The guitar market worldwide is a billion-dollar market, with 40 percent [of it] in the U.S.," says White. "It doesn't take much of that to make a very handsome business."
Liisa Rajala can be reached at lrajala@nhbr.com.