Grid exec sees risks in gas, renewables reliance
Energy mix viewed as vulnerable to supply adequacy, weather conditions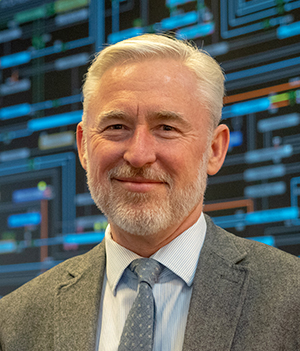 New England's growing reliance on natural gas and renewable power comes with a risk that demand for energy in the region could outpace available supplies.
So says Gordon van Welie, CEO of ISO-New England, the organization that operates the regional electricity grid, in a "State of the Grid" conference call.
While van Welie insisted that the energy infrastructure is a "strong foundation," he did say it is vulnerable, since natural gas — the cornerstone of the region's energy supply — is susceptible to price spikes and shortages because of winter weather, and renewables like solar and wind are also affected by weather conditions.
Lower prices have made natural gas-fired electricity fuel less costly than the energy produced by generating facilities that can store their fuel on-site — nuclear-, oil- and coal-fired plants — and because of that they are "retiring in greater numbers and they are being replaced by more natural gas-fired power plants and renewable resources.
The new resource mix is cleaner but it is
also dependent on the weather or timely natural gas deliveries."
For example, New England had eight nuclear power plants in 1990, making up 25 percent of the region's power capacity, but today there are three that make up 13 percent of the overall generation capacity, although they generate 30 percent of the electricity, he said.
'Incrementally more concerned'
He stressed that the region "has enough capacity," but added that "the concern is whether there will be enough fuel for all those power plants to generate electricity, whether their fuel is oil, natural gas, wind or sun."
This winter's weather "has been relatively mild," he said — and the region's natural gas supply has been adequate. "What is a concern is to see how the market will perform when we had a winter like last year, when it was cold for two weeks."
In fact, he said, he is "incrementally more concerned" about the adequacy of natural gas supply, thanks to what he sees as a continued need for added pipeline capacity. And new capacity is something he doesn't expect will happen.
"We don't think we're going to see any significant pipeline expansion into the region," van Welie said. "We have to make do with what we have."
In the coming years, van Welie sees wind power as taking on a greater role in the region's energy supply. In fact, it now accounts for about two-thirds of the new energy resources preparing to connect to the ISO-NE grid, he said.
But, he warned: "While they will bring benefits, the evolving resource mix will also intensify risks that there will not be enough energy to meet demands during the winter. The risk of insufficient energy is likely to expand to other times of year as well."
He pointed out that energy conservation programs and the rise of renewable installations in the region — mostly rooftop solar — have eased demand for electricity in recent years, but that could change in the next decade as demand for electricity increases as more electric vehicles appear and charging stations come online.
Van Welie also expressed surprise that, even though they are eager to reduce greenhouse gases, none of the states in the region has set up a carbon-pricing scheme.
"Establishing a realistic price on carbon would be an elegant and simpler way to achieve clean-energy goals through the markets without distortion," he said.
Jeff Feingold can be reached at jfeingold@nhbr.com.