Grants help NH businesses provide support for new mothers
Deadline for second round of $5,000 grants is Jan. 18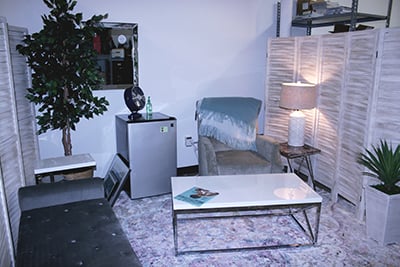 Following a successful round of grants that aided 10 New Hampshire businesses in constructing private rooms for new mothers, a new round of grants has become available to small businesses that apply by 5 p.m. on Friday, Jan. 18.
"We've been awarded funds [from the Center for Disease Control and Prevention] to give grants of $5,000 to 10 worksites to help develop a policy and provide a space with breast pumps, educational materials and technical support for new mothers," says Keene State Associate Professor Meg Henning, who is conducting the project with her colleague, Amanda Hickey, both members of Keene State's Public Health faculty.
The two professors are working in cooperation with the NH Department of Health and Human Services following a pilot round of grants awarded in the spring of 2018 that resulted in lactation rooms at Manchester Community College and McLean Communications, the parent company of NH Business Review.
"The grant allows flexibility in how it enables workplaces to accommodate new mothers," says Henning. Some worksites may install sinks for washing breast pumping equipment ("I wouldn't want to eat in the bathroom so we don't want to breast pump in the bathroom," says Henning), while others may just include a fridge for breast milk and a private place to pump.
Break time for breastfeeding or pumping is required by federal law as of 2011, noted Henning, but providing a private space for doing so has not come easy to small businesses. The CDC grant aims to alleviate that barrier as well as support the Surgeon General's call in 2011 to support breastfeeding.
While 79.6 percent of infants in New Hampshire are initially breastfed, that figure drops to 54.8 percent at six months of age, below the national target of 60.6 percent, set by the federal Office of Disease Prevention and Health Promotion.
Studies show businesses that have a proactive lactation policy benefit in many ways. According to the U.S. Surgeon General and several health organizations, breastfeeding protects babies from infections and illnesses that include ear infections, diarrhea and pneumonia, decreasing the number of sick days taken by both parents.
Mutual of Omaha found that healthcare costs are three times lower for babies whose mothers participate in their company's maternity and lactation program, with a yearly savings of $115,881 in healthcare claims for the breastfeeding mothers and babies. And Mutual of Omaha's lactation support program led to a retention rate of 83 percent of their maternity workforce compared to the national average of only 59 percent.
Henning says high breastfeeding initiation rates show that most mothers in the U.S. want to breastfeed and are trying to do so, but lack the support of their employer, family members and healthcare providers.
Employers that are not proactive in assisting the adaptation of mothers to their new roles risk losing out on a significant portion of the workforce.
According to the U.S. Bureau of Labor Statistics, 55 percent of women with children under the age of three are employed. And an April 2018 report by the National Retail Federation noted millennials, born between 1981 and 1994, are parents to 50 percent of today's children. (More than 1 million millennial women become new mothers each year.)
One of those mothers is Aimee Tucker, digital editor at Yankee Magazine, the parent company of McLean Communications (whose office Tucker often utilizes).
"As a breastfeeding new mom back at work, I honestly need all the help I can get in making that awkward and time-consuming task a little easier," says Tucker. "Having a separate room where I can pump without the fear of someone walking in on me is already a huge plus, but the fact that the room is super comfortable, quiet, and comes with its own private mini-fridge for storage truly makes a difference when it's time to pump."
"If we want younger workers, we have to make our workplace appeal to younger workers," summarizes Henning.
Applications are encouraged from businesses with 100 employees or fewer. For more information, contact Amanda Hickey at amanda.hickey@keene.edu or 603-358-2868.