Granite State Future faces outspoken opposition
To supporters, statewide planning effort presents a unique opportunity; to opponents, it's Agenda 21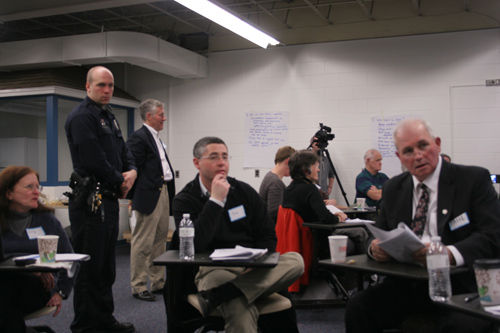 Is A Granite State Future — a year-old statewide planning project currently being carried out by New Hampshire's nine regional planning commissions — actually a plot by the federal government to eventually take private property in New Hampshire?
That's the viewpoint of some activists in the state who have attended meetings about Granite State Future around New Hampshire to voice their many issues with the project.
The opponents, many associated with the tea party, have a slew of concerns with the statewide planning project, which they say is a top-down federal program that has its roots in a decades-old United Nations sustainability plan called Agenda 21.
"I've been tracking it since September 2012. The more layers I peel back on it, the scarier it gets," said Tim Carter, co-leader of the Lakes Region Tea Party, who has arguably emerged as Granite State Future's most vocal opponent.
A Meredith resident, he has not just attended most of the Granite State Future listening workshops around the state, but has videotaped them as well. In fact, a cursory YouTube search turns up dozens of videos from Granite State Future meetings in various communities all over the state — including meetings in Rochester, which, along with Salem, opted out of participation in the Granite State Future process altogether.
The very vocal opposition from certain members of the community has been somewhat surprising for all of the regional planning commissions, said Kerrie Diers, executive director of the Nashua Regional Planning Commission, which has taken the lead on Granite State Future.
"It wasn't something that we anticipated," she said. "From our perspective, we're doing the work we've been doing for the last 50 years. That's why we're sort of puzzled why folks are so anti-planning, and honestly, I don't know where they make the UN connection — that's sort of a leap that just isn't there."
At the core of the opposition to Granite State Future is its funding source: a multimillion-dollar grant from the federal government. Skeptics of Granite State Future see the money as something nefarious that ties New Hampshire's future to the whims of the federal government.
"If there's money, there's strings attached always with the federal government, and that's just the way it is," said Lisa Gravel, a Manchester postal carrier who attended an April listening session on Granite State Future at Manchester Community College. "That's how the federal government works."
The planners and people behind Granite State Future say that the grant is just that — a grant, which allows them to fulfill their missions by gaining as much public input into the planning process as possible.
Advisory plans
In 1969, the state Legislature enacted a law that formed regional planning commissions across the state. There are nine such commissions, and just over 90 percent of New Hampshire municipalities are members of one.
The nonprofit planning commissions are mandated to perform two tasks: to develop regional master plans and regional housing needs assessments.
The regional plans, which must be updated every five years, cover topics like transportation, economic development and land use, among others, and help municipalities pool resources and work collaboratively with others in their region.
The commissions don't have statutory authority, meaning that the regional plans they develop do not have to be implemented by communities.
"These plans are advisory only — what communities do or do not do is up to them," said David Preece, executive director of the Southern New Hampshire Planning Commission, which includes 14 towns and the city of Manchester.
In November 2011, after a previous application had failed, the U.S. Department of Housing and Urban Development announced that the Nashua Regional Planning Commission would receive a $3.37 million Sustainable Communities Regional Planning Grant. The grant would be administered by the Nashua commission and split up among the state's nine regional planning commissions so each could develop regional plans.
For the commissions, Diers said the grant presented a unique opportunity: allowing each to develop their regional master plans — which they are required by state law to do anyway — and then bring them together to develop the first statewide planning snapshot of its kind. It would allow communities to integrate planning across sectors and to replicate successful projects.
A lot of communities are now approaching the master plan process by looking at just one aspect of planning at a time — housing, say, or transportation. "It's expensive to do all at once," said Diers.
So with the HUD grant, "there's a funding opportunity to do the job and do it really, really well and there's an opportunity for us here to take a look and all do it simultaneously," she said.
The grant became the Granite State Future initiative that, according to an article last spring in The Granite State Planner, makes it possible for New Hampshire communities to "achieve economic vitality" and "protect the natural resources, character and rural landscapes that are so important to New Hampshire."
A range of state agencies, nonprofits and academic institutions — including UNH Cooperative Extension, the Community Development Finance Authority and the New Hampshire Charitable Foundation, among several others — are providing technical assistance and support for the three-year project.
During the project's first year, and now into its second, the commissions have been holding listening sessions in towns and cities around the state to discuss with citizens their visions for the future of their communities and New Hampshire.
The plan, said Preece, is "to do it from the bottom up — working with the community, working with the residents, working with the businesses, because in order to have an effective plan, you've got to have a plan that's embraced by the people who are going to be implementing it."
April meeting
For opponents like Carter, some of the meetings have often become an opportunity to debate the merits of Granite State Future itself.
At an April evening listening session at Manchester Community College, Preece stood before a room of about 22 citizen attendees, thanking them for coming out to the three-hour public session. A police officer perched on a stool near the entrance.
The attendees were split up into three groups, each led by a neutral facilitator from NH Listens, an initiative of UNH's Carsey Institute that works as a convener for various groups. All of the small-group participants were handed a 22-page discussion guide, which outlined five broad discussion topics about New Hampshire that would be discussed that night: demographic changes; land use; housing and transportation; the natural environment; and community and economic vitality. Each section was given statistics on these topics, from the average size of New Hampshire farms to the statewide median rental housing cost.
Over the next hour and a half, the discussion in Group B touched on topics as broad as Manchester's growing refugee population, the state's loss of its young people to out-migration, and the under-utilization of Manchester's public transportation. The facilitator wrote down all comments on a large notepad, and once the small-group discussions were over, the group members chose three "final priorities" that had emerged from the discussion to present to the larger group.
Presenting for his small group was Carter, who had propped a digital camera on a small tripod to record the meeting. During his brief presentation, he said that Granite State Future is Agenda 21 being implemented in New Hampshire.
"My ultimate goal by attending all these meetings," he later told NHBR, "is to bring awareness that Granite State Future is simply Agenda 21, and that it's the last thing that any reasonable New Hampshire citizen would want."
Agenda 21 is a non-binding United Nations action plan on sustainable development that emerged in 1992 from a climate change summit in Rio de Janeiro. The U.S. was a signatory, but the plan was never ratified by the Senate. Still, it has become a favorite target of some conservative activists — and some liberals too — who say it is being stealthily implemented around the country.
Those opposed to Agenda 21 say that the plan, with its talk of sustainable development, environmental protection and walkable communities, is ultimately a plot by the government to take back and conserve private property.
"If you look at the hardcore Agenda 21 principles, the people who are really hardcore, they eventually want the population to be in these urban centers," said Carter. "They want the areas outside the urban centers to be off-limits to humans because they feel the humans are harming them."
Alabama and Missouri have passed laws banning the implementation of Agenda 21 in those states. The conservative media personality Glenn Beck has written a dystopian novel about it, and featured a prominent front-page story about it in his magazine last year.
The topic has also arisen in New Hampshire before. A proposed project in Dover, to designate a portion of Route 108 a scenic byway with funds from the U.S. Department of Transportation, drew outspoken critics from Dover and around the state who saw Agenda 21 in the project. It was ultimately voted down by city councilors.
And last year, four state representatives filed legislation to establish a committee to study implementation of Agenda 21 in New Hampshire. The bill was found inexpedient to legislate.
Preece said that he had heard about some of this protestation in other states before Granite State Future was launched.
"We had received word that this was going on in other states where this grant was going on, and the destructive and divisive manner that it was creating on the planning board and planning commissions," he said. "It's very unfortunate that this is happening, because they're using misinformation and scare tactics to throw this whole process off."
One of Carter's concerns with Granite State Future — and he has many — is that he believes that HUD has mandatory federal outcomes that will need to be implemented in each town that signs on to the project, pointing to language in the grant instrument signed by Diers.
But at a meeting earlier this year in Rochester, Greg Carson, the U.S. Housing and Urban Development field office specialist for New Hampshire, said that HUD does not dictate any of the content in the regional plans, and just makes sure the plans are completed and the department gets value for its money. Basically, he said, "We're going to do contract administration."
Diers said there are no mandated outcomes for the plans, and that "they're cherry-picking form contractual language."
Another of Carter's claims is that NH Listens uses the Delphi Technique, a meeting method developed by the Rand Corporation in the 1950s that he said is "completely unethical." He also charged that the listening sessions are just for show and that participants are guided to predetermined conclusions.
"They already know what the want everybody to say and they do that by that handout. That handout you received is completely filled with all types of biased discussion points and they drive the discussion," he said. "In other words, we couldn't discuss what we wanted to talk about, because the facilitators in each cell always tried to keep you on topic, on their topic."
Neither of claims is true, said Michele Holt-Shannon, associate director of NH Listens, which is facilitating the listening sessions. In her 20 years of facilitating, she said she had never heard of the Delphi Technique before she heard about it from Carter, and that NH Listens does not employ it.
"I'm still not even sure what it is exactly," she said. The sessions are formatted as they are because small groups of eight to 12 are an "ideal size" to ensure everybody's voice is heard, she said, and all discussion points are recorded and will be used to inform the drafting of the regional plans.
Conspiracy theory?
After the Manchester meeting, Lisa Gravel, the postal carrier, said she remained skeptical of Granite State Future and its funding source, but felt that she had been listened to at the meeting.
"I thought we were going to be guided a lot more in an agenda, and I didn't see that within our group. I did feel like the facilitator was just that — she wasn't guiding the discussion, she was probing to find out what we really thought, so that I was pleasantly surprised with."
As to whether there is a large groundswell of opposition to Granite State Future, Holt-Shannon was quick to stress that it is a small number of people who are coming out to these meetings in opposition to the project. "It's the same faces," she said.
"The opposition has been very specific, and from very specific groups," she said. "In our work in general, and I just think with public life these days, it is very natural for people to come out to public conversations wondering, 'Does somebody have an agenda? Is this going to be fair? Are people going to take my feedback?' That's just part and parcel of our work," she said. "I think the thing that surprised us was the accusations that are not accurate or particularly well informed."
Carter, however, said that opposition to Agenda 21 is not a partisan issue — it's just an issue that "most people are totally unaware of."
Carter has been so vocal an opponent that he actually held a debate about Granite State Future in early April with Carson of HUD, which he said was well attended with about 50 people in the audience.
At the debate, which is available on YouTube, Carson stressed his conservative chops — he was a New Hampshire Republican state representative and an early sponsor of a right-to-work bill more than 20 years ago — and that he was speaking as a citizen, not as a representative from HUD. He explained the Sustainable Communities initiative as "basically the philosophy that as we consume natural resources, as we populate areas, that we should do some planning in advance to try and mitigate the impact on resources like water, pollution, air pollution, land pollution."
He also warned against putting too much stock in Agenda 21.
"We've got a lot more things that we need to worry about than what might be a conspiracy theory, because we've got actual issues in the state here today," he said during the debate.
Carter disputed the conspiracy theory characterization, and said it's a tactic used by proponents of the project to dismiss valid arguments.
"When you want to defeat your opponent, when you want to win, you make your opponent look bad, you marginalize that person, you make that person look very different, you make them look crazy," Carter told NHBR. "That's just one of their talking points –- 'These are just conspiracy theorists."