Governor signs N.H. business corporation law rewrite
It's the first major rewrite in two decades of New Hampshire's corporation law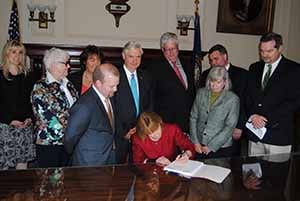 Lost in the legislative hoopla over the budget, Medicaid and medical marijuana was an update of New Hampshire's business corporation laws, an act that passed both houses on unanimous roll call votes and was signed into law Thursday by Gov. Maggie Hassan.
It is the first major rewrite in two decades of New Hampshire's corporation law and a top priority of the Business and Industry Association of New Hampshire.
Senate Bill 41 comes on the heels of a major rewrite of the state's LLC law, and like that law, it is very technical and lengthy (169 pages), but backers insist that it simplifies and clarifies things – and it will help attract companies from other states.
"New Hampshire used to be at a disadvantage when it comes to incorporation," said BIA Vice President David Juvet. "This law changes everything. We will be as up-to-date as any state in the country, and it will be useful for that small family held corporation that we seek to encourage."
For instance, the law would allow the electronic delivery of documents to the Secretary of State's office, allows shareholders to attend shareholder meetings by phone (or, perhaps, Skype), and generally makes it easier for out of state corporations to domicile here.
The latter provisions mean that, for instance, Massachusetts corporations will be able to incorporate in the Granite State without going through as many hoops, and take advantage of the state's filing fees, which are about a fifth the amount charged by our neighbor to the south.
Just because a corporation domiciles in New Hampshire doesn't mean it will relocate here or buy or lease real estate, hire local people or pay state business taxes. (Just take a look of how many companies incorporate in Delaware without ever setting foot in the state.) But Juvet said that corporate lawyers notice this kind of thing, and it is another way of promoting the state as business-friendly.
While there is no evidence that when a company electronically files its corporate information that it will peruse the state's economic development websites, or think of New Hampshire more when it wants to expand or relocate, "but it is a likely result," said Juvet.
Besides, the law will help those businesses that are already incorporated here in many little ways, he said.
For instance, the law used to be unclear about when a board of directors had to have a say on the sale of assets. The directors no longer have to depend on broad legal terms like "substantial."
The rewrite "draws a bright red line," in the words of Pat Clossen of the Manchester-based law firm of McLane, Graf, Raulerson and Middleton, who chaired the BIA committee that worked on updating the act. Now the board act is directed to act a sale leaves a corporation with a quarter of its current assets or sales, said Clossen.
The new law also has a long section on dissenters' rights. The BIA, in one op-ed article published in various newspapers, said that it "allows the corporation to set the terms of any option or limit a shareholder's right to dissent" – a claim that raised a few eyebrows. But Clossen said that most of the related are technical and are in keeping with existing case law.
The new law does – at the request of the Secretary of State's office – give dissenters more of an opportunity to get lists of fellow shareholders so they would be able to contact them, a key point in many a proxy battle. Currently, challengers must ask a corporation for the list of shareholders or challenge them for that list in Superior Court. Under the new law, they can plead their case at the Secretary of State's office or the state's business court.
Not that this is a big issue for most New Hampshire corporations.
"In most cases, a shareholder knows where the other shareholders are," Clossen said. "Often, it is on the other side of the bed."