Google, Facebook ad markets heat up
eMarketer forecasts substantial gains in social media advertising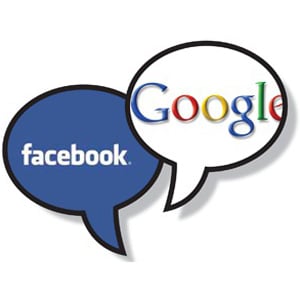 While Google will maintain its dominance — with 33 percent of the worldwide digital ad market — Facebook is growing substantially as a digital advertiser. This year, eMarketer expects Facebook will generate $36.29 billion in net digital ad revenue, up 35 percent over last year, with 16.2 percent share of the worldwide digital ad market.
That gap gets a little closer when it comes to mobile advertising. Google remains on top, with 35.1 percent of worldwide market share, but eMarketer expects Facebook to grab 22.6 percent of the mobile ad market share this year, increasing its mobile ad revenue by 42.1 percent to $31.94 billion.
This growth could partially be attributed to the increasing number of members on Facebook and the time they spend on social media.
American adults will spend an average of 24 minutes per day on Facebook, 18 of them on a mobile device and 6 minutes on desktops and laptops.
eMarketer expects Facebook's users to increase by 7.9 percent worldwide, with a total of 1.44 billion people with a profile. About 1.25 billion people will access their Facebook account via a mobile phone this year, up 10.2 percent over last year.
And Instagram, owned by Facebook, will reach 77 million users in the U.S., a jump of 12.5 percent over last year, projects the research firm. This year, Instagram will make up 20 percent of Facebook's U.S. mobile revenue, up from 15 percent last year.
"Advertisers continue to report positive results from their ads on Facebook, but they remain concerned about things like fake news and the measurement glitches that Facebook has revealed," said eMarketer Principal Analyst Debra Aho Williamson in a press release. "How the company addresses these and other concerns will be a key factor that determines whether revenue growth continues as strongly in the next few quarters and years as it has in the recent past.
Despite Facebook's significant growth, Google will likely remain ahead due to search advertising.
"Google's dominance in search, especially mobile search, is largely coming from the growing tendency of consumers to turn to their smartphones to look up everything from the details of a product to directions," said eMarketer forecasting analyst Monica Peart in a separate press release. "Google and mobile search as a whole will continue to benefit from this behavioral shift."