GM dealership in Milford to shutter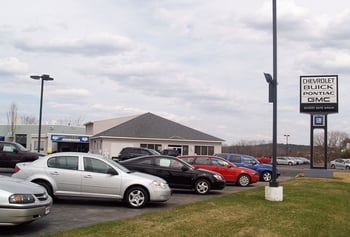 MILFORD – The General Motors auto dealership in Milford has notified its customers that it will go out of business within the next 30 to 60 days.
Robert LaJoie, manager of Accent Auto Group, sent an e-mail to customers Friday saying his company's franchise agreement with General Motors Corp. terminated as of April 9.
The dealership, which stretches over three acres at 419 Elm St., sells Chevrolet, Pontiac, Buick and Saab vehicles.
LaJoie declined to comment, but Susan Garontakos, a GM spokeswoman in Detroit, said the closing must represent a voluntary termination of Accent's franchise agreement with GM.
GM does not close franchises, she said, and for a dealership to close it must submit a letter of termination.
General Motors had a total of 36 dealerships in New Hampshire at the end of March, she said, and a total of 6,177 in the United States.
"We were down 198 dealers in the first quarter," she said, "but some (of the loss) could be due to consolidations."
According to Peter McNamara, president of the New Hampshire Automobile Dealers Association, 14 auto dealerships have closed in this state over the past 14 months.
The former Talarico dealership has long been a part of Milford history.It was founded in 1961 by Ralph and Audrey Talarico when they bought Roscoe Coburn's Flying A Gas Station and Pontiac Dealership, located where Milano's Pizza is now.
They moved to the property across from Hendrix Wire & Cable in 1972, and in 1977 Stephen Talarico took it over from his parents.
In 1985, Stephen built the current facility, and in the early 1990s, in the midst of a recession, he expanded to five dealerships with about 120 employees.
The Talarico Dealerships were the Souhegan Valley Chamber of Commerce Business of the Year in 1997.
Then in 2007 Talarico sold the company to LaJoie, who added Saabs along with the traditional line of GM products.
Accent now has about 20 employees, according to a former employee.
This year LaJoie conveyed a 50 percent interest in his property to a Nashua-based holding company, AAG Holdings LLC of Nashua.
The property is assessed at $1.93 million.
In the e-mail message to customers, LaJoie said the company can no longer do any warranty service work, but warranties still in effect will be honored at other General Motors or Saab dealers and copies of any documentation pertaining to vehicles purchased from Accent will be provided upon written request.