George Bald: dogged, cautious and 'a nice guy'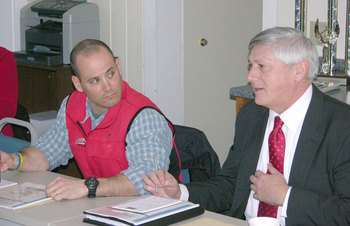 George Bald spent nearly half a day getting to this meeting — up about 4 a.m., then out the door of his Somersworth home of 32 years and then the 3-1/2-hour drive north to Colebrook. He arrived early enough in town to stop for a quick breakfast at Howard's Restaurant, where he got the local news. None of it was good.
From there, he walked a short distance down Colebrook's beleaguered Main Street to a meeting of community social service providers who get together regularly to better coordinate their services to the 250 laid-off workers from the local furniture factory. There are no ribbons to cut, official announcements to make or any fanfare to speak of — not even a pot of coffee. He chats quietly to an older man. They move back and forth between French, Bald's first language, and English. Then the meeting begins, and one of state government's most powerful bureaucrats listens intently as each of the two dozen people provides a lengthy update.
Finally, it's his turn.
"Change is hard," he says in hushed voice full of precision and purpose, like the machinist he once was. "We must stay focused. The efforts we make now will pay off."
For George Bald, who was reappointed March 10 to a third four-year term as Commissioner of the Department of Resources and Economic Development, these words define not only his philosophy, but also his climb from a machine shop in Somersworth to near the top of state government in Concord.
Beneath the quiet, cautious and unassuming manner is a determined government official, who while being on the public payroll for 35 years, has never forgotten his humble roots and the importance of a job to a middle-class family.
Machinist to mayor
Born in Biddeford, Maine, and raised in Somersworth, Bald grew up in a working-class family where only French was spoken at home. He learned English in the afternoons at Catholic schools. After high school, he joined the Navy and was trained in his father's profession.
After four years in the service, Bald returned home to Somersworth and got a job at a machine shop, working at what he called "an honorable profession."
He gradually found himself pulled to local politics, and in 1976, in a bold move the 24-year-old registered Democrat bypassed a primary challenge against the city's incumbent Democratic mayor and ran as an independent. To the surprise of many, Bald won a quarter of the vote in a three-way race.
Two years later, he ran again, but this time as a Democrat, and his persistence was rewarded. He became, at 27, Somersworth's youngest mayor.
In those days, the mayor's position was a full-time job with the power to run the municipality, including hiring all employees.
Bald remembers arriving at City Hall on his first day and just sitting in his office wondering what to do next. Then the phone rang, and before he knew it he was handling one problem after another.
Despite his success in expanding two industrial parks and instituting a popular children's festival, the mild-mannered Bald was best known for his annual antics on behalf of the American Cancer Society's "Great American Smoke Out" campaigns.
It started as private wager with a friend, who challenged Bald to quit his 2-1/2-pack-a-day habit, for three months or ride down Main Street sitting backwards on a donkey. Word of the bet spread throughout the city and ultimately garnered a lot of attention, but Bald won and still to this day doesn't dare touch a cigarette.
In time, he became the campaign's state chairman and publicly challenged prominent politicians to kick the habit and if they won — as they often did — Bald would have to pay up with another outrageous stunt..
'That was all George'
In 1982, the 30-year-old Bald was ready to move up, so he decided to challenge the Senate vice president, Louis Bergeron, in the Democratic primary. He waged an aggressive, expensive campaign and, after a recount, beat the conservative senator in the primary.
But his victory was short-lived. Bergeron won enough write-in votes to become the Republican nominee and defeated Bald in the general election by 50 votes out of 11,000 cast. Shortly, thereafter the "sore loser" law was enacted, prohibiting a defeated candidate from simultaneously winning a write-in spot on the ballot.
A year later, Bergeron resigned his seat, and Bald ran again in a special election. His Republican opponent was a political newcomer, Ed Dupont.
"We took our shots at each other, but civility was there," said Dupont — now one of Concord's most powerful lobbyists. Dupont prevailed by 134 votes and eventually became Senate president.
With the loss, Bald said, "the heck with elected office" and turned his attention toward more stable opportunities in municipal government.
Shortly thereafter, came an offer from Rochester's Republican mayor, Dick Green, to become that city's first economic development director. But before the deal was completed, Green wanted to check with Dupont, who also was a city councilor.
The former political foe embraced the appointment, and Bald went about selling Rochester as a great place to grow a business.
Bald transformed Rochester by attracting businesses, like Cabletron Systems, to the city. "That" Dupont said, "Was all George."
After a few years of racking up accolades in Rochester, he began to think of making a move.
When a mid-level business recruitment position opened up at DRED, he applied, but despite solid credentials and a good interview, he didn't get the job. The reason given was that he didn't have a college degree.
At that point, he said, he had two choices: "I could whine about it or get a degree." He went to school nights and weekends and eventually graduated from Granite State College in 1991 at the age of 40.
After a decade in Rochester, including the last year as interim town manager, Bald moved to become executive director of the Pease International Tradeport in 1994, just three years after the former Air Force base was closed.
Bald has been widely credited with spearheading what has become one of the nation's most successful redevelopments of a military base, but he is quick to share the glory.
"I get far more credit than I deserve," he said.
If credentials locked him out of DRED, politics let him in. With the election of Jeanne Shaheen in 1996, the state had its first Democratic governor in 18 years. Bald's wife, Candy Small, a schoolteacher and veteran political operative with close ties to Shaheen, became a top gubernatorial aide handling political appointments.
After a year, Small returned to the classroom, but in the spring of 1998, Shaheen appointed Bald to lead the Division of Economic Development with the plan that he would move up after Commissioner Robb Thomson's term expired.
DRED days
Most of Bald's predecessors were prominent politicians or business executives with established management styles that were more authoritarian and hierarchical. Bald, who had never managed more than a few employees, took a more hands-on approach, nearly to the point of being a micromanager.
His former employees give him universal praise, saying that he worked shoulder-to-shoulder with them and gave them rare autonomy and, most importantly, respect.
"He grew up in a very small shop," said Stuart Arnett, a former director of economic development who served under Bald. "He's as dogged as any person I've ever met. Not a chain-of-command guy. It's not like him to pass (a problem) off."
Rich McLeod, who formerly ran the Division of Parks during Bald's early years, called him the "best commissioner I dealt with in 30 years."
Nowhere is this management philosophy more evident than in the way Bald has managed the state parks system, which has been plagued with money and management problems.
New Hampshire is the only state that requires its parks to be self-funded. Last year, after a scathing audit embarrassed the state-owned Cannon Mountain ski area, Bald took full responsibility, even though some proponents and underlings wanted to challenge some of audit's findings. He knew that was a no-win situation.
Instead, Bald instituted several controls to ensure the problems would not recur, and the story was done, not dragged out.
Likewise, when a proposal several months ago to prioritize the state's park system turned into a debate about selling some of the parks, Bald quickly pulled the plan.
"We were losing focus," he said, "It would have been worse to keep going." Recently, a new proposal was introduced that has been met with little opposition.
Some have criticized Bald for his lack of creativity and bold initiatives. Yet his proudest achievement was convincing the Legislature to add a new state park — at Lake Umbagog — to a system that many thought was already overstressed.
McLeod had tried to persuade three previous DRED commissioners to advocate purchasing a campground on the lake. Bald saw the value in the park from a conservation as well as financial perspective. McLeod also said Bald gave him unprecedented access to the Legislature and afterward, credit for the accomplishment. The park today is one of the few that consistently earns a profit.
Arnett said much of Bald's work is impossible to measure because he anticipates or fixes problems in the early stages before they implode.
Governors, especially Shaheen and John Lynch — both of whom share his cautious streak — have come to rely on him and have added more programs to his diverse department.
"He's a go-to commissioner," said Republican Executive Councilor Ray Burton.
According to Dupont, Bald is effective for many reason, but "It helps to be a nice guy."
It is his work in economic development and business recruitment for which Bald is best known.
"Recruiting, next to fishing, is his love," said Arnett.
It is also equally elusive, with little money or resources to attract businesses and a poor economy.
"It's a tough job," said former Republican Executive Councilor Peter Spaulding. "All you can do is glad-hand and hand out state maps."
But Bald has demonstrated an abundance of energy in this area. He regularly travels the state, preferring to do business in person rather than over the phone or with other more impersonal technologies.
Guy Santagate, Claremont's city manager, credits Bald for much of his city's rebirth.
"He made calls (to prospective businesses) and came to meetings," he said. "It wasn't hit or miss."
Santagate said Bald was even inspirational during Claremont's darkest days, recalling Bald's often-used mantra, "Attitude is more important than water and sewer."
Berlin Mayor Paul Grenier praised Bald for saving hundreds of jobs when one of the city's pulp-and-paper mills fell into bankruptcy. Bald personally brokered a deal between the city and the prospective purchaser over back taxes.
"He almost single-handedly pulled off the sale of the mills," said Grenier.
Bald has an almost religious fervor when it comes to economic development, one that is rooted in his background.
"A company that creates jobs has an impact on people and their family." He said, "Whether the jobs pay $100,000 a year or $10 an hour, it helps a family. This helps me focus."