GE Aviation announces $22 billion in aerospace deals
Growth in commercial and military markets increases production at Hooksett plant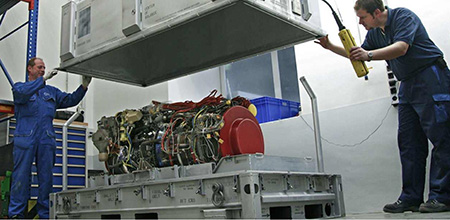 GE Aviation and CFM International, a company of GE and Safran Aircraft Engines, announced they have received more than $22 billion in orders and commitments for jet engines, avionics, services and digital offerings at the Farnborough Air Show outside of London last week.
The deals will have a direct impact on production at GE Aviation's plant in Hooksett, NH.
"What was really good is it was across all engine lines – wide body, narrow body and regional jets," said Brandon Wagner, executive plant leader at Hooksett Plant. "Here in Hooksett, we make products for all of these engine platforms. We're on every commercial and military platform, so when you see all of these sales, it directly comes back to us."
Engine orders and commitments included more than 850 CFM LEAP and CFM56 engines, 250 CF34 engines, close to 100 GE90-115B engines and almost 50 GEnx engines, according to a press release from GE.
In preparation for an increase in orders, GE invested $50 million to expand its Hooksett facility by 65,000 square feet in 2016. The Hooksett plant employs nearly 900 people, with additional hires of up to 125 people expected this year and another 75 hires expected in 2019.
"It is an awesome time to be in the aerospace industry and it's an awesome time to be in GE aviation because we have amazing products and amazing people," said Wagner. "Yearly, we add anywhere from $8 to $12 sometimes up to $15 million of new equipment to support not only the growth, but also the manufacturing technology needed to make the parts with the highest quality on time with the best price and keeping our employees safe."
In a recently released report, the market consultancy Deloitte noted global aerospace and defense sector revenues grew by 2.7 percent to reach $685.6 billion in 2017.
"Commercial aviation, from 2017 to 2036, is gonna be a six trillion dollar industry," said Wagner. Boeing anticipates 41,000 new airplanes from 2017 to 2036, he said.
And the U.S. military is preparing for significant upgrades, including upgrading the 414 engine that goes into the Super Hornet and a new engine for the B52. GE is also awaiting the military's decision on which engine deal it will select for the Black Hawk Helicopter. GE has been the sole engine manufacturer for the helicopter for over 50 years.
Anytime there is an uptick in military growth, the Hooksett plant experiences an uptick in production.
"We make parts for every military engine GE makes … our volume's up 36 percent this year over last year, and it will be up another 15-20 percent next year," said Wagner.
"The LEAP engine is going through a massive ramp right now; it's the fastest ramp in the history of aviation," said Wagner. "The LEAP-1B, which goes to Boeing, we're making 20 engines a week – that's going to be 36 engines a week by the end of next year."
Increased production also means more work for suppliers, many of which GE has in the New England area, with a few in New Hampshire, including Titeflex Aerospace in Laconia.