Game Assembly, SNHU bolster gaming talent in Manchester
Video game incubator foresees promising industry growth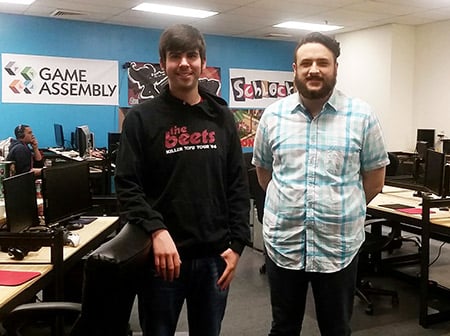 Nearly two years since it opened its doors at 1117 Elm St., Game Assembly – the video game incubator in Manchester – is becoming more prominent as it develops connections within the community.
Just turn into the building entrance near the Bridge Café and at the end of the hall you'll see the coworking space utilized by about 15 regular game developers and hobbyists.
"It seems like the space is becoming more and more associated with [Southern New Hampshire University]," says co-founder Neal Laurenza, who says graduates have been leaving the university and working for companies housed in the incubator or starting their own.
"We have a couple graduates that are going to be staying in the Manchester area – one's from Vermont, one's from New York – and they want to stay here and try to make their own games, which is exciting, so we're providing them that space," says Laurenza.
Over the past year, the incubator's other original co-founder, David Carrigg, has become a full-time instructor at SNHU.
"I graduated from SNHU," says Laurenza, "[local game developer] Patrick [Ryan] graduated from SNHU all of the guys from [my company] Skymap Games are SNHU graduates. SNHU is where the action is happening right now, so we're finding we're more associated with them than ever."
SNHU offers a major in game programming and major in game art. Laurenza is an adjunct professor at his alma mater.
"What I find helpful about teaching – for one thing it keeps my skills strong because the students always have good questions, sometimes I have to do additional research," says Laurenza. He is always on the outlook for students interested in working on projects outside of class.
"We want them to make games they will release and sell. That's our whole goal is to make better products. So if we can get them in here and work on their projects, and get advice or mentorship from other members of the space, that's kind of a win-win," he says.
Creating a viable video game can take six months, a year, or longer.
A team of students from SNHU is wrapping up a virtual reality game that has taken a year.
Ryan is working on a series of small games that will be sold in groupings, allowing him to add as time goes on. Laurenza's Skymap Games is working on a video game called Bacon Man, which is in its fourth year.
"It depends on what it is you're trying to make, the scope and scale, what are the graphics, how many people are working on it, but realistically, if a student wanted to, if they had a little bit of guidance, I think they can get something knocked out in six months," says Laurenza.
Often SNHU students will apply for internship positions with companies housed in the incubator. Ryan currently has an intern working on art for one of his games. Applicants must submit a portfolio and resume that demonstrate skills such as 3-D modeling, textures, unwrapping, animation and other required skills.
When a game is finished, there are a few traditional pathways to go about selling it.
On April 18, Ryan's game, Schlocks, will be released early access on Steam, a computer gaming distribution platform. Mobile gaming developers sell their games on Google Play for Android devices and Apple's App Store, the latter of which is more restrictive. However, selling a game via a video game console, such as Xbox or PlayStation presents the highest barrier to entry.
"They're more stringent in their requirements for bug testing," explains Laurenza. "If you release on PC, you can pretty quickly and easily patch your product, just over the Internet, but if you're releasing on console, they don't like it when you patch too often. They want to make sure you're good to go."
That's why Skymap Games will release Bacon Man via Steam first, as a precaution to ensure they can fix any bugs that crop up – that their Kickstarter backers haven't found – before releasing the console version.
"There's been a democratization of game development, especially lately with tools becoming cheaper and more readily available," says Laurenza. "So really anyone can get started making video games, I think the problem becomes, well a few problems: if you're just a programmer, your game's not necessarily going to look super good – though I've seen programmers make cool art too – if you're an artist you may have problems getting functionality."
There are four core areas to developing a video game, says Laurenza: design, art, business and programming.
"I don't think you need all of those areas to be successful, I just think if you have that help in each of those areas it can increase your chances of success," he says.
Game Assembly also hosts the Independence Game Developers Association, though often it holds the event at Alpha Loft, which has a larger space. The group just hit its 300th member. A typical meeting draws a crowd of 40. The local IGDA chapter has attracted sponsors such as the Alexander Technology Group, an employment services firm.
"Part of the problem is we have people graduating from places like SNHU and they want to keep working on games, but they don't want to leave the area and they don't have the means of being able to stay," explains Laurenza. "So Alexander Technology Group is matching them up with jobs in the area, working on applications or IT."
Laurenza and Ryan are both focused on expanding the gaming industry in Manchester.
"I would like to see more experienced talent come up to the area, that's one of the things we're looking to do is bring existing companies to the area, so we can provide the connection between these new graduate sand the expertise of already existing developers," says Ryan, who is also an administrator at Game Assembly. "But there's definitely a lot of good content coming from SNHU for art and now with Dave [Carrigg] taking the programming leadership role over there, their programmers are going to become a lot better over the next year or so."
While Laurenza admits Boston is "a sexy place to be," the expenses and traffic are removing some of the shine.
Laurenza himself commutes to Manchester everyday from Methuen, Mass. He chose Manchester because it was the halfway point for the Skymap team – half of which live in northern Massachusetts and the other half in Bedford, N.H.
"I think New Hampshire is a good place to start a game company because there is an untapped talent pool at SNHU and because it is less expensive to live here than in places like Boston," he says. "The flip side is you're not in an area where there's lots of access to lots of other people working on these projects. The game industry is small. So people coming here, they're taking more of a risk, but I think, as the community grows, to be in this early is a really exciting prospect."