From Big Apple to Queen City
NYC firm picks Manchester as its new home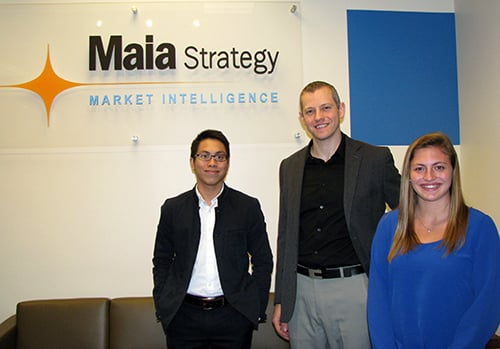 There was no tax incentive for Maia Strategy to move its headquarters from New York City to Manchester, NH, but there were plenty of other factors.
"The context begins with our business model from a human resource perspective – before we opened up in New Hampshire – and that was to hire more people that had experience in the research and consulting services that we offer," President and CEO Neil Sikder told NH Business Review. "We did that for a great many years, but now we were getting to a firm of 12 or so people, and at this point, as the head of the firm, I realized you can't continue to manage an office with everyone working remotely; you can't build a culture."
It was time to move on from the small headquarters Maia Strategy occupied since 2003, so Sikder started his search last year for a more centralized location to expand the market intelligence and strategy consulting firm that services Fortune 500 and Fortune 1000 companies.
He was looking for a city near a substantial concentration of his remote workers, with airport accessibility that enabled him to easily visit the office a few times a month, and to attract young talent from nearby universities.
With the largest concentration of workers in New England, Maia Strategy considered Burlington, Vt., and Portland, Maine, but settled on Manchester.
"Manchester has a culture about it that is more business-friendly than some of the other locations we were looking at," said Vice President Chris LeGrand, who leads the Manchester office. "Even the difference in how far out of their way some of the state and city folks like Michael Skelton [president and CEO of the Greater Manchester Chamber of Commerce] and Mike Bergeron [senior business development manager for the state Department of Resources and Economic Development] went for a very small company, to help us be successful here was phenomenal. That was something that was very unique and exciting for us."
Capacity to grow
Manchester's proximity to Boston, a hub of professional services, is also important, said LeGrand, not only for Maia Strategy to attract clients but also provide opportunities for future employees whose spouses may be seeking work.
Maia Strategy worked with Dan Scanlon at Colliers International to find office space on Elm Street, with capacity to grow. Opening the office in August, three new employees have joined the firm: a graduate of the University of New Hampshire and another from Saint Anselm College and a part-time accountant and bookkeeper.
"We didn't have the infrastructure to hire young professionals right out of college because we didn't have a critical mass of people in one place," said Sikder. Now employees who live in Vermont and Maine commute to Manchester a couple of days a week while LeGrand and a few others work in the office throughout the week.
"Just as we started to lay the groundwork for the office, we also worked on training modules that are based on every aspect of what we do in the business," said LeGrand.
The two-week training course, designed by all of Maia Strategy's employees, covers everything from how to act as a professional to specific skillsets in conducting interviews with experts, said LeGrand. New employees also gain skills through mentors, sitting in on client calls and attending meetings, which "bridge the gap between the hypothetical stuff you see in the training modules to how this looks in real life," he said.
Maia Strategy also looks for their feedback on the trainings and what areas could be improved.
"As part of our culture, everybody's got good ideas. And just because you're new doesn't mean you don't have insight that the rest of us could learn from," explained LeGrand.
"As good as technology is, human interaction is ultimately necessary," especially for entry-level employees, said Sikder. Later on in their careers, employees may gain the right to work remotely, once they have the experience.
Recruiting plans
By working remotely, "you don't really understand how to conduct yourself in a professional work environment, and I think you can only gather that from working with people who have," he said. "You're not going to be able to develop professionally, you're not going to be able to maximize your skillset and contribute significant value to a company – that's why you need to have a place for people to get trained and to learn, and that's partly what the office has been built for."
Right now, Maia Strategy is focused on recruiting every few years from three schools: UNH, Saint Anselm College and Dartmouth College.
"We're kind of keyed into the things we need to do to recruit. We have an understanding of their events there, resume drops, when's the right time to engage students," said Sikder. Maia Strategy met with its new analyst, Hoang Bui, through Saint Anselm's career services, halfway through his senior year.
"We see a lot of great promise," said LeGrand of Manchester. That includes a "growing professional scene downtown" as well as new restaurants, coffee shops and other fun things to do. "There's obviously a few rough spots, but we see a city that's trending in the right direction, and we'd like to be on the ground floor."
Liisa Rajala can be reached at lrajala@nhbr.com.