Four N.H. students awarded $5,000 CEO scholarships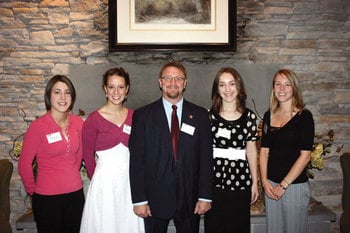 The College Equals Opportunity public awareness campaign has recognized four New Hampshire college sophomores and juniors for their leadership abilities and awarded them scholarships totaling $20,000.
CEO is a statewide effort that highlights the college experiences of business leaders of New Hampshire companies. Participating CEOs described their college experiences and answered questions about some of the challenges they faced along the way, as well as the opportunities that college presented for them. (To read the CEOs interviews and learn more about the program visit the program's Web site at nhceo.biz.) The program is sponsored by the NHHEAF Network Organizations, the provider of college planning and funding resources.
Receiving $5,000 scholarships apiece were:
• Samira Ali of Manchester, a junior at Tufts University majoring in international relations.
• Katherine E. Gaudet of Manchester, a sophomore at Saint Anselm College majoring in theology.
• Hilary Keller of Meredith, a junior at the University of New Hampshire majoring in psychology. 
• Danielle M. Plourde of Laconia, will begin her junior year majoring in social work at Plymouth State University.
"We are pleased that the CEO scholarship will assist these four student leaders as they continue achieving their higher education goals," said René A. Drouin, president and CEO of NHHEAF. "They have showed outstanding effort so far and we expect great things from them in the future."
Twelve New Hampshire business leaders are currently participating in the program: John Allen of John L. Allen & Associates, Bedford; Scott Bacon, TD Banknorth, Manchester; Jeff Feingold, New Hampshire Business Review, Manchester; Alyson Pitman Giles, Catholic Medical Center, Manchester; Sebastian Grasso, Windham Group, Manchester; Jeb Gutelius, Maax Inc., Manchester; Luke Gutelius, Maax Inc., Manchester; Linda Normandin, Laconia Savings Bank, Laconia; Thomas Raffio, Northeast Delta Dental, Concord; Charles Rolecek, The Premier Companies, Bedford; Deborah Scire, Campus Compact of New Hampshire, Concord; Alison Stebbins, Fidelity Investments, Merrimack; and Erin Zaldastani, Windham Professionals, Salem.