Former prosecutor discusses new role as federal judge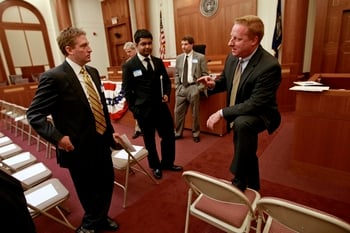 CONCORD – Working as a federal prosecutor, Joseph LaPlante was a control freak, he said.
LaPlante preferred to bring his cases to court all wrapped up in a plea agreement, leaving little or nothing for a judge to decide, he said.
Now that LaPlante, 43, of Nashua, has been wearing a black robe for a little more than a year in U.S. District Court, he said, he recognizes that his approach may not have been the best way to go about justice.
"I knew it then, I just didn't care," he said.
LaPlante spoke to a courtroom full of lawyers who gathered for a forum at the U.S. District Court on Thursday.
LaPlante took the unusual step of talking about the experience and taking questions.
It was the first of what organizers hope will become a series of forums for New Hampshire lawyers working in the federal courts.
"I used to work next door, and I wouldn't have come over for something like this," he said, referring to his time as a federal prosecutor in Concord, and expressing surprise that roughly 200 lawyers turned out for his talk.
"Feel free to take your shots," he said, opening the forum up for questions. "I'll do my best to bat them back at you."
LaPlante worked as a prosecutor for 14 years before being appointed to the bench, and he doesn't miss it, he said.
"I can't tell you how much I enjoy this job," he said, describing himself as "extremely, extremely happy."
LaPlante's admission about his own, outcome-oriented approach to prosecution was prompted by a question about his view of the change in federal sentencing regulations, which are now mere guidelines, rather than the formulaic absolute rules under which he worked.
"My approach to prosecution probably is an indication that greater discretion for judges is a good thing," he said.
"It lets judges be judges," LaPlante said. "The question is whether we will end up where we were before the guidelines," when a defendant's fate depended as much upon where they were prosecuted as for what.
LaPlante had one more surprising confession, which drew hearty laughs from his audience.
"By nature, I'm not a particularly good listener," he said. "That's obviously a handicap as a judge."
"The one exception I always had to that was at trial," he added, and "Being a judge has made me a better listener."
LaPlante has presided over just one jury trial so far, a gender discrimination case in which jurors awarded $400,000 to a Londonderry woman last year, finding that the Salem drywall installation company where she worked for two years discriminated against her. LaPlante has two more trials coming up next month, he said.
"I can't wait," he said. "It's just so much fun, and so gratifying and so enjoyable to watch it work."
Though other judges may disagree, he said, "It is a far more difficult thing to try a case than to preside over it."
LaPlante brought an innovation to the federal court that he credited to state Superior Court Judge Carol Ann Conboy: He allows jurors to submit questions for witnesses in civil trials.
"I don't remember if I asked the lawyers if they were happy about that," he remarked, adding later, "I just like to mix it up."
It worked well, taking only a little more time, he said, and "anything that elicits more truth is a good thing."
"The jurors did not abuse this at all . . . There were only two or three times when anybody had a problem with the question, and usually it was me," LaPlante said. "It had the benefit of making everyone feel better about the process. Is that the goal? Obviously not, but it is a good thing, I think."
Because LaPlante served as the first assistant U.S. Attorney in the state before being appointed to the bench, he had a hand in virtually all the court's pending criminal cases, he said. He's had to stay clear of that side of the docket for his first year, and he hasn't missed it. There's far more variety in civil disputes, he said. "It's amazing the number of things that U.S. District Court judges are asked to decide," he said, from patent law to whether schools have appropriately educated special-needs students.
LaPlante's decisions so far include:
The Brookline School District need not reimburse parents who sent their child to a private school.
A trucker couldn't blame the brewery for losing his job after Anheuser-Busch barred him from its premises, following a confrontation with plant security.
A Nashua man had no legal authority to challenge Republican presidential nominee John McCain's legal eligibility for the job.
A Hanover woman could sue "swinger" Web sites that posted a prank profile without her permission under an intellectual property exception to the Federal Communications Act.
Most of those rulings were made on motions for summary judgment. LaPlante has become known for holding hearings on such matters, rather than simply deciding the case based on written arguments.
Asked how that process was working, he said, "It's working out great for me . . . I just knew that when I was a lawyer, I wanted to talk to the judge."
That said, LaPlante offered some writing tips for lawyers: avoid legalese, and get straight to the point.
"On the first page . . . say why you win," LaPlante said. "If you can't say it, you can't win."
"I know some of your cases are really complex," he said, affecting a jokingly sarcastic tone. "Why not tell the person who is making up his or her mind, early, why you win, and then elaborate . . . I think it's a good advocacy tool."
The phrase "good advocacy" came up often during LaPlante's talk. He explained that in his view, the most effective lawyers are those who know when to concede a point.
"Being the reasonable advocate in the room can be very powerful," he said.