Former legislator charged with assault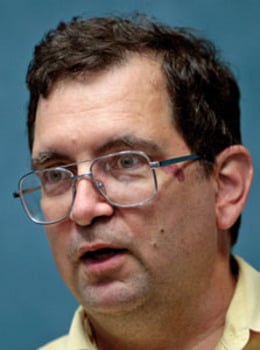 HUDSON – A local man who drew national attention nearly a decade ago when he was elected to the New Hampshire legislature despite his stance advocating the killing of police officers was arrested this week in connection with an assault, police said.
Tom Alciere, 49, of 28 Mobile Drive, turned himself in to police Tuesday morning on a warrant charging him with misdemeanor assault, police said.
The warrant was issued following an investigation into an incident on March 26, in which Alciere is alleged to have "grabbed" the 12-year-old daughter of a neighbor, according to a police report.
Police said Alciere has been arraigned in Nashua District Court and was released after posting $5,000 bail. Lt. Robert Tousignant said Alciere's booking process took place "quietly" and "without incident."
Police said Friday that the assault on the girl was not sexual in nature, but didn't have further details on what may have led to the incident, or if the girl suffered any injuries.
The police report states that the girl's father reported the incident to police.
Mobile Drive is the main road in a mobile home community off of Kimball Hill Road in the northeast section of town.
A well-known opponent of local and national government control, law enforcement personnel, and the education system – he's referred to schools as "government indoctrination centers" – Alciere rocketed to infamy in the first days of 2001 after his highly controversial anti-police sentiments became public in the wake of his November 2000 election to the New Hampshire legislature.
Alciere, running as a Republican, won one of three seats for state Representative in District 29 – which is Nashua's Ward 4 – by defeating incumbent Alphonse Haettenschwiller by 55 votes.
Less than two months later, however, Alciere found himself in the national and international limelight when reports emerged connecting him to statements in which he wrote favorably about killing police officers.
In one story reported at the time, Alciere allegedly said he loves it when someone kills a police officer, but he is "too chicken" to do it himself.
The ensuing blizzard of criticism and outrage from around the nation and within the State House itself led to Alciere's eventual resignation on Jan. 10.
Several years later, in 2006, Alciere reemerged as a candidate for the Republican nomination in the state Senate District 13 primary. The district encompasses Nashua Wards 3, 4, 6, 7 and 8.
But, even though most Republicans felt that Democratic incumbent Joe Foster's popularity would likely carry him to victory in the general election regardless of who the Republican nominee was, local Republicans nevertheless wanted to keep Alciere's name off the general election ballot.
To that end, local attorney and School Board member Dennis Hogan announced he'd oppose Alciere as a write-in candidate.
Hogan mounted a rather untraditional campaign, focusing as much on Alciere's extremism as on his own attributes. The strategy worked, and although Foster went on to reelection that November, Hogan drew plenty of attention.