Former defense official paints grim picture of budget
Military rebuild is not in the cards says Roger Zakheim at aerospace and defense event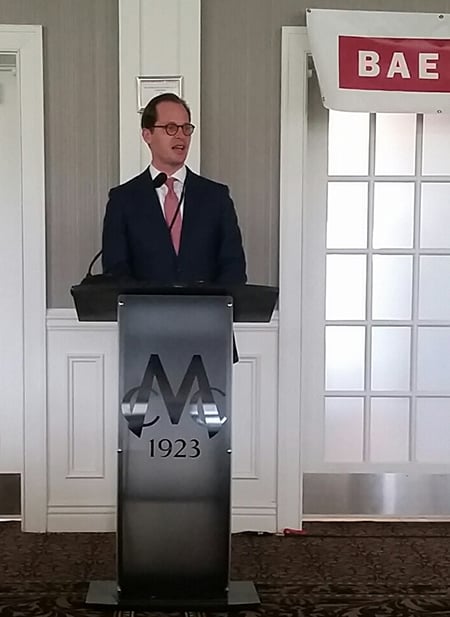 Despite rhetoric to the contrary, Roger Zakheim, former deputy assistant secretary at the U.S. Department of Defense, told attendees at the 3rd annual New Hampshire Aerospace and Defense Export Consortium that President Donald Trump's proposed increase in military spending is actually not much of an increase at all.
In fact, while the administration boasts that its budget request of $603 billion for defense spending is 10 percent above the $534 billion in the Budget Control Act of 2011 — passed to cap federal spending in order to reduce the national debt — Trump's request is only 3 percent above President Barack Obama's planned request if Democrats had stayed in power.
"Which is not called a rebuild. That's called keeping pace with inflation," said Zakheim on June 15 at the Manchester Country Club in Bedford.
Zakheim attributed the conservative number to the director of the Office of Management and Budget, Mick Mulvaney, who as a congressman was a member of the Freedom Caucus and often willing to cause a government shutdown to keep budget costs in check.
Mulvaney is symbolic of one piece of the puzzle holding Washington at a standstill, despite a Republican-led Congress and Republican administration. The other pieces are "the noise on the left" about the "controversies," as Zakheim described the Russia investigations, the proposed wall, the travel ban, trade fights and "the fact you really don't have anyone in government beyond cabinet secretaries."
In addition, the continuing problem of Congress being unable to reach an agreement over funding the government is putting pressure on realizing the Trump administration's goals, said Zakheim, who said Fiscal Year 2018 would be challenging due to "the intense and toxic political environment."
"Only now people in Washington are saying 'tax reform, we'll probably do that in 2018. Repeal and replace Obamacare, well we'll get it through the house, we'll see if the Senate can actually do that,'" said Zakheim.
And budget hawks are not willing to give in this time on budget talks in September, said Zakheim, which means the federal government could be operating on another continuing resolution for another three to six months.
But by then, the 2018 midterm primaries will be approaching.
"What do midterms mean in Washington? Nobody sticks their neck out to make a deal when you're dealing with re-election, and 435 out of 535 people who sit in Congress will have primaries early in 2018," he explained, which means actions will have to be taken through executive orders.
Sequestration
To explain how we arrived at this point, Zakheim showed slides looking back at the short-term history of defense allocations.
Before sequestration – capping federal spending – occurred in 2011, then Defense Secretary Robert Gates had requested $661 billion per year to meet the Defense Department's needs.
When then President Obama, then House Speaker John Boehner and Senate Majority Leader Mitch McConnell agreed on the Budget Control Act of 2011, the intent was to cut defense and non-defense spending as well as reform entitlement programs.
"As we know, the Social Security and Medicare piece didn't get touched and the defense piece, as a result, got doubly taxed," said Zakheim.
That resulted in a planned 10-year cut of over a $1 trillion in defense spending from 2011 to 2021.
As a candidate, Trump called for repealing budget control caps and rebuilding the military, through modernization and expanding its size.
"That was pretty exciting. You basically have to go back to 1980 Ronald Reagan to find a candidate that committed to reinvesting in our national defense," said Zakheim. "[But] if you're nostalgic about what President Regan was able to accomplish back when he was rebuilding the military after the Carter years, don't hold your breath. We can get into the whys and who's to blame, but it's not going to happen," he said.
One reason is that within the Trump administration's planned budget is the extension of a defense budget cap to 2027.
Through a congressional staffer, Zakheim was able to have his question about the line item posed to Defense Secretary James Mattis in a recent hearing. As Zakheim tells it, Mattis turned to his comptroller who frowned and said "I think that's just a place holder."
"Let's hope that's the case," said Zakheim. "What I really think is happening is, where the president of the United States doesn't think there should be a Budget Control Act, the director of the Office of Management and Budget loves the Budget Control Act … And that not only reflects the mindset, in my judgment, of Mick Mulvaney, but most of the congressional leadership sitting in Washington."
And it's quite possible, said Zakheim, that the Freedom Caucus and the fiscal hawks will demand a spending level south of the Trump budget request or at the Budget Control Act level.
To put that into perspective, Trump's request of $603 billion for defense is just 18 percent of total federal spending.
"This year, we'll spend more money servicing our debt than we will on national defense," said Zakheim, who argued the only way to cut our debt is to reform Social Security and Medicare.
The upside is defense spending, in this administration, will not drop below the Budget Control Act's number of $534 billion.
"The question is how much will we grow," said Zakheim.
And with five top threats facing the U.S. — Russia, China, terrorism around the world, North Korea and the distinct challenges in Iran — it also begs the question, how can the U.S. military combat 21st century threats when the Defense Department is already shuffling around its dollars to fill in the gaps?