For sledders, more snow means more fun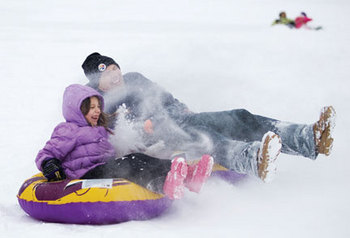 AMHERST – Hundreds of sledders came to Bragdon Hill to take advantage of more than a half-foot of fresh powder laid down during the overnight snowstorm.
Among them were Tim Blocker and his son, Kamron, of Milford.
"We absolutely love it," Blocker said as he and Kamron stood atop the hill. "This is the best thing to do on a day like this."
Although the sky was cloudy, the temperature wasn't bitterly cold.
Kamron, 8, said conditions were "perfect" and the sledding was "fast."
Travel on area roadways wasn't anywhere near fast Sunday, and most area towns reported no serious storm-related problems. A 59-vehicle pileup on Interstate 93 North between exits 3 and 4 closed the roadway for four and a half hours, though no one was seriously injured (see related story, Page 2).
Nashua appeared to hit the jackpot for snow locally, with a total of 9.9 inches of light, fluffy powder piling up.
Back at Bragdon Hill, 12-year-old Jack Facey, of Amherst, said the sledding was much better Sunday than it was three weeks ago because it was less icy. Jack was sledding with his dad, two siblings and two friends.
The most adventurous sledders would aim for a "jump," a mound of snow that causes sledders to catch several feet of air. Kyle Beane, of Merrimack, described taking the jump as "painful, fun, and scary" but that doesn't deter him.
"I take the jump every time," Beane said.
But not everyone went sledding for the same reason as Beane, who liked the rush of flying through the air.
For Keene State College student Shannon Peabody, of Merrimack, the trip to Bragdon Hill wasn't about catching air, it was about reconnecting with eight of her friends while home for break.
Many said sledding is most fun on inflatable tubes rather than plastic sleds. The tubes have less resistance on the snow and provide some cushion.
"The tubes are the best," said tube rider Taylor Woods, of Merrimack "You can go off the jumps and not die."
But not every family used tubes. Jeff Sylvester, of Newmarket, and his wife, Karen, and their two little girls rode a very long, black plastic sled.
Sylvester joked if the tubes are like sports cars, his sled would be like a Chevy Suburban, a large sport utility vehicle. Sylvester grew up in Amherst and the family was in the area for a visit.
Some people used unusual techniques while sledding. Jason Reed, of Manchester, lay on his stomach on two saucer sleds while two children, Bianca Grandall and Austin Abrahamson rode on his back.
"It was all right, but I got a little white-washed," Reed concluded when he returned.
Bragdon Hill and nearby Bragdon Farm (a town-owned conservation area) belonged to the family of state Sen. Peter Bragdon, R-Milford, for four generations. The town of Amherst purchased the land in 1995.
Bragdon, 45, said he would sled at the hill and at the now-defunct ski slope across Route 101 when he was a child.
One season, he spent a week in the hospital after crashing into a fence post while sledding on a slope across the street from the current sledding hill
He noted that the tunnel that takes people from the parking area was built in the 1930s for farming purposes.
"The tunnel was built so cows could cross the highway, but it comes in handy for kids (today)," Bragdon said.