Focusing on retraining in a low unemployment era
Two new initiatives seek to expand New Hampshire's workforce pool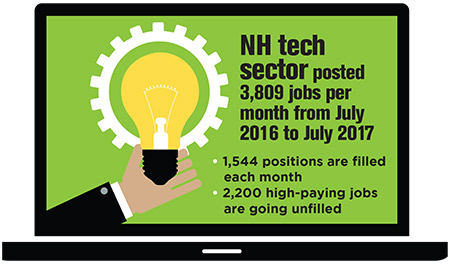 OK, no whining allowed. We continue to be in a strong economic cycle that is deflecting international challenges and national disasters Harvey and Irma. With low unemployment and a stable economy, New Hampshire is generally in a very good place. Look at the announcement that we are number one in median income earnings for 2016 by the U.S. Census as an example of why we are a destination state.
But we have an opportunity to take it to the next level by finding our next-generation workforce. Companies that are recruiting and hiring in New Hampshire know what they face: regional unemployment rates under 3 percent that are the lowest in 16 years; a pool of potential employees too small to fill the demand; and significant competition in state and over our borders for workers.
There is no single solution to these challenges, but there is a growing emphasis on the underemployed and helping people launch new careers, fill skills gaps and increase earning potential, through retraining.
A Sept. 11 Wall Street Journal article cited national data showing that about 5.3 million workers in the U.S. in part-time jobs want to work full time. This equals about 3.2 percent of the civilian workforce. Locally, NH Employment Security reported a state unemployment rate of 2.7 percent as of the end of August 2017, but found that an additional 3.3 percent (or 28,000 people) are employed part time for economic reasons, or are "marginally attached workers," often referred to as discouraged job seekers or those loosely participating in the workforce.
According to a recent Emsi report, the NH tech sector alone had an average of 3,809 job postings per month from July 2016 through July 2017 and filled 1,544 positions per month. That means that, on average, more than 2,200 high-paying jobs are going unfilled. Other sectors, such as advanced manufacturing, face similar challenges.
The partnership solution
On the solutions side, many great partnerships are in place between colleges and businesses to retrain the underemployed who are already here, and bring skill levels up so they can move into higher-level positions that often come with a higher rate of pay.
At the seven community college campuses in the Granite State, hundreds of these types of partnerships are paving the way. Many other institutions and organizations also conduct this important work. And now, two newer initiatives are approaching the retraining angle a bit differently — the Apprenticeships USA-NH program and the Sector Partner Initiative (SPI). Both focus on the tech sector, among others.
The Apprenticeships USA-NH program focuses on IT, advanced manufacturing and health care — not fields historically connected to apprenticeships. As part of a federal program being implemented in New Hampshire through the Community College System, registered apprenticeships feature training programs where participants "earn while they learn" by gaining a specific workforce experience combined with related classroom work and a pathway to a job through a partnering employer.
The apprentices can be current workers looking to upgrade skills or change careers, or individuals interested in the focus of a particular apprenticeship. Unlike traditional apprenticeships, this program encompasses jobs that blend trade skills with advanced tech skills. Programs are built through corporate partnerships and these efforts are currently ramping up. (See earnlearnNH.org for more information.)
Sector partner initiatives
The Sector Partner Initiative has similar goals to apprenticeships efforts but is more focused on looking across core workforce sectors, including technology, advanced manufacturing, health care, hospitality and infrastructure to determine what companies need.
This industry-led effort will identify these skills gaps and build appropriate training programs to meet them. Much research has been conducted by Jobs for the Future to identify these skills gaps, and sector "intermediaries" are being established to help guide and unite the effort with other workforce programs.
Together with businesses and community partners, the SPI will begin implementing training programs, the cost of which ideally will be covered through grant funds. This effort is being led by the Office of Workforce Opportunity, which is part of the newly formed state agency, the Department of Business and Economic Affairs.
The SPI and Apprenticeships USA-NH are just two newer approaches for crafting solutions to meet workforce challenges. But they represent new ways to provide current workers with a way up. We cannot lose sight of other efforts to recruit, retain and retrain our workforce — and there is a high level of focus on all three aspects coming out of the DBEA, but we are excited about the positive impact programs like this can have on individuals and businesses alike who are already here and ready to be part of the solution.
Matt Cookson is executive director of the NH High Tech Council and CEO of Cookson Strategic Communications in Manchester.