First stage of new Hooksett rest areas set to open
'Something that is exceptionally and uniquely New Hampshire'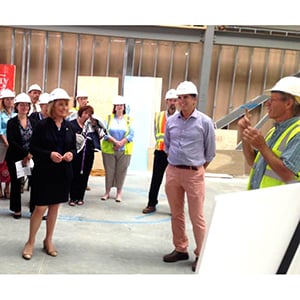 After nearly a year of construction, the first stage of the eagerly anticipated twin mega-rest areas on Interstate 93 in Hooksett – a $30 million project – is set to open in mid-September.
Developed by New Hampshire entrepreneurs Alex Ray of the Common Man Family of Restaurants and Rusty McLear of Hampshire Hospitality Holdings Inc. – owner of Mills Falls at the Lake in Meredith – the northbound and southbound rest areas will each feature a 20,000-square-foot state liquor store, an interactive visitor center, a food court with all New Hampshire-based restaurants, a country store, more than 300 parking spaces, 16 fuel pumps and a dog-walking park.
All of the restaurants will be managed by Common Man and will include a 1950s-style diner, a bakery/cafe that will also have a drive-through, an Italian Farmhouse featuring pizza and pasta and Common Man Express sandwich and burger shops.
The "Uncommon Food Court," will serve Common Man food that is prepared on site at the northbound location. All aspects of the new rest areas will be housed in the two newly built industrial mill-inspired buildings.
"We designed something that is exceptionally and uniquely New Hampshire," said architect Ward D'Elia, of Ashland-based Samyn-D'Elia Architects, who designed the interior and exterior layouts of the building. "We've put a lot of things there to make it exciting, interesting and educational."
According to McLear, Conneston Construction Inc., the Gilford-based construction firm responsible for bringing the ideas to life, will be completely finished in February 2015, a completion date six weeks ahead of when they had originally anticipated.
"CCI is doing such a spectacular job, and everything is moving so quickly. Almost every day is exciting because so much happens," said McLear. "That's been the fun thing, to see it evolve."
Until that time, different aspects of the rest areas will be opening over the course of the next few months, with the earliest predicted to be mid-September, when parts of the northbound rest area will be open to the public, though specific dates for these pre-openings have not been decided as of yet.
"We're going to open in phases. The northbound is moving a littler faster than the southbound side," said D'Elia.
"We hope that it becomes, for the locals, a one-stop shopping center and that it will be very convenient for all the commuters," said McLear. "For the tourists, we hope it becomes their 'must' stop for their northbound and southbound travels."
Though there will be some similarities between the two rest stops, each side will mark a different stage in a visitor's trip. While the northbound side will focus on showcasing what New Hampshire has to offer and what to expect, the southbound side will be the hub for information about where to live in the state and how people can bring their business and work across the border.
"The idea is to market the state on both sides with a slightly different emphasis," said D'Elia. "It's an opportunity to showcase the state of New Hampshire and what it has to offer."
Bill Boynton, public information officer for the New Hampshire Department of Transportation, said the $30 million project – funded almost entirely by private investment – is a good example of "a public-private partnership that will benefit not only the private entity involved but the state of New Hampshire. This opportunity that arose was really what we were looking for."