Feeling overwhelmed? This event has answers
NHCUC forum will offers tools, advice on working more effectively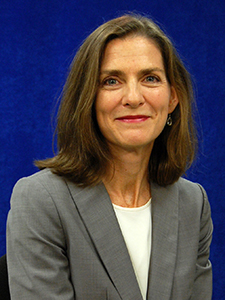 Examine your typical workday. What do you do first thing in the morning? How long are you at the office? Do you take a break?
Hard work has always been a part of the American character, but hard work has now shifted into overworked, and overworked employees are not productive ones, says Brigid Schulte, award-winning journalist for the Washington Post and author of "Overwhelmed: Work Love and Play When No One Has The Time."
Schulte will be the keynote speaker at a professional development conference on Monday, Nov. 3, at Manchester Community College. The conference, presented by New Hampshire College & University Council, Campus Compact for New Hampshire and NHBR, is designed for business and education professionals who want to learn simple yet powerful personal mastery tools to help them handle the pressures of having too much to do in little time.
In her examination of the American work culture, Schulte found two glaring problems. Not only do Americans work too much, not allowing time to play but they're not even utilizing their work hours efficiently.
While Americans are the most overworked, we are not the most productive. In fact, Norway – with just three-to-four hour workdays compared to our eight hours – is the most productive country. And Norwegian employers don't view the work/life balance as a bonus, but a necessity for its employees.
Work is eating into our leisure time, says Schulte. And that determines the productivity and creativity levels of employees.
"Neuroscience is showing us … that if you want to be creative, have a fresh idea or insight you need a break. You cannot work 24/7 nonstop," says Schulte. "You need to take a walk. You need to turn off your devices. You need to be idle or turn the channel in your mind."
And allowing time for leisure depends on how we utilize our time.
Schulte says most workers get straight to their email at the beginning of the day, but it's a waste of time.
"We spend as much as a quarter of our day on email and we spend more than half of our day on unimportant tasks," says Schulte.
She recommends that, first thing in the morning to glance at your email for any immediate concerns, but don't bother cleaning out the inbox till later in the day.
"The most important task, figure out what that is, your core mission of your job, not just checking off a bunch of stuff at the end of the day. Do that first at the very beginning of the day. When you have your greatest stock of will power, but don't do it for more than 30 or 45 minutes," says Schulte.
Generally Schulte recommends working in 90-minute increments and then taking a break. She says set your agenda. Turn off your phone, email, social media and hunker down and accomplish.
"Your brain can stick with anything if you know you're going to take a break," Schulte explains.
And she understands that some days it's even hard to do that.
"When I'm feeling particularly lazy or particularly tired, I set my timer for 30 minutes."
The marathon hours, or as Schulte deems it, "the hero mindset" – working late hours to impress the boss – is burning out Americans. While the boss sets the tone, Schulte sees a generational change occurring.
"Millennials are not drinking the Kool-Aid," she explains. They don't want to work long hours and they don't think it's necessary to do excellent work.
"And when you have an entire generation coming in and doing things different, that's when you'll see change," she says.
Likewise, Schulte explains, as baby boomers live longer and work longer, they don't have the energy to pull the long hours anymore and are looking for flexible or alternative schedules.
And it's a sign that, ultimately, it comes down to what matters in your life, what role work plays and how to make time for the important things.
"I'm really hoping my book can show people to disrupt that cycle," says Schulte. "Step off that gerbil wheel for a while and look at that wheel 'is that even the wheel I want to be on?'"
Following Schulte's address, a response panel of higher education and business professionals will examine how the phenomenon of feeling overwhelmed is affecting professionals in their sectors.
Tickets are $129 each. To register or get more information, click here.