Federal study warns of corrosive potential of NH groundwater
U.S. Geological Survey finds 'very high prevalence' in Granite State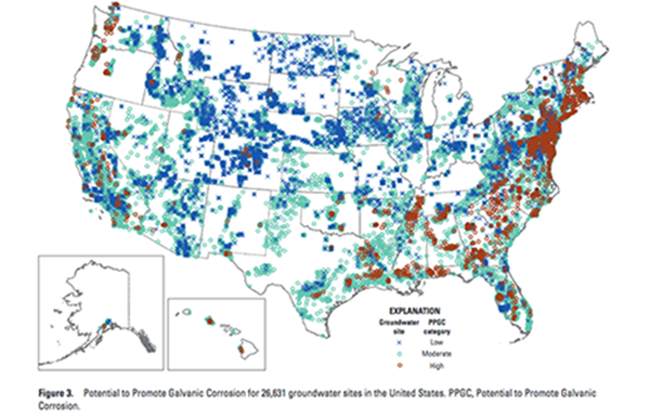 New Hampshire's private wells are especially susceptible to the metal-leaching effects of corrosive groundwater, according to a study by the U.S. Geological Survey.
The study ranked New Hampshire, along with 11 other states, with a "very high prevalence" of potentially corrosive groundwater. To determine this, the study tested 27,000 groundwater sites across the country from 1995 to 2015 to determine potential corrosivity.
Most of the 12 most susceptible states are highly clustered along the East Coast, including Maine, Massachusetts, Connecticut, Rhode Island, New Jersey, Maryland and Delaware, along with South Carolina, Alabama and Georgia.
Corrosive water, if left untreated, can leach metals like lead or copper from plumbing materials into the water supply of private wells.
The U.S. Geological Survey wrote that 44 million people across the nation rely on self-supplied water, which is often not regulated. New Hampshire is no exception; about half the population uses private wells as its water supply, but those wells are not regulated by the state or the federal Safe Drinking Water Act.
That's according to Cynthia Klevens, water treatment engineer at the NH Department of Environmental Services Drinking Water and Groundwater Bureau.
Klevens said factors that can cause groundwater to affect a private well's drinking supply can vary greatly. High salt, low pH and low alkalinity contribute to how corrosive groundwater can be, though there is no "harmful" combination of those numbers—any level could only potentially lead to corrosivity.
The issue isn't as clear-cut as old plumbing versus new. Even newer copper fixtures can be more susceptible to metal leaching than older fixtures of another metal, Klevens said.
The only way to know for sure? Test your water.
"A combination of factors [cause corrosivity], and the only way to tell if it has any effect on your home plumbing is to test your water," Klevens said. "Every private well should be tested."
Though DES does not have regulatory jurisdiction over private wells, Klevens said the department's main recommendation is to test for any contaminants, including lead, nitrates, bacteria and other factors, as corrosive groundwater is not the only thing that can affect well water's drinkability.
According to the Geological Survey, signs of corrosive water causing leaching of metals could include blue-green stains in sinks, a metallic flavor to your well's water and pitting or leaks in plumbing fixtures. But, above all, testing the water is most important in determining any problems.
Klevens recommended that private well owners visit des.nh.gov to learn more about private well testing programs if they have questions about the effects of corrosive groundwater on their drinking supply.
To view the study, visit pubs.usgs.gov.