FBI reinvigorates public corruption campaign
Introduction of new tip line and marketing efforts seek citizen info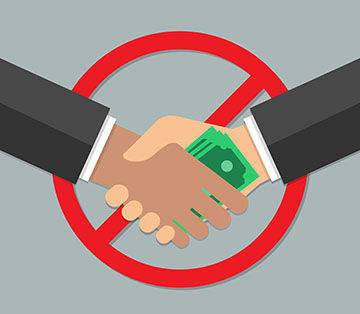 Days after a Troy, N.H., town employee was charged with allegedly using town funds to pay personal bills, the FBI has announced a national campaign prioritizing efforts to crack down on corruption at all levels of government.
And how does the FBI catch wind of corruption? From citizens like you.
Billboards and Facebook ads will soon be advertising the FBI's new toll-free tip line, 1-844-NOBRIBE (1-844-662-7423). The FBI's website already includes questionnaires for contracting corruption, misuse of economic stimulus funds and general government fraud – questions individuals can pose to themselves to pinpoint whether they are the victim of or witnessing public corruption.
Once a tip is called in, an investigation is immediately opened. The individual will be expected to speak once again to an agent.
Public corruption has always been a priority for the FBI, says Special Agent in Charge Vincent B. Lisi of the FBI's Boston Division. But recently the governmental agency underwent its typical process used to restructure how it prioritizes different crimes it investigates.
"When we look at our threats, for the office, and prioritizing them, the amount of public corruption cases we've seen over the last few years hasn't declined," says Lisi. "Here in Massachusetts, we've convicted the last three of four speakers of the House."
The restructuring means Lisi will be able to direct more agents to a case to see it through.
The Boston Division covers four out of the six New England states: Maine, Massachusetts, New Hampshire and Rhode Island. (Vermont falls under the jurisdiction of the Albany Division and Connecticut under the New Haven Division.)
"A lot of times that's how we find out about these cases: people coming forward to us," explains Lisi.
When asked where funding came from for the marketing campaign, Lisi said it would be relatively inexpensive.
The FBI has a partnership with national media giant Clear Channel Communications, which features FBI ads on billboards with downtime. Facebook ads, the only type of social media ad being used, can be bought for as little as $5.
The FBI wants to alert citizens to be on the lookout for bribery, extortion, embezzlement, racketeering, kickbacks and money laundering, as well as wire, mail, bank and tax fraud.
The Boston division's press announcement noted the FBI was watching the gaming industry, which "holds the ingredients" for potential public corruption, says Lisi.
But generally, there's potential for corruption "anytime there's a big infusion of cash." That includes natural disasters, where false claims are submitted to obtain incoming money from the Federal Emergency Management Agency, as well as economic stimulus money and government contracting work.
The new phone number is already paying off. Lisi's division conducted interviews on Tuesday based on phone calls from citizens, with calls from places outside of Boston.