Family-owned nursery flourishes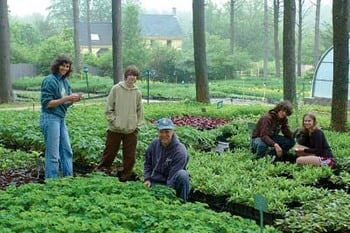 What began 18 years ago with a dollar, a promise and a vision has grown into a thriving wholesale perennial nursery whose owners work hard at nurturing not just their plants but their commitment to maintaining a retail feel in a growing wholesale business.
Back in 1987 Peter and Leslie van Berkum potted their first perennials — plants that return each year with colorful displays of foliage and flowers — on two acres of sandpit leased from a landowner for $1 and a promise to plant and maintain the man's vegetable garden. After piping in water from a nearby river, Van Berkum Nursery was in business, and the van Berkums were on their way to bringing their vision to life.
"We really wanted to build a business that was user-friendly — one where people could come, enjoy themselves and get their job done," Leslie said.
The decision to jump into perennial farming was in many ways a leap of faith — both in an unproven industry and in themselves. It was a time when less than 5 percent of area landscapers used perennials in their work.
"When we started, there were very few perennial farmers out there," Leslie said. "To us that meant we could only go up."
Signs that their risk would indeed pay off came early. The couple reaped $35,000 from their two-acre garden in 1988 – their first season of sales. By 1990 business mandated expansion, and the couple, now with baby Ben in tow, moved to a gently sloping 22-acre property in Deerfield. The new location abutted conservation land and was graced with a marsh and a pine canopy – perfect for the native woodland plants the couple hoped to focus on.
"We could have picked an easier piece of property but not a nicer one," Peter said, pointing out an area where the couple plans to create a small pond which will capture runoff from the nursery and serve as a source of water for the growing plants.
Steadily rising sales
Over the years, the business has continued to expand and now includes five acres of gardens housed on a total of 35 acres. Four state-of-the-art greenhouses on the property house automated potting machines and offer shelter to the newly propagated plants. Display gardens are scattered throughout the nursery, serving as test sites and offering inspiration to visiting landscapers and buyers from garden centers. Planting beds are set up neatly and compactly and are clearly marked, adding ease to the selection process.
Sales for the van Berkums have continued to rise steadily, growing between 20 and 40 percent annually during their early years as interest in perennials began taking off. Numbers have stabilized over the past few years, with annual growth staying steady at about 10 percent.
According to Peter, sales of the 750 varieties of perennials are expected to surpass $1.7 million in 2005.
Accounting for 5 percent of the nursery's sales is Peter's collection of New England Woodlanders and Appalachian Woodlanders. These shady wildflowers are native to New England and have washed the floors of New England forests with splashes of color and carpets of texture for centuries. Peter, who holds a degree in horticulture from the University of New Hampshire, has continued to propagate the 35 unusual varieties, trademarking his collection and offering them to customers since 1998.
"You don't see many of these plants in your typical box store or even garden centers because they can be difficult and time-consuming to propagate," Leslie said, using the Trillium grandiflorum as an example. The three-petaled flower takes three to four years of propagation before it can be sold, she said, adding that typically when such plants are offered in the back pages of perennial catalogs they have been wild-harvested, something conservationists frown on.
"We don't own these native plants — we just trademark the name of the series," Leslie said.
Both van Berkums are confident their collection of woodland plants will gain in popularity as time goes on – much like perennials themselves.
Family involvement
Despite the company's growth however, the couple have continued to be true to the "user-friendly" environment they committed to so long ago. The layout of their nursery, the careful blending of technology and hands-on gardening and the one-on-one service they have become known for has carved the niche they were hoping for and solidified a solid customer base.
This is certainly true of George Pellettieri, owner of Pellettieri Associates in Warner, a landscaping firm and one of the van Berkums' very first customers.
"Peter and Leslie are great examples of dedicated people who do a great job running a small business in a way that can compete with the big, impersonal businesses out there. They are dedicated to their customers and the business and I think that shows in the care and attention they give people," said Pellettieri.
In addition to the nursery's expansion and the growth in sales, the van Berkum family itself has grown. Ben, their first born, is now 18, sister, Karina is 16 and Jake is 14. All three have grown up in the family business.
"We actually used to refer to ourselves as Van Berkum Nursery I and Van Berkum Nursery II," Leslie jokes, offering tales of planting seedlings with babies in packs on their backs.
All three children have worked at the nursery over the years. This family involvement, coupled with the nursery's success, was enough to earn the van Berkum clan the 2005 Jeffrey H. Butland Family-Owned Business of the Year Award from the New Hampshire office of the U.S. Small Business Administration.
"We were really surprised. There are so many family businesses, all just as deserving," said Leslie, a former music teacher who now oversees marketing and sales for the nursery.
From a marketing perspective, Leslie believes the company catalog and its Web site are her greatest tools. The catalog holds a sense of nostalgia for Leslie, providing testimony to the evolution Van Berkum Nursery has undergone in the past 18 years.
"Our first catalog was about eight pages with five plants listed on each page," she pointed out.
Today's professionally bound volume, decorated with the woodland artwork of Leslie's mother, Judy Warren, consists of 131 pages that don't just list the 750 plants but categorize them by height, color and function, among other things. This same information can be found at vanberkumnursery.com.
The nursery's staff is another great marketing tool, according to both van Berkums. "Everyone here is a great team player," said Leslie. Currently the couple employs about two dozen people, with the number shrinking to 10 in the winter months.
Looking down over the acres of greenhouses, plants and flowers, it is easy to see that another expansion may be imminent. The van Berkums have come a long way since their little corner of sandpit nearly two decades ago, and both will tell you it took more than hard work to get where they are. Success for the van Berkums has been the result of a vision tended with the same care and commitment they continue to give to the gardens that surround them.