FairPoint sees growth for data center service
Cloud-based offering mulled for small, medium firms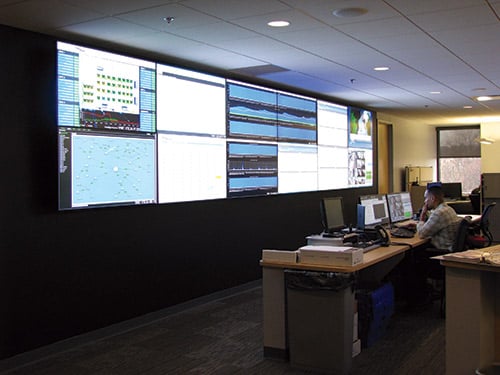 When FairPoint Communications opened its first data center to gauge customer demand for the service in 2014, it sold more than 50 percent of the Laconia space in the first four months, warranting a second location.
Now, steadily filling the Manchester data center, which opened in August 2015 with keycard check points and security cameras, FairPoint is considering the potential growth of this service across New England, with the possibility of offering a cloud-based service as well.
"There is a demand out there because a lot of businesses want to ensure network diversity or prepare for disaster recovery," said Pat McHugh, FairPoint's New Hampshire state president.
Natural disasters, or specifically a fire, could destroy the single location where a company stores critical information like order history data, he said. "Let's face it – equipment fails from time to time, so if you're primary servers go down and you had your backup here, then all data will be captured right at that moment," said McHugh.
The telecom company foresees increased demand from enterprise businesses, particularly those in the health care or financial sector.
"The financial sector is getting a lot of pressure from regulators, based on the Gramm-Leach-Bliley Act," said McHugh. "There's all types of network security impacts that these regulations have on financial institutions, so they're increasingly looking for more secure networks and more secure third-party vendor options, especially when it comes to third parties having access to their customer's data."
Top: One of FairPoint's climate-controlled data centers.
Also known as the Financial Modernization Act of 1999, and enforced by the Federal Trade Commission, the act requires the financial sector to store duplicative customer data at least 60 miles away, in case of a natural disaster.
Similarly, the Health Insurance Portability and Accountability Act, or HIPAA, requires the health care sector to provide offsite, duplicative data storage.
'Constantly monitoring'
FairPoint sells space in half and full racks for IT infrastructure, including servers, networking equipment, router switches and the like, customizing services and prices to suit company's bandwidth and storage needs.
The Manchester and Laconia data centers are temperature-controlled to prevent servers from overheating, and has a VESDA (very early smoke detection apparatus) as well as Sinorix, an environmentally friendly agent made by Siemens that extinguishes fires without causing harm to the IT infrastructure.
"We're constantly monitoring the health of our network for all of our customers. The data center is an extension of what they're monitoring," said Tom Cryan, senior manager of data center services and marketing at FairPoint. "We'll monitor everything in the data center from network utilization to thermal mapping, to see any sensorial heat spots in the data center, but all of that is going to be monitored for any customer."
This summer, FairPoint will also test a cloud-based storage product that would be more affordable for small- to medium-sized businesses, said Chris Alberding, vice president of product management.
"Instead of a dedicated server mirroring your server, you can have a virtual server," said Alberding. "We assign virtual services to you off the virtual platform, so cloud-based services that put customers where they have a hybrid environment."
Bottom: Close up of equipment that distributes
Sinorix
, an environmentally friendly agent made by Siemens that extinguishes fires without causing harm to the IT infrastructure.
Having multiple layers of data redundancy provides protection in case of a disaster or equipment failure. But buying duplicative IT infrastructure is also expensive, and a cloud-based option provides smaller companies with a second location to store data, but also more flexibility in managing the costs of doing so, said Cryan.
"It gives them the convenience of scalability," said Cryan.
One of the benefits of FairPoint's cloud-based service is that the telecom service provider will offer a more secure pathway to accessing the cloud, through an Ethernet, versus signing in on a website found through the Internet, said Alberding.
Currently, FairPoint has expanded its team to provide data center support for customers. Four new customers have moved their IT infrastructure into the Manchester data center, said Alberding.
It's a service that's not just drawing customers from New Hampshire, he said. "Some of our early customers were in Maine and Vermont."
He said the company is also in talks with West Coast companies seeking East Coast storage space.
Liisa Rajala can be reached at lrajala@nhbr.com.