FairPoint N.H. President Teresa Rosenberger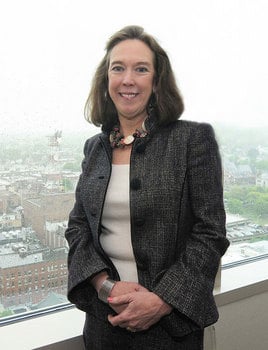 Three years ago, Teresa Rosenberger, a savvy State House lobbyist with the law firm of Devine Millimet & Branch, guided client FairPoint Communications through the state's thorny permitting process. Now as FairPoint tries to move out of bankruptcy, the company has again turned to Rosenberger, this time as its state president.
A 30-year veteran of public policy, communication and advocacy work – including service in three presidential administrations – Rosenberger is known as an effective consensus builder.
Q. How's your new job?
A. It's great. However, there is a real learning curve to understanding all the issues. I would have told you before I took this job that I knew lots about telecommunications and FairPoint, but everyday I'm learning something new. I've been on the bucket truck with our techs. I've been to a number of garages and call centers. It is fascinating to me to see what our employees do. There is no doubt that our workers are our greatest asset.
Q. Your background as a lobbyist is different from most corporate leaders. How did this come about?
A. I spent three years working with FairPoint going through the approval process at the Public Utilities Commission, as well as introducing them to the key leaders in the state. Once the approval went through, I continued to do work for FairPoint on the regulatory and government relations side. When they decided to change their structure and have a president in each state, I thought it made great sense, because then there was accountability to the state and the people. I am happy to say that I ended up with the job.
As to my background, I had 20 to 30 clients when I left Devine Millimet to come here. They were diverse – everything from health care to social services to businesses to utilities. Being at the State House really gives you – particularly if you're dealing with various interests – an extraordinary perspective of the state. It lets you not only see how it functions, but also see opportunities for improvement and where the strengths are. It gives one a very broad perspective.
Q. You took over at a difficult time. How does FairPoint's bankruptcy impact your job and more broadly how does it impact consumers?
A. FairPoint will have a tremendous opportunity once we come out of bankruptcy. We will be a much stronger company. During bankruptcy our day-to-day operations have not changed. Everything is going as it should and the business is moving forward.
When we come out of bankruptcy, the restructuring of our debt will ultimately make us a financially stronger company. I think you'll see a vibrant company that is ready to serve our customers in New Hampshire.
Q. During the process to gain PUC approval, some suggested that FairPoint was too small to take over an enterprise of this size. Is this case or was it the economy?
A. Clearly the economic downturn was one issue. When FairPoint got through the approval process in all three states, the banking crisis started in earnest. For FairPoint, it couldn't have completed the approval process at a worse time. That was a situation that nobody anticipated. The stars were really out of alignment, and clearly we had some problems with the system's transition.
As well, telecommunications is an extraordinarily competitive industry. It was really a tough time. I never would have left a tremendous job at a dynamite law firm to do this, unless I truly believed that we can get where we want to be and deliver top-notch service, quality products at a good price, and be an important part of the fabric of the community.
Q. Fast-forward a year – what's FairPoint going to look like as a company?
A. I think it will be a much more agile and dynamic technology company delivering voice, data and other products. I think you'll see us as a company that people want to work for, one that has a solid balance sheet and is a well-respected company that people can count on.
FairPoint has a very strong history of working with local leaders to foster economic growth. We will continue to work with the state, other companies, the chambers of commerce and others to grow the economic base of the state.
If we are to compete in the world economy we've got to have the necessary technology-based infrastructure. To sell products or services one has to be able to communicate effectively. We are looking for ways to collaborate across the state. We can't do it all by ourselves.
Q. What are your professional goals?
A. What I really want people to say about our company is that they can count on us. We deliver good service by good people, good products at a good price. We really are trying to make this state a better place to do business and maintain the quality of life. We want people to be able to be just as successful here in New Hampshire, as in New York City.
Q. Is there a limit – or an overload – to technology?
A. From my children's perspective, there is no overload. However, we may be losing the simple social aspect of talking to people. I used to call every Sunday and talk for 20 to 30 minutes to my mother and father. I now talk to my kids all the time, but it is difficult to have a good conversation because we're always being interrupted to order a latte or put the dog out, etc. My kids would tell you that we were connected, but we didn't have a conversation. I don't think anything can take the place of sitting on the sofa, attached to a corded phone and truly having a conversation.
Q. How did you come to New Hampshire?
A. I am a North Carolinian and FairPoint is a North Carolina company – but not only that, I'm a Tarheel, which means I went to the University of North Carolina at Chapel Hill. However, I've lived in New Hampshire for 20 years. I came here with my husband, who accepted a job in New Hampshire. My first work in New Hampshire was with AARP in the 1991 presidential primary, which was great fun.
Q. You had a serious head injury 10 years ago. How do you look at the world differently now?
A. I truly know now each day is a gift. I take opportunity when it presents itself, because it may not be there tomorrow. When FairPoint asked me to consider this position, I said, "Why not?" The door is opening, I am going through it. It's exciting – it's stretching me.
I know perfectly well that I wouldn't be here today without a lot of perseverance. I would not be in the shape that I am now if I hadn't really had a lot of good people helping and supporting me. I really learned that this state is a great community, because when I was hurt, people were really willing to help me. I was able to maintain my integrity and comfort. It really was wonderful. For me this is just a huge accomplishment. First to be able come back to work was a gigantic accomplishment, and then to become state president of a publicly traded telecommunication company. The fact that they would hire somebody who had a brain injury says a lot about the values and culture of the company.
Q. What is the key to your success?
A. Trying to collaborate and communicate. I'm well aware you can't do anything by yourself. You need a team – partners – because we all have part of the pie, but not the whole pie. I try to work with people, and I look at everything in some way as a sport. You play the game as hard as you can and honestly as you can, but you have to be a team to win. You just can't do it by yourself.
That's what I'm hoping the people of the state will say about FairPoint. We're here to collaborate, work with people and help bring innovative communication services to the citizens and businesses of our state.