Face-to-face service gives business an edge
Plymouth State grad's phone repair company carves a niche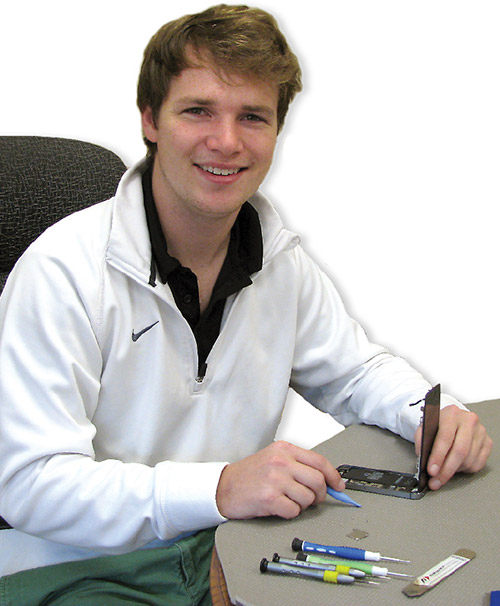 There are plenty of cellphone repair companies in New Hampshire, but Chad Johansen saw a niche in the market – when he was a freshman at Plymouth State University.
That year, Johansen cracked his cellphone screen and felt the same aguish many do when he realized he would have to drop it off at a nondescript repair shop for a few hours.
"I did the research. They said drop off your phone for an hour or two and come back. What do you do without your phone for an hour or two? You'd be lost," says Johansen, now 23. "That's when I realized I was going to do repairs in front of the customer."
Johansen was studying general management and small business entrepreneurship at Plymouth State when he started repairing cellphones.
He worked at the IT support desk at the college, where his friends taught him how to fix phones. "And I came home for the summer, and my mom let me use her kitchen table" to repair
phones for customers, he says.
Through his four years at college, Johansen operated his business out of his parents' house in Bedford and the Enterprise Center at Plymouth State, where he still rents a desk at the incubator.
In June, Johansen opened up NH iPhone Repair's first storefront, on Hardy Road in Bedford, right off of Route 101.
"I thought I was busy three days a week out of my house, moving into a storefront really just brought validation that this was a serious business," says Johansen, who is now looking into hiring his first employee.
"I'm a little worried," he admits. "You have to find somebody to take your baby and treat it like their own."
Educating entrepreneurs
Talking with customers as he fixes their phones builds a relationship of trust, says Johansen. It allows them to ask questions as well as bond through storytelling.
Making the experience "memorable" is what helped his business grow through word of mouth, he says.
"For a small business, all you have is your reputation, so I took my reputation to heart and I still do," says Johansen. "If a customer came in, I was making sure everything was perfect before they left."
Johansen also quickly put up a website, nhiphonerepair.com, and familiarized himself with search engine optimization to ensure Google would pull him up high in the results, which included adding tags of related terms on his site.
Johansen has always had a knack for entrepreneurship, running an eBay business, DJ business, and, of course, the classic lemonade stand when he was a kid.
"So many small businesses and entrepreneurs have the ideas, and they want to get going, but I think the education is important in terms of taxes and the books and doing everything legally," says Johansen. "The little things are the things that tie you up. And I think a lot of those classes helped up with tying those things together."
In 2011, Plymouth State added a bachelor's degree in general management, under which there are four specializations, one of them being small business entrepreneurship. The change was made to meet the demand of future students, says Robyn Parker, dean of Plymouth State's College of Business Administration.
"Gen Z has arrived on campus. That's students born after 1996," says Parker. "Seventy-four percent of them want to work for themselves, so I think this is the trend, that more students will be drawn to taking the courses, perhaps majoring within the entrepreneurship program to then start their own business."
The Enterprise Center incubator on campus, a joint venture with the Grafton County Economic Development Council, seeks to encourage students like Johansen to pursue their own business ideas as well as intern with local businesses.
One new class called "Business Innovations," run by Roy Stever, is developing a proposal to take staff and students into the incubator to work on ideas and receive business advice, says Parker.
"This summer, we offered a graduate-level course in venture financing for small businesses, so as we build our expertise, and the demand is there, we will roll out [new] courses," she says.
Professors' business experience and connections made the difference for Johansen, who says his professors were happy to hand out his business card.
"I had several small business professors who were small business owners or had worked for a ton of small businesses," says Johansen. "Several were small business consultants, so that was one of my favorite parts, to bounce ideas off of them or have them reach out to me."
"He's got an infectious personality. You cannot not like Chad," says Brad Allen, associate professor of business at Plymouth State. "Good energy, fantastic positive mental attitude; he's a hard-working kid, and he's earned the success he's experiencing now."
Allen recalls how quickly Johansen's business grew, to even securing a deal with Brookstone his sophomore year to fix iPads and iPods from their 300 stores nationwide.
Beyond a price point
While the name of Johansen's business is NH iPhone Repair, once he adds an employee, he will expand his business to repair LG and Samsung smartphones, among other technology.
"I'm hoping in the next year to expand to things like computer repair and networking," said Johansen. "Technology isn't going anywhere, but I think there are people who need help with their computers, setting up their wireless networks in their house, and I think I can expand and offer more services," he says.
As for cellphones, Johansen says cracked screens are the most common repairs, though he wishes consumers realized that broken phones can be fixed, versus shelling out another $600 for the latest phone.
"The cool thing is almost everything in there is replaceable. Everything from the battery to your speaker [that] stops working, or if you go for a swim – usually you can fix those problems," says Johansen. "Most customers come in and say 'I didn't know you could fix that.'"
Marketing makes consumers think of cellphones as disposable, but Johansen says he can fix phones for a quarter of the price of buying a new one.
Johansen carries everything in stock, from screens and charging ports to batteries and other components. Although you can find parts on Amazon, Johansen says they're often faulty, so he sticks with the highest-quality parts, which he orders in bulk.
"All of my repairs come with a lifetime warranty against any defects," he says. Most warranties are 30, 60 or 90 days, but Johansen says he believes his parts hold up well.
While pricing is a big selling point, to compete, he considers other aspects of his business than just a lower price point.
"You have my warranty, my full faith, I will back up everything I repair. I think a lot of people understand that price is a factor, but it's not all about price," he says.
Johansen thinks more people in their 20s should explore entrepreneurship before they have a wife, kids and mortgage because "it's really rewarding."
"I always knew it would be rewarding, but I don't think there's anything better than working for yourself. That excitement from growing your business, and the fact you're making your own paycheck, it all depends on you."