Extended Learning programs link schools, businesses
Real-world experiences seen as mechanism to build Granite State workforce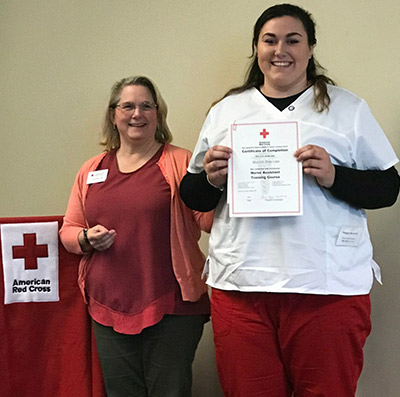 When New Hampshire schools shifted to competency-based learning standards in 2009, Karen Thompson was forming business relationships to build Hinsdale High School's new Extended Learning Opportunities program.
"We started to look at what are the needs of our businesses. We hear there are lot of jobs and not enough skilled workers to fill them, and that seems way off when we have amazing students," said Thompson, Hinsdale's ELO coordinator.
So she sought about building those skills. And, as her network of business partners expanded, Thompson considered how students could receive credit for participating in an ELO in place of a traditional course, — that provided an opportunity to evaluate the school's curriculum.
"That opened a lot of doors for our students and helped us evolve new ideas of what ELO can look like," said Thompson. "It became painfully obvious to me there was a disconnect in what the business world was saying and what the school was teaching. I noticed a lot of gaps."
To bridge those gaps, Thompson suggested teachers travel with students to the ELOs and meet with their business mentors.
"While it's been difficult and messy, I think this pilot project allows teachers to see business and education connections through a different lens," she said.
Now, once a week, Hinsdale teachers meet with mentors to discuss how to assess students' work at ELOs, taking into consideration how businesses assess the competency of their workers.
"That rocked the world of traditional grading and shifted to that competency piece more," says Thompson.
Expanding ELOs
Gov. Chris Sununu declared the first week of April "ELO Week," praising the programs for "assisting students in real-world business environments, while providing a qualified, productive and career-ready workforce."
State Education Commissioner Frank Edelblut said he's very much focused on developing business and education connections and thinks ELOs are a good pathway forward.
"We're trying to make sure we create opportunities for kids to have real-world experiences as well as different learning opportunities," said Edelblut.
According to Amy Aiello, program specialist at the Bureau of Special Education under the state Department of Education, over 30 high schools have registered for statewide trainings focused on how to build high-quality ELOs.
The trainings are funded by a federal grant from the U.S. Department of Education to expand special education opportunities, with one focus being on ELOs.
Over the five-year grant, the agency worked closely with 16 high schools, training personnel on how to develop ELOs in their schools and increase their program's offerings. This past fiscal year, the department received a one-year extension, allowing the state to expand its training to all New Hampshire high schools.
"What the Department of Education requires is local school boards adopt and implement a written policy," says Aiello. "So every high school needs a policy in writing about procedures to access ELOs. And they can be flexible; they can say anything from we're going to offer them in a variety of ways or we'll offer them in limited ways or we won't offer them at all."
With the grant, the department has launched two websites — nextsteps-nh.org, which is focused on college and career readiness for students with disabilities and at risk of dropping out, and beyondclassroom.org, which solely focuses on ELOs and profiles ELO examples.
"It really walks you through what is an ELO, how do you get started, what does the program design look like, program procedures and how to develop community partners," said Aiello. "It's a nice collaboration with the community in working through this process with the school."
Hypertherm and Fujifilm are among the employers working with high school ELO programs, said Edelblut.
Hinsdale High School students complete ELOs that introduce them to welding, criminal justice and veterinary work.
"I think that businesses have really stepped up to the plate," he said. "They are very engaged, they're very open, they're very flexible in looking for opportunities to create pathways for our students."
Point of contact
For businesses, common complaints overheard at workforce development events have involved confusion over who serves as a school's educational point of contact.
Steve Beals, principal of Alvirne High School in Hudson, makes the effort to be responsive to every business request he is sent via email, including connecting students to potential summer employers.
But, he admitted, it's difficult for a principal to serve as the key contact for businesses.
For instance, he said, after the mass shooting at Marjory Stoneman Douglas High School in Parkland, Fla., "I don't know if I have done anything in the last six weeks not connected to school safety in some way."
Alvirne's Wilbur H. Palmer Career Technical Center has used federal Perkins grants to create the roles of business and community liaison and career counselor. By using a mix of federal and local funding, the school has demonstrated the value of the positions eventually earned local support for retaining them.
The center's business and community liaison, Judy King, is in the process of planning an April 18 breakfast that connects approximately 18 members of the Greater Manchester/Nashua Area Home Builders & Remodelers Association to Alvirne's CTE students. The breakfast is based on a successful health and science breakfast the CTE center has held over the past several years.
"We're all in this together," said King. "I really love when you make a connection and make something happen between businesses and the school. I think so many businesses have been generous, and they're supportive of this center."
At Oyster River High School in Durham, an ELO coordinator position was added this school year.
The coordinator is Sean Peschel, who is also a certified school counselor and works out of the school's guidance department.
"Reaching out to these different industries, [guidance counselors] just didn't have the time to make these connections and coordinate visits," said Peschel.
Peschel said if there isn't an ELO coordinator at the local high school, businesses should reach out to directors of career counseling or work-based learning coordinators, or generally, the guidance department.
But he admitted that guidance counselors are overwhelmed not only by mental health counseling but also unrealistic student-to-counselor ratios. The state's requirement is one counselor for every 250 high school students.
Matthew, a student at Hinsdale High School, conducts data entry work at the Winchester Town Hall.
"[Creating a clear point of contact] is something the Department of Education is tackling, to be able to create a more homogenous interface for the schools to the businesses and the businesses to the schools," said Edelblut. "You have a business that will provide an ELO experience, they might be willing to offer that to different schools and we've had different circumstances where [one school will] say 'OK, we'll let our kids,' and other won't."
School board support
Creating the ELO coordinator role has allowed Oyster River to enhance the student experience, said Peschel. But he stressed that the success is not based on the ELO role alone.
"It's the school working collaboratively together and the support of the school administrative unit — the superintendents, the school board and the department and staff inside," he said.
"This district really put a priority on offering our children opportunities and personalizing education," said Thompson of Hinsdale. "We're small. We can't offer as many classes as a bigger school. And then they realized, we don't need more classes."
Thompson said Hinsdale's ELO program has grown from five or six students to 47 juniors and seniors working with 120 businesses and 70 different mentors.
In March, the National School Boards Association awarded the Hinsdale School Board a first place Magna Award in the under 5,000 enrollment category for its Extended Learning Opportunities program. (Last year, Thompson was named NH ELO Coordinator of the Year in the NH Excellence in Education Awards.)
"Everyone is taking ELOs, and these experiences are what will get them to the next stage in their life. The student voices speak to that," said Thompson. "I think that's what prompted [the school board] to say this is worth our investment."