Ex-Im Bank vice chair touts benefits of agency
UNH forum focuses on resources available to small companies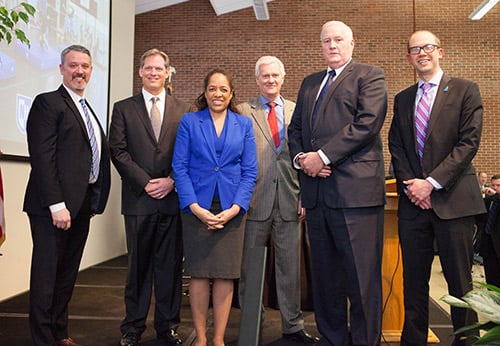 The benefits of engaging in international trade, and the resources available to small businesses, were the focus of a program held in March at UNH.
The UNH Rudman Public Forum program, sponsored by The Provident Bank, featured Wanda Felton, vice chair of the U.S. Export-Import Bank, as well as a panel made up of New Hampshire businesspeople and providers of resources to Granite State companies.
Felton explained the role of the Ex-Im Bank, the official export credit agency for American companies seeking financing to export products. It was open for business only nine months in the last fiscal year – due to a lapse in its reauthorization – but in that time it provided $12 billion in financing to U.S. companies, $3 billion of which went to support small businesses, which represent 87 percent of the bank's customers, she said. Another $4 billion is believed to have gone to suppliers who presumably pass on to small businesses participating in the manufacturing process, Felton added.
And there are plenty of opportunities overseas for U.S. companies, she said.
"There are 500 million middle-class consumers in Asia today, and by 2020, there will be 1.8 billion middle-class consumers," said Felton. "We can't afford to miss out on that opportunity. Population growth and increasing affluence doesn't just create demand for consumer goods and service, they create demand for more and better infrastructure. At minimum, it's estimated $2 trillion a year will be spent each year for the next 20 years to build global infrastructure."
Felton said the U.S. doesn't take advantage of these opportunities the way it should. "Only 1 percent of small businesses currently export, and 58 percent of them export to just one market – Canada or Mexico."
Exports make up less than 14 percent of U.S. GDP, said Felton. "We are 144th, after Rwanda and just ahead of Haiti, in terms of exports as a percent of GDP," she said.
Three Ex-Im products
Businesses interested in exporting are recommended to first reach out to the NH Small Business Development Center, said Rich Grogan, state director of the organization. "We're going to be helping you understand how your business can grow based on exporting to different markets, plus we make sure all of your business fundamentals are in order to take on that challenge," he said.
Grogan said the SBDC has helped a range of companies and industries, including large manufacturers, medical device manufacturers, service-based businesses and energy companies. He said the SBDC's Seacoast regional director, Warren Daniel, is a certified business advisor who helps companies design a plan and choose target markets.
Then businesses can move on to the NH Export Assistance Center, where Director Justin Oslowski provides matchmaking and vetting services to help a firm prepare to approach a bank with a relationship with Ex-Im Bank.
Felton highlighted three products offered by the bank:
• Export credit insurance: Provided directly by Ex-Im Bank, companies are given the ability to extend credit terms to buyers without fear of getting repaid. It's hugely important in winning sales and being competitive, said Felton.
Mike Boyle, CEO of Boyle Energy Services in Manchester – one of the Ex-Im Bank's biggest customers in New Hampshire – said such insurance has allowed his company to grow sales by 600 percent in 28 countries. When a Greek public company recently defaulted on a payment, Boyle turned it over to the Ex-Im Bank. With one call, Boyle received full payment.
• Working capital loan guarantee: Working directly with banks, Ex-Im Bank provides up to a 90 percent guarantee on principal and interest for working capital loans, increasing businesses' borrowing base to include foreign receivables as well as raw materials and working assets. Businesses use this product when they have inventory overseas and need credit.
One of those firms is Land and Sea Inc. of Concord, which manufactures the DYNO-mite Dynamometer to test engine horsepower in cars, airplanes and other types of transportation vehicles. In 2008, exports represented 17 percent of its sales, since getting the loan guarantee, exports to Canada, South Korea, Taiwan, the U.K. and Malaysia account for over half.
• Direct-buyer financing: The Ex-Im Bank works with participating banks to provide short-term and medium-term financing options that companies can offer to foreign customers that have shown they cannot get a loan elsewhere. Typically, loan terms are five years, or on an exceptional basis, seven years, with attractive interest rates. The Ex-Im Bank covers up to 100 percent of commercial banks' exposure with loan guarantees.
Goss International in Durham manufactures and sells printing presses for large-scale publications, direct mail and other uses. Goss uses medium-term direct loans and guarantees to allow foreign buyers to buy capital equipment. Direct-buyer financing supported $25.6 million of Goss' export sales in the last five years.