Ex-athletes get down to business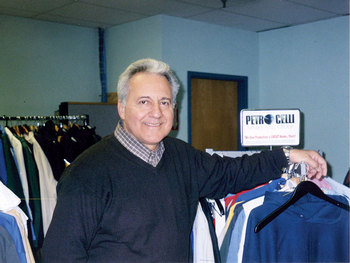 In the competitive world of business, setbacks can both injure the ego and diminish the wallet. But Rick Middleton, who sells barber supplies and men's grooming products for CB Sullivan in Hooksett, remembers when the injuries were a lot more painful.
"In my first year, I had 18 goals by Christmas," said the former captain of the Boston Bruins, who began his National Hockey League career with the New York Rangers in 1974. "Then in one week, I lost four teeth and had 16 stitches in my mouth. And I broke my ankle that same week."
The broken ankle kept him out of action for two months and likely cost him the rookie of the year award. "It was a bad week," he said in modest understatement.
Now the man known in his playing days as "Nifty" has sunk his teeth into a new product and a new line of business as the founder of Dream Team Foods LLC. Combining his nickname and his old uniform number, he is marketing the Nifty16 Dessert Bar.
"It's a recipe I brought down from Canada," said the Toronto native. The chocolate, cream and coconut desserts – which are prepared at a Medford, Mass., bakery — are sold at Crosby's Market Place and Johnny Foodmaster in Massachusetts and soon will be for sale at BJ Wholesale Clubs throughout New England, Middleton said. He is working on getting the product sold through some of the region's supermarket chains as well.
Middleton, 53, has maintained his ties with the Bruins as hockey analyst on the New England Sports Network and with the Boston Bruins Alumni Association that plays 25 games a year in charity fund-raisers.
Being a sports celebrity "does help open some doors and get you in places where it might take other people a little longer," he said. And it helps build relationships with potential customers. But nostalgia doesn't pay the bills.
"When you're retired and out there working for a living, you'd better know your stuff," he said. "If you walk in like a dumb jock thinking that's going to carry you, it's not going to get you very far. If you're educated about the product you're selling and the business you're in, people will take you seriously."
Business and baseball
Chances are most of the employees in a certain office building in Needham, Mass., a quarter of a century ago had no idea they had a former all-star American League shortstop and member of the Red Sox Hall of Fame coming in at night to sweep their floors, vacuum their rugs and empty their trash. But Rico Petrocelli, president of the Petrocelli Marketing Group in Nashua, remembers well his first venture as an independent contractor.
"All I bought was a vacuum cleaner, cleaning fluids and some of the brushes and I got an account in Needham, Mass.," he said. Within three years, he had his own cleaning crews working in the 66 buildings he had under contract before he went back into baseball as a minor league manager in the Chicago White Sox system.
He has also been in and around the Red Sox organization over the years, as a broadcaster, a minor league manager and coach and an assistant in player development. He left in 1997 after then-general manager Dan Duquette wanted to send him on an international mission.
"Duquette said he would like me to go in the off-season to the Dominican Republic and Venezuela to work with some of the Latin American kids and see how they were doing. By then I had grandkids and didn't want to travel. That's when I started thinking, 'I'm going to hang it up.'"
Hanging it up was a lot harder the first time, when Petrocelli's 12-year playing career came to an end in 1977. "It's like losing a close friend or relative," he said about leaving the game he had played all his life.
It also meant a significant loss of income for an all-star whose salary peaked at $80,000 back before free agency had made ballplayers millionaires.
"I was making pretty good money for those days. And we didn't live high — we saved pretty good. But I got out of baseball, and we went right through our savings. For a couple of years, it went down to zero. I would do an appearance for $100, $150, and we were able to pay our mortgage and pay our bills."
As one of the stars of the pennant-winning 1967 Red Sox, Petrocelli has been appearing with former teammates this season in ceremonies marking the 40th anniversary of the "Impossible Dream" team.
His baseball fame has helped him promote the marketing business, now in its ninth year. But it also can lead to dead ends, he admitted, when someone he sees as a prospective client only wants to meet and rub elbows with a famous athlete. "That happens about 20 to 25 percent of the time," he said.
Some people, he said, refuse to take a "jock" seriously in the business world. "I fought that," he said. "I'd say to myself, 'I know they see me as a former athlete and don't think of me as a businessperson.' That's natural, I guess. But I've enjoyed being in business. I consider myself a businessman who played professional baseball."
Opening doors
Manchester investment broker Steve Schubert majored in hotel and restaurant management at the University of Massachusetts, worked for the Dunfey hotel chain and sold cars before starting his own Nautilus club with business partner and former pro football player Mike Esposito in the 1980s.
Along the way, Schubert played one year with the New England Patriots and five with the Chicago Bears as a wide receiver and punt returner in the National Football League. He lasted six seasons before recurring injuries convinced him in he'd have to find a new career.
"I threw myself into it, worked 70, 80 hours a week, put my own money into it, paying bills, putting the house up for a mortgage to get the business started," he said. "After about a year and a half with the fitness center, I said, 'I've got more ability than this. I can do other things.'"
He became a stock broker with the former EF Hutton firm in 1984 and is now with the Manchester office of the financial services firm UBS, where he does "financial planning, breaking down portfolios, doing a lot of retirement planning for high-net worth people."
The Manchester native deals with clients throughout the United States, he said, including many who are referred to him by contacts he has made through both his business and athletic careers.
"A lot of it, believe it or not, is from my football days at UMass and even my high school days at Central," he said. "All that does is open the door. It's a matter of how I perform for them afterwards," he said.
Different kind of competition
C. Edward Lockwood has been president of two banks (Trade Union Savings in Massachusetts and the late Abenaki Bank in New Hampshire) and is now a financial consultant with Wachovia Securities in Portsmouth.
From 1969 to 1980, he was making his pitches as "Skip" Lockwood, a reliever on five major league baseball teams, finishing his career with one season as a Red Sox hurler.
Lockwood made the transition from bullpen to the boardroom, getting an MBA from the Massachusetts Institute of Technology along the way.
Now with Wachovia, "I feel like it's the first time I've played for an all-star team," Lockwood said. But competing in the field of financial services doesn't provide the same thrill as his former battles on the baseball diamond, he said.
"I enjoyed the competition of putting yourself out there every day," said the closer who saved 20 games for the New York Mets in 1977. "When I left it, that was something I had to address, that I could not compete at that level anymore. When you're out of it and it's gone, you find that it's something you wish you could still do, that you could go out there again."
Memories of their playing days are a commodity star athletes carry with them and share with their business contacts.
"If they want to talk baseball, I'm more than happy to reminisce," said Lockwood, who retains a sense of gallows humor about some of the less-than-successful outings at the end of his career. Once, when pitching in long relief for the Red Sox in Chicago, he recalled, he yielded three home runs to the White Sox, each accompanied by a simulated fireworks display on the stadium scoreboard. Then-catcher Carlton Fisk called time and strolled to the mound, and Lockwood wanted to know why.
"I have to give the scoreboard time to reload," Fisk explained.