Eversource, UConn partner with Plymouth State on predictive weather model
PSU's meterological department will complement existing model with ice and snow analysis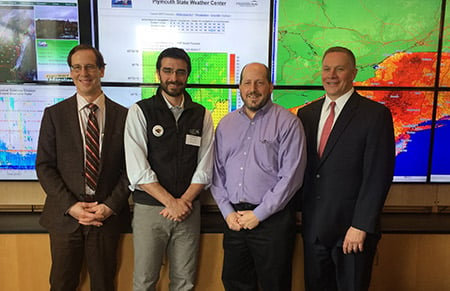 Eversource is partnering with Plymouth State University to build upon its predictive weather modeling developed in collaboration with the University of Connecticut.
PSU's meteorology department will work closely with the Eversource Energy Center at UConn to develop storm modeling and damage forecasting to complement the Center's power outage prediction model originally designed for the southern New England climate.
"We are trying to improve the reliability and resilience of the entire electric grid, basically for New England," said Bill Quinlan, president of Eversource operations in New Hampshire. "We're trying to predict in advance what a particular weather pattern is going to do to our electric grid and the impact it will all have on our customers."
Advance knowledge will help Eversource and other utilities determine if it must request additional resources from other areas of the country to restore the electric grid damaged by a storm.
"We've been advancing this for five or so years. Our predictions are becoming more accurate, we're actually using this technology to make real-world decisions, to bring resources in, to prepare," said Quinlan. "We selected Plymouth State because they bring [new] capabilit[ies] to the table." PSU is the only university in New Hampshire with a meteorology degree and institute, which Quinlan called world class.
"We're really happy and excited to be a part of this partnership, we can see an exciting future ahead," said PSU President Donald Birx, inside the Judd Gregg Meteorology Institute.
The collaboration will extend over two academic years and potentially include four students directly working on the project, said PSU Professor of Meteorology Eric Hoffman. It is expected to be the first of many collaborations between the university and Eversource.
Snow and ice
The predictive model developed by UConn was built initially to examine wind storms that affect the slightly warmer climate of Connecticut. PSU's meteological department will collaborate with UConn closely on better predicting the arrival and impact of snow and ice storms, aided heavily on data about past weather and its impact on the grid.
"The first approach is to extend what they've done in a very similar methodology to New Hampshire, and then after that, after we validate that everything can work in both regions, it's then to work together to bring the capacity up," said Jason Cordeira, assistant professor of meteorology.
Today, Eversource uses Schneider Electric's models to predict storms, information that it shares with the Public Utilities Commission, said Quinlan. As the predictive weather model developed by UConn and PSU matures, Eversource will share the information with other utilities, he said.
The information may also be of interest to insurance companies. Quinlan noted Hartford, Conn. as the insurance capitol of the country.
"This brings the planning to a whole 'nother level. It's no longer just a weather forecast. Now we have predictive modeling, analytics to back up our decisions both weather wise and our own systems," said Quinlan.
The modeling will also help aide Eversource's vegetation management efforts. The utility is already working with UConn's school of forestry and plans to utilize the environmental sciences group at PSU about which species are most likely to fail and how to remove trees without weakening others.
But one take away was an increasing need for better analytics to predict storms, such as Superstorm Sandy, as the severity and frequency has increased.
"The increasing severity and frequency of this weather phenomenon creates real issues for our business, to keep the lights on, allowing the economy to move forward," said Quinlan.