Even employment doesn't prevent homelessness
Housing affordability creates difficult barrier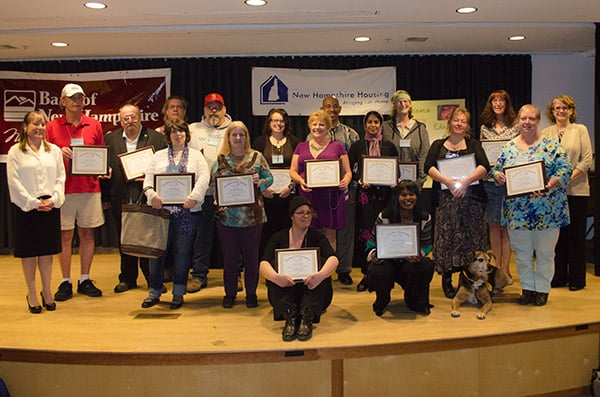 Lenny Constant had never been homeless before, but during the two months he lived at the New Horizons for New Hampshire shelter in Manchester he learned the stigma homeless individuals face when looking for employment.
Constant was filling out an application for a dishwasher position at a restaurant downtown when the owner saw his backpack, took the application and told Constant they had already hired someone for the job. That wasn't the case, Constant learned from friends who applied to the position days later.
"A lot of the places I went to, as soon as I put the address of the shelter, it was almost like I could hear the application hit the trash can," he says.
Constant worked much of his life, raising two kids to adulthood, and later accepted disability checks when emphysema and COPD caused him to stop working.
In February 2013, when he returned from a trip, he learned his roommates had not paid the rent for months, and since his name wasn't on the lease, he couldn't access his belongings in the padlocked apartment. Not wanting to bother his family, he spent the night outside and sought out resources in the morning.
"So I ended up at New Horizons, sleeping on the dining room floor, and I went to the community resource center and I spoke with a gentleman running it, and he told me after six months of being homeless he could see a mental change in people, accepting their plight, and I thought, 'Nope, not me.'"
Constant got a federal work-study job at the library at Mount Washington College, where he earned an associate degree in psychology. Today, he's working a regular cleaning job and will soon be starting a maintenance job at a hotel. This May, he'll start online courses at the University of Phoenix for a bachelor of science in human resource with a concentration on addiction counseling, influenced by the perspective he got of the extent of substance abuse problems among those who are homeless.
"I was under the fact that my disability was keeping me from working, and being homeless opened my eyes. I work again. I no longer get disability," says Constant.
But his story doesn't end there. Despite securing an apartment just two months after becoming homeless, Constant wasn't able to afford the $550-a-month rent with a $700-a-month paycheck. He currently rents a room at his sister's house until he marries his fiancé this summer.
"Even with the two jobs I have, if I didn't have my sister, I would probably barely scrape by," says Constant.
Unaffordable housing
According to Kevin Kintner, program director for New Horizons, "$794 is the fair market rate for a one-bedroom in Manchester." "So if you're making minimum wage, which is $7.25, and you're only working 20 hours a week, that's $720 a month before taxes. People can be employed and not really be able to afford a home."
There haven't been any increases in federal subsidies for subsidized housing, and New Hampshire doesn't have any state subsidized housing, says Maureen Ryan, administrator of the Bureau of Homeless and Housing Services at the state Department of Health and Human Services. She says the waiting list for federally funded Section 8 housing is six years.
However, DHHS and the NH Housing Finance Authority have partnered up to apply for and received a $8.6 million grant from the U.S. Department of Housing and Urban Development for the Section 811 program, which will provide 150 units of project-based subsidized housing for people with mental illness, says Ryan.
"It's housing for that subpopulation, but hopefully it will free up other subsidized housing for people. Beyond that, we don't have any new money for low-income housing," she says.
"The lack of safe and decent affordable housing contributes to homelessness," says Sarah Jane Knoy, director of the Granite State Organizing Project. "I just talked to a woman at Families in Transition's leadership program who says she became homeless because she was living in substandard housing that was too dangerous for her children because of mold."
On March 24, the NH Housing is holding a public hearing on the state's five-year Consolidated Plan for the use of HUD funds block-granted to the state to address community development, housing and homeless needs. Public comments are also being accepted through March 30 at comments@nhhfa.org.
"You will hear from people who talk about being homeless, and they may be living in the shelters, they may be living outside, and you can imagine how hard it is to maintain employment when you're living in transition, your stuff is in your backpack," says Cathy Kuhn, director of the NH Coalition to End Homelessness.
Finding work
Andrea Reed, program manager of the Homeless Veterans' Reintegration grant at Harbor Homes in Nashua knows what the job climate is like out there for homeless individuals.
"Every three months, I'm supposed to get approximately 21 homeless veterans hired. I have a client, he had a conviction in 2010, and no one will hire him. And it's sad. He's served his time," says Reed.
In November, President Obama issued an executive order to "ban the box" – removing the question about an applicant's criminal history and the box that accompanies it. But the order only applies to federal government positions, says Reed.
The average veteran Reed encounters is 50 years old. Many are self-employed carpenters or landscapers. Reed has found them positions, but it isn't always permanent.
"They leave within a couple weeks because it's not enough pay or they're unhappy with the job, and that's a problem. It's like how many people you enter into the program, you may meet the quota, but you may have more people who need training or education," says Reed, who receives the grants from the U.S. Department of Labor. "We've been to trainings and reported it's an issue, but it's all about accountability. They have to hold us to these standards."
Reed has worked out an agreement with the new NH Job Corps Center in Manchester, where some veterans are enrolled and provided housing.
"They used to say they only accepted 18-to-24-year-olds, and I don't get a lot of young veterans, but now they say they will take any veterans," says Reed.
Contract or temporary work is also a contributor to homelessness, she says.
One veteran previously worked via a contract as a senior health care systems consultant and systems engineering analyst for health care facilities around the Mid-Atlantic and New England. "He gets great pay per hour, but it's only for one year, and then he spends three years looking for another contract," says Reed.
"We're afraid it may create two classes of employees," says Knoy. "There are light manufacturing firms that have some employees who are regular and others who are employed through a temporary agency, and generally those don't get the health insurance or paid sick leave or vacation or production bonuses that the regular employees get."
Senate Bill 407, sponsored by Sen. David Pierce, D-Hanover, would address some of these issues, says Knoy.
The bill, which would provide certain protections to temp workers, was scheduled to be vote don in the Senate on March 17.
Kuhn says the Coalition to End Homelessness has helped homeless individuals become advocates through its Granite Leaders program. Constant attended the first rendition of the program and now serves on the board of the coalition. Another woman has gotten national attention for her blog documenting her experience.
"Some people try to do things more locally so it may be working at a local shelter, serving on a committee, something more directly with homeless, and some people want to do more policy work and state and federal and local advocacy and make a change that way," she says.
"Awareness is growing of how serious this problem is for New Hampshire, and I think with that awareness, there will be more of a prioritization of this issue at the state level," Kuhn says of housing affordability in the Granite State. "I think right now it hasn't been heightened to the level it needs to be, but again, as we continue to really raise awareness, and as this issue continues to worsen, more folks are paying attention and figuring out what we can do to provide more affordable housing."