Erica Johnson, 2016 Outstanding Woman in Business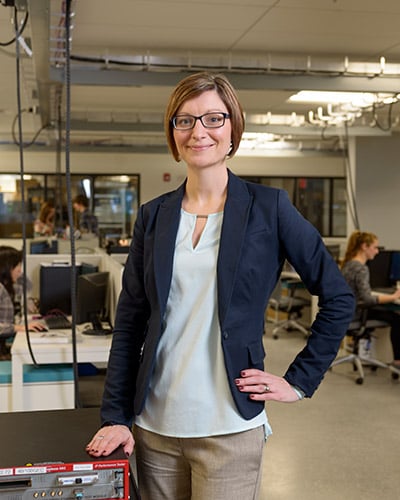 'Take every opportunity – whether it's a new project or speaking engagement – that will enable you to step out of your comfort zone, to learn something or meet new people.'
In the early 2000s, Erica Johnson was an undergraduate at the University of New Hampshire when a classmate encouraged her to become involved with the InterOperability Lab.
Becoming a full-time staffer upon graduation, Johnson was part of the initial drive to assemble the IOL's four separate campus locations into a single lab in 2002.
In 2007, she took over for the founding director, tasked with updating the IOL and making it sustainable. While the IOL is run under the umbrella of UNH, it's 100 percent commercially funded. The lab tests consumer electronics and other products for companies around the world, including pre-released smart TVs and cell phones.
It is Johnson and her staff's involvement and earned industry recognition in worldwide organizations that demonstrate the expertise of the IOL and draw in customers from the West Coast, Europe and the Asia-Pacific region to the facility.
Johnson is both the chair of the Open Networking Foundation Testing Leadership Council and co-chair of the Internet Protocol Version 6 Forum's IPV6 Ready Logo Program.
In January, Johnson and her team at the IOL took the next big step, successfully transitioning into their new 28,000-square-foot facility in downtown Durham.
Q. What is a challenge you have faced and overcome? Taking over the lab in 2007?
A. That was definitely a great challenge. It's really hard to say you've overcome it because every day is a new challenge. There are always new opportunities and new challenges you have to make decisions on and drive forward.
But throughout my whole career, becoming the director was the biggest challenge and most exciting. To take on a new role and work with new administrators at the university and navigate being a part of a larger institution was very new to me. Every day is brand new and it keeps me on my toes so to speak. I always have to be ready and engaged and continue to drive forward.
Q. What benefit do you see from participating on industry boards?
A. Our position within these industry organizations – that is, how we get our word out that we are engaged in these types of activities. We are ready to provide a service, and it's primarily trough those forums we can go to a centralized place where those companies go and we can sell our services. We don't necessarily have a sales department. We always work through the industry forums and alliances and have them speak about the great services we provide and it increases our credibility. Being the thought leaders and holding those positions; that's what drives customers to us. And we've been doing this for 25 years.
Q. Did you have a mentor and have you served as a mentor?
A. Before I knew about the IOL, I was working at the UNH computer lab as a technician, and a classmate told me about the IOL. A couple years down the road, he ended up being one of my first bosses. It was almost like he was catapulting my career as he was working on his own. He challenged me in terms of new projects and thinking strategically, not just the technical development in front of me.
That was very influential, and I take a lot of those skills today, and that's what I do for many of the students. I am very approachable, working with students, sitting down by them to ask what their thoughts are in terms of strategy and where the lab should go, mentoring them in terms of where they want to go in their career and opening those doors and working on projects that help them get toward their next step.
Q. How do you balance your personal and professional lives?
A. I could not do what I'm doing today if I didn't have a strong partner at home who is 50/50. It's important for both of our careers that we split all of the duties and responsibilities with the family, and I think we support each other both in making sure we get to do what we want to do in our careers as well.
Q. What advice would you give to young women just starting their careers?
A. Take every opportunity – whether it's a new project or speaking engagement – that will enable you to step out of your comfort zone, to learn something or meet new people. You will figure it out and the process that you take to figure it out will benefit you later on in your career. There will be some scary moments or bumps in the road but stick it out. It will be worth it, and tomorrow is a new day!