Era of cheap oil gives NH an economic boost
Bad news for oil producers is good news for Northeast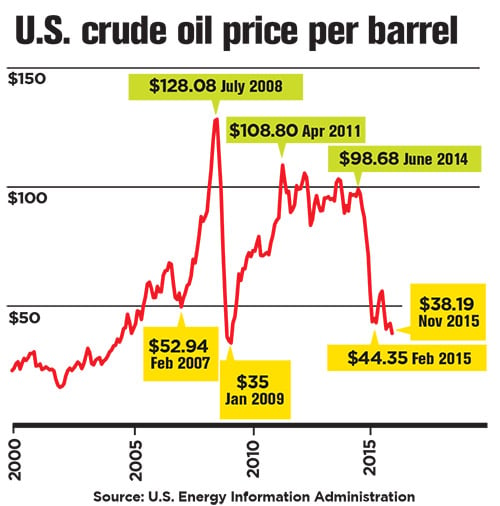 Low oil prices have not gone unnoticed by Phil Ferdinando, co-owner of J&F Farms in Derry. He's not only saving money on fuel, but also seeing fuel surcharges on fertilizer, seed and chemical products disappear.
"It's a significant difference. If we use 4,000 gallons, for instance, in the growing season, a buck and half difference is quite a lot of money," says Ferdinando. "What we're not spending on fuel we can spend on improving the business, improving equipment, more maintenance, and you've got money to spend on something besides your fuel tank."
Economist Brian Gottlob, principal of PolEcon Research, has been following energy trends for decades. He says he "never could have guessed" the current state of oil prices.
According to AAA's Fuel Gauge Report, as of Feb. 28, the average price of a gallon of regular gasoline in New Hampshire was $1.70, and $1.75 nationally.
That's a stark contrast from the record highest year 2014, when gasoline prices hit $3.70 nationally, and hovered near that in prior years, even hitting $3.25 in in 2008.
At the time, AAA attributed rising prices to tensions in the Middle East, hurricanes and refinery outages. And the Organization of Petroleum Exporting Countries had a monopoly on the industry.
But a sudden dramatic increase in the oil supply has driven down prices, says Gottlob, who has followed U.S. oil production closely, having worked on a project in west Texas.
"The U.S. is now the largest producer of oil, which is a big change. You have a combination of increases in production in places like the Bakken oil field in North Dakota but also the Permian Basin in Texas and eastern New Mexico," he explains.
'Like a yo-yo'
Meanwhile, the Middle East has continued to increase production, Iran has entered the market after the lifting of sanctions and demand for oil has slowed in China.
"Believe it or not, storage of oil has become a problem. You can't just hold onto it until prices rise, so you have to sell it at lower prices," says Gottlob.
Instead of cutting back on production, Saudi Arabia and other OPEC members have continued production to drive down prices, making it unprofitable for U.S. and Canadian companies utilizing expensive enhanced oil recovery methods including thermal recovery, gas injection and chemical injection that have successfully extracted previously untapped oil.
To be economical, the average sale price of a barrel of crude oil would have to be about $70, says Gottlob. On February 26, crude oil traded at $32.78 a barrel.
"There are fewer rigs. Oil workers are being laid off. So we are cutting back production, and eventually that strategy will result in prices rising," says Gottlob. "But that can start it up again, so it can be like a yo-yo."
That's good news for New Hampshire, but not North Dakota.
"Ten or 15 years ago, if you saw oil prices fall the way they have, you would say that's going to be a tremendous boon to the U.S. economy, and it's certainly has been, but there's other parts of the country it's having a significant negative impact," says Gottlob. "It's not just Texas and Oklahoma and Louisiana. Now it's Pennsylvania, Ohio, North Dakota – places that are seeing more activity and are becoming more energy dependent."
Price hike coming?
But lower oil prices are an economic benefit to much of the country, and especially New Hampshire, where nearly 50 percent of homes are heated with oil, compared to just 5.5 percent of the rest of the country.
Ferdinando uses oil to heat most of the buildings at J&F Farms, including the greenhouse.
"When you're heating a greenhouse, there's no insulation. It would be like heating your house with all the windows open," he explains. "So the price of fuel, that should give us a good start for the springtime, economic-wise, because you put all that money in heating to the greenhouse out months before you even get to your sales season so that's a big difference."
Those extra savings took a while to be pumped back into the economy, says Gottlob.
"When you think when the most dramatic price drops started to occur, last summer and fall, initially if you look at the spending data nationally, it didn't look like consumers were spending a lot," says Gottlob. "I was expecting Christmas season to be really great for retailers, and it was OK, but I think they weren't convinced it was longtime savings. But if you look at the most recent data, it looks like more of that money is being spent on paring down debt."
"I did a presentation for the Senate Finance Committee and House Committee on Ways and Means, and I said if trends continue we'll save as much as $600 million to $900 million, and now I think it will come out closer to the upper. That's a nice number to put in people's pockets in New Hampshire, and a lot of it is spent in New Hampshire."
He says prices will jump some this summer, to meet increased demand and due to a recent announcement by Nigerian Oil Minister Emmanuel Ibe Kachikwu.
In late February, Kachikwu said that Saudi Arabia is leading an effort among OPEC members to freeze production, and he predicted crude oil will to rise to $50 a barrel later this year.
But Gottlob expects the price of gasoline will remain far below $3 a gallon through most of 2017.
"It won't make a huge difference if we go up over $2 a gallon, that's not a huge impact, but when you get closer to $3 and over, it has a really significant impact on travel," says Gottlob.
He thinks New Hampshire is in for a strong tourism season, as long as the weather cooperates.
"We're certainly not seeing benefits this winter because the weather and lack of snow have trumped our energy savings," he says.
And low oil prices have a major consequence for the stock market.
Gottlob says they will shave some economic growth, with less investment across the country and energy companies hurt from the lower prices.
"The stock market isn't the most rational, but it extends beyond that because it can extend to financial companies that have investments in energy," says Gottlob. "It almost always overreacts to everything. For people who rely on that kind of income, it may have an impact on retirement plans."
The NH Retirement System saw big gains in fiscal years 2013 2014, when it reported 14.5 percent and 17.6 percent returns on investments. In comparison, it reported just a 3.5 percent return on investments in June 2015.
The stock market has been impacted by a lot of things internationally, though, says Gottlob, adding that cheaper oil is "still a benefit to the U.S. economy, it's still a benefit to the Northeast and to New Hampshire, but 10 or 15 years ago, every dollar saved would have translated to a dollar benefit. Now you can't say that because there are people being laid off, there's much less investment in the economy."