Environmental road trip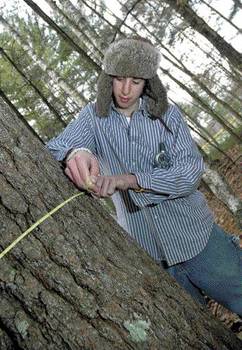 Next month, Parker Sweeney will travel for three hours through the tropics of Mexico in the back of a cattle wagon. He will navigate a trail so overgrown, he and his classmates will have to cut branches above the truck to pass through.
When he reaches El Eden Reserve, a nearly untouched tropical rain forest, he will spend three days living with spider monkeys, toucans, poisonous snakes, killer bees and the largest species of weasel on the planet.
But Sweeney said if he didn't do it, his high school career wouldn't be complete. His brother went two years ago and highly recommended the trip.
"If you don't go, you might as well not graduate high school," Sweeney said his brother told him.
In January, 26 Souhegan High School students will venture deep into the forest for the ultimate of field trips. They will stay in an ecological reserve in Quintana Roo, a Mexican state at the tip of the Yucatan Penninsula, examining how the plants and animals differ from one another and from those here in New Hampshire.
The field trip will be divided into two identical sessions. Half the students will attend the Jan.15-22 session and the other half will attend from Jan. 22 through 29.
The students are traveling with their conservation biology teacher, Dan Bisaccio, who has been taking his classes on biology expeditions since 1995. Students and teachers from Mexico, India, Germany, France, Italy, Puerto Rico and the Netherlands will join the Souhegan students at the reserve.
When they arrive, students will collect data and put together a research paper that will be submitted to the United Nations for Earth Day.
Souhegan High School is hosting the week, which is officially called a youth summit on biodiversity.
To attend the summit, the 26 Souhegan students had to submit a research proposal for the work they would like to do in Mexico. When they arrive, each student will complete his or her chosen project with a group of kids from other states and countries.
Nate Langille will study reptiles in the rain forest because he has wanted to be a herpetologist since he was 4. The El Eden Reserve has a rare species of crocodile he wants to examine as part of a study on reptile diversity.
But, reptiles aren't the only creatures the 16-year-old junior likes to study.
At the informational meeting for the trip, Langille held two Madagascar hissing cockroaches – the kind people often have to eat on reality shows – with as much ease as if they were kittens. He has even named all 18 of the bugs Bisaccio keeps in his room. He calls one cockroach Furious George because it hisses more often than the rest.
At the meeting, Bisaccio told students they will have the opportunity to share the projects on which they're working at the conservation land behind their school with the other students in Mexico.
Bisaccio has a grant to do research for the Smithsonian Institution, and the information his students have been collecting in Amherst will be submitted to its database.
Sweeney and four friends have been studying squirrel behavior. They built what they call a blind to hide from the squirrels so they can observe them in the woods. They sit on an old log behind a wall of evergreen leaves they constructed to avoid being spotted.
The students have also been learning how to identify trees and mark them to keep track of their location. Some of the trails in Mexico are so overgrown, the students will have to tag the trees to find their way back, Bisaccio said.
Even though 16-year-old Julia Day has traveled to China, Cuba and Western Europe, she is excited to go on a trip that brings her close to nature.
"I've traveled a lot, but I've never gotten to see nature," Day said. "The fact that he (Bisaccio) deems us worthy of this kind of study, I mean, it's an honor."
Tthe trip won't be all work and no play for the group of Souhegan students. They will spend their first day in Mexico in Puerto Morelos, where they will kayak and snorkel through the second largest barrier reef in the world. After a day of sun, students will spend the night in a hotel.
They'll have to enjoy it while it lasts, though. The next night, they'll be deep in the rain forest, checking their shoes for scorpions.