Entrepreneur Paula Long describes how it's done
EqualLogic, DataGravity founder sees a 'vibrant' startup community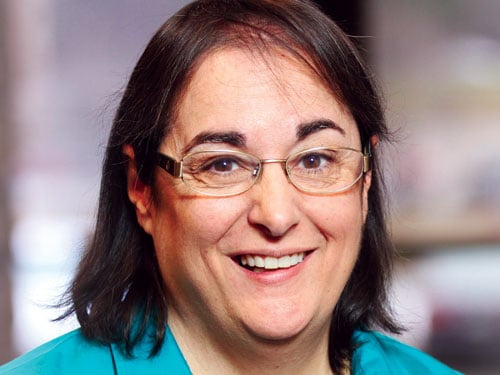 Data is the most valuable possession a business owns, but there are several businesses that are unfamiliar with how to organize it, utilize it and — most importantly — protect it. A familiar example of data falling into the wrong hands is when an employee unknowingly downloads ransomware that holds data hostage, either by clicking on a bad link or opening an unknown attachment. A situation considered less often is when employees themselves access data within areas of the network they don't regularly work, saving it to a USB drive and taking it with them when they leave.
It can happen to anyone, as the high-profile case of Edward Snowden demonstrates. Based in Nashua, DataGravity worked with a law firm to preemptively determine what information attorneys have been taking with them when they move on. "Someone was downloading data they didn't own and was going to take it with them," says DataGravity CEO and co-founder Paula Long. "Our product understands people, content and time. So we can tell you who, what, where and why your content is being accessed and you can help us create rules for access to your data." Geared more toward medium-sized firms, DataGravity's software monitors the movement and access of data constantly. When an employee clicks on a ransomware link, DataGravity's software notices an anomaly in the network, acts as if it is under siege and automatically backs up the system as well as shutting down access to files.
In a Snowden situation, the software would have sent his manager an alert and locked him out of files he was not privy to for his work, or prevented access from the beginning, if the protocol was in place. "We're all about letting you discover what's in your data, what's important to you, and then you can define your own [procedures to secure it]," says Long, whose company then helps enforce those procedures. "So it's really about being able to protect your information." DataGravity assists in finding and monitoring sensitive data – thus helping companies stay compliant with regulations like PCI, HIPAA, and Sarbanes-Oxley – all of which concern customers' personal identifiable information. DataGravity also implements data recovery for lost files and determines what old files can be deleted or archived to less expensive storage tiers.
Startup scrutiny
Long is very familiar with the storage of data. In 2001, she co-founded EqualLogic, which sold storage area network systems, and was later bought by Dell for $1.4 billion in 2008.
Long explains that not enough people knew how to manage the complex storage area networks, which were managed manually. EqualLogic automated the process and made storage more affordable. "It was a very successful product because people who needed to get to storage area networks could now get the value. And it was a very successful product line for Dell – still is," says Long.
Long never worked with computers until her father suggested she study computer science in college, due to her strong problem solving and math skills. "I like to take complicated problems and simplify them so the machines do them for people and people understand the results," explains Long.
After graduating from Westfield State University, Long worked at a few startups before founding EqualLogic in her late 30s. "I tell people you should join one before you start one," says Long, who explains her experience helped her better understand how to develop products and determine the market for them. Early on, Long joined a company called Bright Tiger, which was acquired by Allaire, which sold the application server ColdFusion, later acquired by Adobe. It was through her work at startups that Long met her future EqualLogic co-founders Peter Haden and Paul Koning. "The economy was terrible for raising money in 2001. The dot-com crash had just happened, billions of dollars had been left in startups, so it was difficult," says Long. "Peter Haden actually knew a venture capitalist from Boston, from one of his previous positions, so we went to him and he helped us navigate." Today, says Long, "the startup community is much more vibrant. The bar is still very high, but I think there's more money available and I think, with startups, there's more scrutiny, but the ability to succeed is much higher because of that scrutiny."
Flexibility key
EqualLogic was literally days away from going public when Dell upped its offer. "We were not looking to be sold. We were looking to IPO, but their proposal about where they were going to take the product and the team was attractive to us. It wasn't just the dollar values – what they were going to do for the customer base, because you don't want the customers to walk away, it's to make sure it's good for everybody," says Long. "If it's not good for everybody you probably shouldn't do it."
There's also the future of employees to consider. "I don't think I understood that when you start a company, you're actually responsible," says Long. "Being a member of a startup, there's co-dependency … but you take on a much larger role of responsibility, so your decisions can affect other people's livelihoods which is a huge responsibility." For two years, Long worked under Dell's ownership, with a brief stint working with Heartland Robotics before co-founding DataGravity with John Joseph in 2012. "I'm good at taking puzzle pieces together and coming up with an idea," says Long. She contacted Joseph, fleshed out the idea and talked to prospective customers. "It's watching what's going around you and seeing a problem, and you have to decide if the problem is worth fixing. Is it a feature or worth building a company?" There's a certain nuance to building a product and being open to change, but not getting distracted by too many options. "When you start a company you'll have 100 ideas, so you have to test those ideas. Once you're in a company, you have to have a strategy and you have to keep checking that the assumptions, your strategy, are still correct and that it still matters," says Long. "[It's] easy to stop working, move on to another, but you need to be flexible – have to watch for shifts, and you have to predict the shift before you go too far," she explains. "You have to come out with something people want before they know they want it. It's a little tricky."
1. Source: Forrester Research; 2. Source:
Ponemon
Institute Study: "Corporate Data: A Protected Asset or a Ticking Time Bomb?"; 3. Source: The
Ponemon
Institute "2014 Executive Breach Preparedness Research Report" (Graphic courtesy of
DataGravity
)
---