Energy, collaboration and commitment fuel downtown Nashua's revival
Businesses, organizations and City Hall work toward a common goal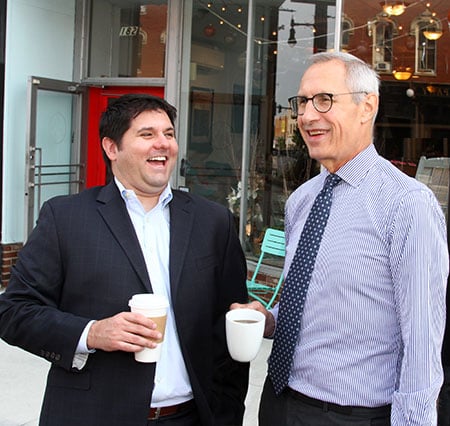 When Kami Harris and Danielle Skelley noticed a vacant retail location on Main Street in Nashua, they immediately visited nearby retailers and restaurants to determine whether the location was the right fit for their women's clothing boutique.
The duo opened their shop in late July, settling on the name "camaraderie," which sums up their five-year friendship.
But camaraderie also comes to mind when talking to the mix of business owners, nonprofit leaders and government officials working together to promote Nashua as a place to visit, eat, shop, experience and live.
Just across the street, Cheryl Plunkett, owner of another women's boutique, called Fresh, welcomed Harris and Skelley by sending flowers the day they opened.
"I think our businesses are complementary, and I'm thrilled they're there because they are for a different age bracket. They're more casual, I'm more dressy, so it gives people more reasons to come downtown," said Plunkett.
"We are getting a lot of new places in, and since I've been here, in 3½ years, I've seen a surge of young people owning storefronts, and that's exciting," said Jessica dePontbriand, owner of jajaBelles, a bakery located across from camaraderie and near Fresh. "And when you couple that with the new mayor, a new administration, Great American Downtown, we're all coming together, and weaving into each other."
The organization Great American Downtown is the common thread in the new energy, said dePontbriand. And by Great American Downtown, most people are talking about its executive director, Paul Shea, who joined the organization three years ago.
In Shea's tenure have come new events, including Dinner on Main Street, when downtown chefs team up with local producers from the Nashua Farmers Market to feed a six-course farm-to-table meal to attendees sitting at a long table right in the middle of Main Street. This spring and summer, Great American Downtown organized the Nu Muse Festival, a music and arts festival, and the Merrimack Valley Battle of the Bands. It has plans to hold another music festival, the New England Roots Festival, at The River Casino on Sept. 30.
Paul Shea, executive director of Great American Downtown, has brought new events to Nashua, including the Nu Muse Festival. (Photo by Allegra Boverman)
"It's my belief, someone should be able to come downtown on any given weekend and run into something cool," said Shea. "We have many cool businesses and great restaurants, but unless there's a frequency of special happenings, the experience is more of a fleeting one. It's our goal to make downtown Nashua a destination for people every single day."
Cross-collaboration
"I've seen the steady progression of trying to attract millennials and the millennial generation to stay around the city," said Alicia Mireles-Blow, an employee at WineNot. "They're trying to incorporate street art and do more public events like the movie nights and summer block parties and the Taste of Downtown."
Mireles-Blow said businesses also are having success hosting their own smaller events. The first Wednesday of the month, jajaBelles hosts coffee with the mayor, and plans to hold Coffee with the Candidates this fall. WineNot hosts wine tastings Wednesdays, Fridays and Saturdays.
"People like that middle-of-the-week, hump-day tradition. It's a routine, and that goes the same with the Riverwalk Café as well. You can count on the Riverwalk to have music performances Wednesday through Sunday," she said. "If more businesses did things on a weekly basis, I think people are interested in that."
Shea will immediately note that many of the ideas that emerge from Great American Downtown stem from the organization's board of directors, which includes Nashua's director of economic development, Tim Cummings.
"We share goals. As far as the mission of our organization and the goals of city hall, they're very much aligned," said Shea. "If City Hall and the people of Nashua and the board of alderman were not so interested in investing in our downtown, if that support weren't there, that level of collaboration wouldn't be there, but it is."
"We all collaborate very closely together on projects," said Amanda Schneck, owner of Pearl Marketing & Design and a member of the Downtown Improvement Committee out of City Hall. "Even if a project comes out of City Hall, it doesn't mean it hasn't been discussed with Great American Downtown. They're part of the meetings. If you go up and down the street, you'll see six different banner designs we did in collaboration with Great American Downtown to make sure we're consistent."
Tracy Hatch, CEO of the Greater Nashua Chamber of Commerce, also points to the greater collaboration among arts organizations, such as City Arts Nashua and the Nashua Arts Commission. "There's a more centralized approach or thinking about the arts," said Hatch. "They've grown over the last 10 to 15 years, and there's a huge renaissance of the arts taking place in Nashua."
This spring, Great American Downtown organized the Nu Muse Festival, a celebration of music and the arts.
(Photo by Art Ferrier/Great American Downtown)
Kami Harris and Danielle Skelley, co-owners
of Camaraderie. (Photo by Allegra Boverman)
"The arts scene is something that can really contribute to the growth of a downtown area. Artists and chefs attract other people who help to energize the downtown vibe," said Cummings, who is advocating for the city's proposal to use a $15.5 million bond to build a performing arts center on Main Street, at the site of the former Alec's Shoes. The board of aldermen were scheduled to vote on the issue on Sept. 12.
Downtown living
Another important piece in downtown Nashua's revival is the new residential development in the area, which Mayor Jim Donchess said "is good because it brings people to live here and become the customer base for any business — restaurant or bar or retail business."
The first project, Clocktower Place, was converted into 326 units in the 1980s, with assistance from a federal grant. Thirty percent of those units are below market rate.
But the next residential mill development wasn't completed until five years ago, when The Stabile Companies turned Cotton Mill Square into 109 apartments, with 50 percent of the units below market rate.
Brady Sullivan is currently renovating the Franklin Street mill to hold 200 units of housing at market rate. And the owner of Clocktower Place Apartments purchased the Picker Building last fall, planning to convert the commercial space to residences.
Having residences within walking distance to or above retail locations makes for a more dynamic environment downtown, said Cummings.
"It's what's going to keep your Main Street active at 7, 8, 9 p.m., which gives more people a comfort level to come downtown and patron and shop," he said.
Downtown living in Nashua is appealing to both empty-nesters looking to downsize and millennials, said Hatch.
"I think it's a reflection that people don't want to spend their lives in their cars anymore, and if we can have that mix of good dining, unique shopping experiences and housing that's desirable — and the potential for a performing arts center to come to Nashua, which the chamber is strongly backing — I think that is the last piece of the puzzle. They all feed off of each other."
Scroll down for more photos of downtown Nashua