Electric Co-op adds conservation incentives
Three new programs promote curtailing energy use during peak periods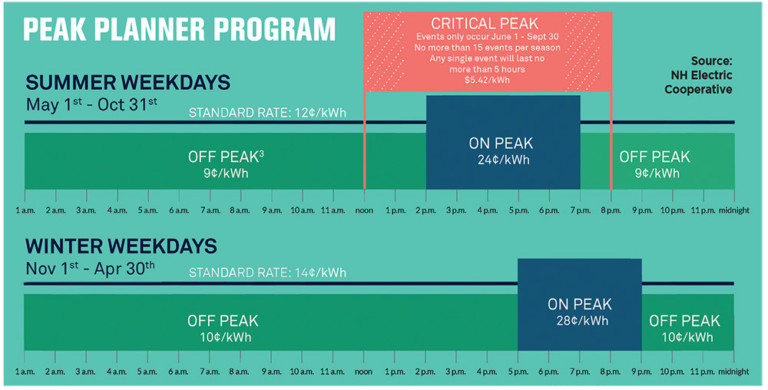 Ahead of the stifling summer weather, the NH Electric Cooperative recently launched three programs available to members interested in lowering their bills or acting on energy conservation opportunities.
Although each is different, the focus of the Peak Planner, Peak Plus and Peak Days programs is to curtail energy usage during regular peak usage periods as well as what are deemed critical peak periods – those 15 times a year when the weather is either extremely hot or extremely cold and results in high energy usage to power air conditioners, central AC units, electric heaters, as well as other energy-intensive appliances.
"The energy prices we pay and the transmission prices we pay are set by ISO New England's peak times, so if we can lower our members' usage during those times, we can theoretically lower rates for our members," said Seth Wheeler, the cooperative's communications administrator.
Since the co-op does not own the transmission lines that bring electricity to its substations, it pays other utility companies, mainly Eversource, for use of those lines, said Wheeler. New England's Independent System Operator sets energy rates for the region.
"If we can reduce, at those peak times – like a heat wave in the middle of the afternoon – we could pay less year-round for transmission charges," said Wheeler.
NH Electric Cooperative has 83,000 members in 115 towns, ranging from Derry to Pittsburg, but mainly concentrated in central New Hampshire.
'Time-of-use rate'
According to years of data from ISO New England, generally 2 to 7 p.m. on summer weekdays is the on-peak period, while that window shifts to 5 to 9 p.m. in the winter. The idea of the Peak Planner program is to avoid using electricity during those times.
"Those are the time periods where we're looking to have the most impact in two main ways. One is to offer our members a time-of-use rate, which is a little different than how we do things now," said Wheeler. "The off-peak [rates] are lower than what we currently charge, and they include all weekends or holidays at non-peak hours, but [during] on-peak hours, you would pay an on-peak cost that is higher than the basic residential rate. So the incentive there is to reduce your usage during that time."
This means waiting to run the dishwasher, clothes dryer and other large appliances until the off-peak time. It includes turning your heat down or off, turning off window air conditioners or central AC, and even shutting down pool pumps and hot tub heaters.
As a result, Peak Planner customers would pay around 9 cents per kilowatt-hour in the summer, less than the standard rate of about 12 cents per kilowatt-hour, but would pay more than the standard if they do use large appliances during the on-peak period, at 24 cents per kilowatt-hour. That jumps to $5.42 per kilowatt-hour at the critical peak period.
Members enrolled in Peak Planner and Peak Days will receive an email, text message, phone call or message via social media at 8 p.m. the day before a critical peak event is expected to occur. (ISO New England has years of historical energy usage data and sends updates to utilities every five minutes.) Peak Days program members pay the standard rate, but can help lower overall costs by being mindful of energy conservation during those crucial moments in the year.
"Every little bit helps, and that's the idea behind this voluntary program," said Wheeler. "Anything you can do when electricity demand is high in New England will help the co-op."
Twofold benefit
The Peak Plus program is a different way to reduce peak demand.
"You would remain on the same standard residential rate people are on now, but volunteer to have various devices controlled," said Wheeler. For instance, you could volunteer to plug your air conditioners into a device that connects to the outlet and allows the co-op to turn them off for a duration of five or so hours during critical peak times through a Wi-Fi signal.
"So the benefit there is twofold: You're not going to be paying for any electricity used for that appliance. [And] it helps the co-op as a whole, because it affects peak demand, and with enough participation, it could reduce transmission costs," said Wheeler.
The co-op will send a professional to install devices on energy-intensive appliances like electric water heaters and central air conditioning.
Doing so could result in participants receiving a check, depending on how many devices they register.
There is an override feature for consumers to turn their appliances back on, however the cost of doing so can eliminate any potential savings.
Wheeler said there has already been interest from co-op members, although the co-op still has email newsletters and brochures to hand out to educate members about the programs.
About 5 to 10 percent of total energy usage occurs from these critical peak times, so the potential impact of these programs is significant.
"It's hard to say what the number is that tips the scale and makes a big difference in rates, but for our goal, I would say the more the merrier," said Wheeler.