Effort launched to boost manufacturing in New Hampshire
NH Manufacturing Sector Partnership to promote collaboration among industry, educators, state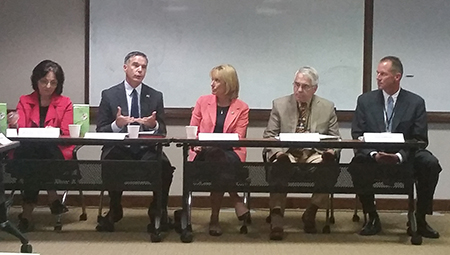 New Hampshire's Manufacturing Sector Partnership – a network of manufacturing professionals, educators and state economic development officials working to form a cross-collaborative career pathway for future workers – kicked off its first meeting on Tuesday at Hitchiner Manufacturing in Milford.
Leading the session, Val Zanchuk, president of Graphicast in Jaffrey and chair of the Business and Industry Association of NH, moderated a roundtable discussion before breaking the manufacturers into groups to determine what ways they could better recruit, train and retain workers.
Manufacturers highlighted the need to further destigmatize the industry – which they say is still seen by some parents and guidance counselors as dirty and low-paying – as well as donate equipment to colleges, have a bigger presence on college campuses so students recognize them by name and pay for training.
They also expressed frustration over Millennial employees, who they say do not show up on time, demand flexible schedules and move on in a couple years if they're not promoted. One group suggested using measurable improvement metrics to see employees' growth, and providing a clear upward ladder, tuition reimbursement and allowing some company time for pursuing further education and training.
The meeting is the first of a series of meetings the state's manufacturing industry will hold, and serves as a template for future sector partnerships in industries such as information technology, hospitality and health care, which will roll out later this year.
Gov. Maggie Hassan spoke during the opening of the session about her efforts to freeze university tuition and lower community college tuition – steps that are necessary to keep students in state, especially since colleges in neighboring states are cheaper, said Hassan.
She also asked manufacturers to urge their legislators to support the Gateway to Work Initiative, announced earlier this year. The initiative proposes using a large reserve of unused federal welfare dollars toward efforts like promoting apprenticeships and hiring by subsidizing workers' pay for six weeks and providing case management help for low-income workers who may need help with transportation and childcare.
"Gateway to Work is funded only by federal money. We already have it. If we don't use it for this purpose, we lose it," said Hassan.
She said that to get the initiative going, the Legislative Fiscal Committee must OK transferring the money.
'Encouraging signs'
Department of Resources and Economic Development Commissioner Jeffrey Rose also announced that $100,000 was approved in the fiscal year 2017 budget that allows his agency to market the state outside of is borders to recruit workers. Rose told NH Business Review the strategy had not yet been determined, and the dollars were small, but that he would be working on it over the next year.
Dan Villemaire, president of C&M Machine Products in Hudson is a member of the technical advisory board of the NH Machining Association.
"There are some encouraging signs that people are paying attention to what the problem is, because it's a real problem for manufacturers to find talented people, and we're forced to now get people trained and do a lot of that on our own dollar and on our own time, and trying to balance that with workload and those type of things are extremely difficult," Villemaire said. "Especially for a shop like ours, we're 90 people. People wear multiple hats, so it's tricky, we don't have the resources that BAE has or Hypertherm, where they have their own training institute."
Anne Struthers, business resource specialist at DRED, is serving as the intermediary between the industry and state resources.
"A woman came up to me and she says, 'How do I get more information on the Ready for Work Program?' so now we're seeing this [interaction]," Struthers told NH Business Review. "And then we'll see commonalities and we'll build a strategy from that, so if 10 manufacturers are calling me for the same thing, are we delivering it the most efficient way? If you do a one-off training grant for one company, wouldn't it be great if we could combine that and partner with our community college and they're doing the training, so it's not just a one off thing? It's really part of a cohesive system."
As Zanchuk said at the close of the meeting, "state resources are here to help but the sense of urgency and the drive has to come from manufacturing. You have to get together and say, 'We need this.'"