Economic forecast: partly sunny and partly cloudy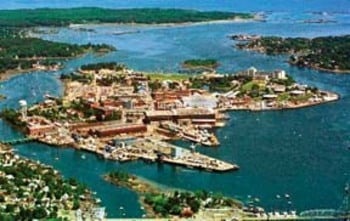 The announcement last month that Enterasys Networks would be closing its Rochester facility, putting its 300 employees out of work, quietly ends New Hampshire's ties to what used to be Cabletron Systems, where as many as 7,000 people worked in the 1990s.
Even the companies that Cabletron, and then Enterasys, used to outsource manufacturing work to — Celestica and Flextronics – also are shutting down their Granite State operations. Flextronics has already abandoned its Pease facility. Celestica plans to lay off 400 permanent workers and 195 temporary workers when it leaves Salem, which would be the largest job cut in the state.
Yet the biggest hiring announcement in the last year comes right next door to Rochester in Dover, where insurance giant Liberty Mutual plans to expand its facility to house an additional 1,750 workers – specializing primarily in information technology support.
But this isn't the tale of two companies. It isn't even a story of high-tech manufacturing replaced by high-tech servicing. It is the tale of two economies as the state heads into the latter half of 2005.
There is the sunny economy, an economy that added some 13,000 jobs in 2004, with a healthy real estate market, a building boom in luxury housing, thriving retail and tourism industries.
And then there is the cloudy economy of relatively stagnant income and industrial growth, increasing debt and bankruptcy and a shortage of good-paying blue-collar jobs with benefits that enable people to afford a house near where they can work.
While most of the signs are in the sunny direction, there are some disturbing clouds on the horizon, signs that we may be in for some rough weather.
There's the sharp drop in consumer confidence in April, announcement in May of the proposed closing of the Portsmouth Naval Shipyard, easing of the chronic labor shortage despite statistical evidence of an unemployment decline, a slight slowdown in the housing market, a slight increase in short-term interest rates and a softening of auto sales.
"The state economy is rolling right along," said economist Russell Thibeault, president of Applied Economic Research in Laconia. "We are adding jobs, but not necessarily breadwinner jobs. Other than job quality, it looks very good."
Manufacturing and high tech
Can an economy thrive without breadwinner jobs?
To be sure – despite some large layoff announcements – the manufacturing sector of the economy has stopped hemorrhaging. The state even added 500 manufacturing jobs since last year.
"The long manufacturing decline bottomed out in late 2003," said economist Dennis Delay, director of special projects at the Workforce Opportunity Council.
Similarly, the high-tech drain – in 2000-2003, when the state lost a third of its high-tech jobs – also has ended, according to a recent report by Network NH, a coalition of business and academic leaders that focuses on the economy. The high-tech sector has experienced a small rebound since then, though most of those new jobs are not in manufacturing, but in the tech service sector.
To some extent, the state's economy has been rescued by the war in Iraq and general military buildup. That is where the growth has been, whether at direct contractors like BAE Systems or smaller high-tech subcontractors. Defense-related industry represents about a fifth of high-tech employment, according to the Network NH.
NanoComp of Lebanon, the big winner in the 2005 Start-UP NH business plan competition, is developing tiny carbon nanotubes that could be used to strengthen everything from body armor to ship hulls, thanks to start-up contracts with both the Army and the Navy. The company only has four employees, but is hiring another half-dozen and is anticipating even more growth if an anticipated Army contract comes through.
"We are hopeful that we can be the flagship to nanotechnology, which will create the next industrial revolution," said Peter Antoinette, NanoComp's president and co-founder.
While the technology also has commercial applications, military uses are behind the company's rapid growth.
But dependence on military spending was the state's Achilles heel after the Berlin Wall fell and the nation's largest military contractors consolidated — not to mention the closing of the Pease Air Force base. Now the federal government is threatening to close the area's largest manufacturing employer — the Portsmouth Naval Shipyard – resulting in the loss of 4,800 civilian jobs, half of them held by New Hampshire residents.
How badly a shipyard closing will affect the region and the state depends on whom you talk to.
Economists emphasize the differences between the former Pease air base and the shipyard. Delay thinks that a shipyard closing will be more economically severe, because those affected will be civilian employees with more roots in the community, and because there aren't as many private sector uses for an abandoned shipyard.
Thibeault, however, noted that existing contracts will keep people working at the shipyard for years.
"It will be phased out rather than slammed shut, so it will be easier to absorb the shock. It won't be a disaster for the Seacoast economy," he said.
Still, Thibeault said, finding these kinds of good-paying manufacturing jobs is like finding "hen's teeth in this economy."
If the commercial real estate market is any gauge, don't look for manufacturing to make a major comeback in New Hampshire any time soon. The market for large industrial space is softening, according to Michael Monks of Monks & Company, a commercial realty firm in Nashua.
It's smaller office and R&D space – 3,000 to 9,000 square feet – that's still in demand, both by small companies looking to expand and larger companies looking to downsize.
Tourism
The real economic growth in New Hampshire has been where it has always been the last 10 years — the service sector, which seems to continue to grow no matter what happens to the rest of the economy.
Weather has put a little damper on things. Last winter's weekend snowfall was good for ski resorts, but did manage to scare away many downstate travelers in January and February, according to the state's "travel barometer," compiled by Plymouth State University for the state. And the spring was literally a washout, though big events – like Motorcycle Week — still drew large crowds, even though those crowds were sometimes crammed under a highway bridge to wait out a downpour.
But this summer should be slightly better than last summer if inquiries hold any clue, and the weather cooperates , according to Alice DeSouza, director of the state Division of Travel and Tourism Development.
"We continue to build to pre-9/11 levels, plus a little," she said.
One reason for the growth is that the British are coming, and so are the Canadians, attracted by the bargain of a weak dollar. Visitors from other countries, she said, tend to spend more than local tourists.
And people are still eating out closer to home. Rooms and meals tax revenue, for instance, is up 10 percent over last year.
Tom Boucher, partner in the T-Bones Restaurant Group, had put off starting another restaurant for nearly a decade because of concerns about the economy. But the November 2004 opening of a T-Bones in Derry was so successful, he said, that the company is planning to add another southern New Hampshire or northern Massachusetts restaurant in the near future.
"It's crazy how much it continues to grow," he said.
The new Fisher Cats stadium has attracted a number of independent restaurants in Manchester and the chains continue to march up the state. A 99 Restaurant has opened in Littleton, once a North Country outpost that "now seems to be a little closer," said Paul Hartgen, president of the New Hampshire Lodging & Restaurant Association.
Hotels are going up, particularly in Portsmouth (as anyone hearing the construction downtown would attest) and Manchester, with the latest announcement of a proposal to turn the vacant Pandora mill building in the Millyard into a luxury hotel.
Retail
Still, there are signs that not all is well.
A sharp drop in consumer confidence in April left the state Department of Employment Security concerned. The last time there was such a big dip in the rate was shortly before the last two recessions. There was a partial rebound in May, and the levels are still better than they were a year ago.
It is still too early to gauge the effect of this on retail sales, but there has been a substantial slowdown in the biggest ticket retail item, cars.
New-car sales in the first third of the year are off by some 5,000 cars sold from 2004, according to Dan McLeod, president of the New Hampshire Auto Dealers Association. That's a 14 percent drop. But, McLeod noted, 2004 was a banner year, and the decline may have less to do with economic uncertainty and more to do with so many people buying new cars in the past few years. Cars also are built to last longer than they used to, so people don't need to buy new cars as frequently, he said.
"We have been going crazy, going crazy, going crazy and now it's slowing down a little bit," said McLeod about the last few years in the auto business.
Real Estate
Economists are watching an even bigger-ticket item — residential housing — even more closely. The good news is that interest rates appear to continue to fuel sales and prices continue to appreciate.
The latest year-to-date statistics (mid-June 2005) show an average price of $262,911, a 7 percent increase. That's a little slower than the past few years, but the housing bubble, if it is one, doesn't appear to be bursting anytime soon.
In fact, Realtors should take some comfort in the slower growth, said Paul Griffin, executive vice president of the New Hampshire Association of Realtors. It means buyers aren't on a speculative binge like they might be in other places, including Boston.
"We are experiencing responsible growth," Griffin said.
But whether this growth – and the low mortgage rates that fuel it – can continue indefinitely is a question mark. Already there have been some signs of a softening in the market. The Boston area Realtors association recently reported a sharp decline in home sales during the last two months, the sharpest decline since 2001, even as prices continue to rise. New Hampshire sales are still on the rise, but homes lingered on the market for an average of 156 days last quarter, nearly 20 days longer than in the previous quarter.
But this might be a good thing.
"The market cooling is a good thing, because it has been too hot to touch. It's more like normal inventories rather than the hypermarket we've been in," said Thibeault.
Thibeault thinks there might be some residential overbuilding going on, especially in the Lakes Region.
"There were more than 2,000 units in the pipeline," he said. "The largest number in the last 10 years was 150 units. If that's all approved, that's more supply than can be comfortably absorbed," he said.
"There is a whiff of a slowdown," said Gordon Cormack of Cormack Builders in Madison. He has noticed fewer calls from the high end of the market, as well as a little softening in the labor pool.
But demand still outstrips supply, said Kendall Buck, executive vice president of the Home Builders and Remodelers Association of New Hampshire.
"Demand continues to be there. It is very strong. New Hampshire is the strongest growing state in New England," he said.
Demand is particularly strong for entry-level housing, and Buck worries that the inability to find housing near work might be one of the major inhibitors of growth in the region.
There are other clouds on the horizon as well. While commercial construction is awfully robust, there don't seem to be as many plans in the pipeline as were previously, noted Gary Abbott, executive vice president of Associated General Contractors of New Hampshire.
That could be because there is less open bidding than in previous years, but it could be a sign that the building pace will slow, at least on the commercial side.
Delay sees another dark lining in an otherwise blue sky. Long-term interest rates are inching up where higher short-term rates are. Historically, if that kind of trend continues, a recession usually follows.
"It means that investors can't borrow more in the short term to make money in the long term. So everybody pulls back and the economy collapses in on itself," he said.
He said that the national economy is in the neutral zone, and New Hampshire would still be in better shape to survive a recession than other areas of the country.
So have a drink to our economic future. But before you down the contents of the glass, take a good look at it and decide: is it half empty, or half full?