Driving sustainability home
Will Tedd Benson's modular houses disrupt the homebuilding industry?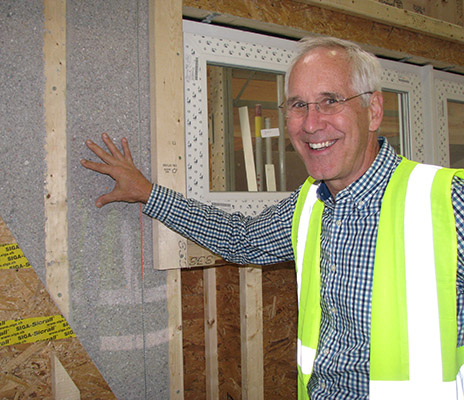 Tedd Benson has been perfecting sustainable methods for 40 years through his Walpole-based custom homebuilding company Bensonwood.
The process began by studying an old tradition, timber framing, a method used in the pre-Civil War era to create structures with overlapping or joined timber boards.
"Much of New England is defined by that timber-frame building era, and, though it had died by the 1970s, I had decided using modern technology and better equipment, we [would] be able to make it affordable again," says Benson, sitting in his office in Walpole. "We got very good at timber framing but we also got very good at making things here and assembling them on a building site, as opposed to cutting and shaping on the building site."
Unlike most homebuilders, Bensonwood builds houses in sections, in a warehouse in Walpole, that are reassembled on site. Most of his career, Benson and his team have been fine-tuning building techniques and efficiency under Bensonwood.
In 2012, he founded Unity Homes to focus on the green, cost-effective modular homes business that Benson is working to expand. Both Unity and Bensonwood homes are built airtight, energy-efficient and with air quality controls.
"As we, over the years, took on more of the building – not just the frame but wall sections and roof sections and floor sections – we really became good at the logistics and the planning and the organization it takes to make really high quality building elements," he says.
Most Unity Homes have been built in New Hampshire and Vermont, but Benson said one was just assembled in Virginia. (Assembly takes about 30 working days.)
"We're getting inquiries from Nebraska and California and Washington State, and so the idea is taking off," says Benson. "But the big concept for Unity is we plan to distribute production throughout the United States. So eventually we want Unity to be a national company, and to make our product nationally available."
A bath pod under construction at the warehouse in Walpole. Currently, bath pods and mechanical closets are the only areas of the house that are shipped as a whole.
Benson is currently talking to partner builders in Colorado, Kansas City, Texas and in the mid-Atlantic that will be trained on Unity Homes' techniques and overseen by a member of Unity Homes' team.
"We're certain [national expansion] is going to happen, but it will be one piece at a time, as we gather the investors we need," says Benson.
Closed-paneling
Because building elements are standardized, it makes it efficient to construct the home. But clients can customize a home by choosing a floor plan and interior levels of customization, such as fixtures.
Unity Homes applies its building practicality to shipping as well.
Most homes are constructed with open-panel parts, meaning wiring and insulation are installed on site.
"The closed-paneling which we have – the insulation is there, the windows are in, the air barrier is in place, the moisture barrier is in place, the finishes are on, the wiring is in there, the plumbing is in there," Benson explains. "Closed-panel production allows us to flat pack when we ship, and that's important, so we get a lot of home on the truck, and therefore we can ship further cost effectively than for instance modular builders can."
Modular homes, shipped as whole homes or in halves, can't travel far.
"We'll be unique in our closed-panel offering, and we'll be one of the few that will be a nationally available homebuilder," he says.
Greenbuild Conference
Next year, Unity Homes will move to a new warehouse, down Route 12, to expand production. Benson says that will include adding on more production staff and completely separating operations from Bensonwood. Benson is hoping to get the foundation in before winter, at the latest by spring.
But the firm's most recent focus has been preparing for the Greenbuild Conference and Trade Show in Washington, D.C.
Unity Homes was invited to build the one house on display this year. The house is built with sponsors' products.
"We've been so green, many of them are the same products that we were already using," says Benson. "They gave us first choice."
Those include Huber sheathing and flooring products, wood products from Nordic Structures' sustainable spruce forest in Canada, and bathroom fixtures from Kohler.
"It is a movement," says Rheannon DeMond, an energy and sustainability specialist at Bensonwood and Unity Homes.
The nonprofit organization Cradle to Cradle analyzes products used in the house for their chemical compounds and recyclability.
For instance, foam insulation is not a green-friendly product, since it can continue to emit off-gas, says DeMond. Instead, Unity Homes uses cellulose insulation, made from recycled newspaper and other paper products that are combined with a natural borate additive, which makes it fire-resistant as well as resistant to insects and rodents. Cellulose also will absorb water and release it, while fiberglass repels moisture, which sticks to wood boards that mold and rot.
50-year warranty?
Benson believes all homes built in the 21st century should be fossil fuel-free, and air source heat pumps could run on solar and wind energy, as long as the energy load in the building is reduced.
"Air source pump technology can supply efficient heating as well as efficient cooling, and in a really affordable way," says Benson.
The air source heat pump supplies heat in the winter and cooling in the summer by separating cold molecules from warm molecules and pushing heat in the room, and vice versa. It also eliminates cooling as an extra expense, using a small amount of electricity, as long as the house is air-tight.
"That makes a ton of sense because homes just sit there … so it really should be the first place for us to achieve energy independence," Benson argues, since it will be harder to achieve in transportation and manufacturing. "We think we can prove that."
Solar energy is also becoming more affordable, he says.
"A kilowatt supplied by solar is nearly the same expense as a kilowatt supplied by a utility, and as it evens out, there's just no reason why not to use solar because whatever that cost is per kilowatt, it stays that way forever, whereas the utility costs keep going up."
Currently, solar panels are optional, but Benson is considering supplying them as an essential component of Unity Homes.
"What's really gotten me behind Unity," says DeMond, "[is] the current housing stock that's available from $200,000 to $250,000 is pretty poor. There's people who get caught up with granite countertops – they're not focused on energy efficiency, and that's something Unity is trying to bring together."
"As a result of manufacturing technology and all of the advances that have been made in automobiles and computers and phones and appliances and so on, the consumer is really winning," says Benson. "They're getting really good, high-quality products that are getting more and more affordable and more and more defect-free. That has bypassed homebuilding, and as a result homebuilding in general, homes in general, are the most defect-ridden products people buy."
According to a 2004 Consumer Reports story referred to by Benson, 15 percent of standard homes have serious structural or health-related defects, not including cosmetic defects.
"In the long run, we should be able to put in a 50-year warranty on homes and assure people they don't have to worry about maintenance and defects," says Benson.
Liisa Rajala can be reached at lrajala@nhbr.com.