Downtown Manchester bookstore set to open in spring
Owners view it as 'a real center' of the community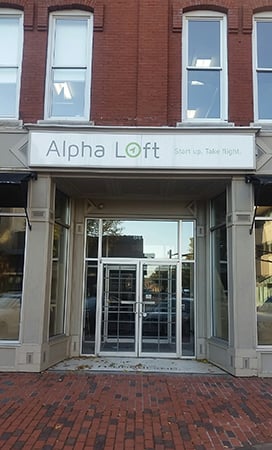 An independent bookstore will be opening next spring at the former Alpha Loft location at 844 Elm St. in downtown Manchester.
Entrepreneurs Liz Hitchcock and Liz Cipriano are teaming up to renovate the space, which will feature curated books, a children's room, special events, including live music, and a café offering coffee and snacks with the potential for wine and beer purchases in the evenings.
"We're hoping it can be a real hub for downtown Manchester," said Cipriano. "We recognize there's a lot of great restaurants to eat at and cute shops on Elm Street, it's really missing a real center of the street and community."
The Bookery, as it will be called, is in the final planning stages. Passersby can see drawings of the planned bookstore taped to the windows. Cipriano expects construction will start in a couple weeks. To keep abreast of the grand opening and other news, those interested are encouraged to sign up for The Bookery's newsletter.
This is the second of two cultural amenities Liz Hitchcock has been involved with as an investor.
The Union Leader reported in mid-October that The Rex LLC – a partnership between Hitchcock and Gray Chynoweth, chief membership officer and deputy chief operating officer for the Advanced Regenerative Manufacturing Institute in the Millyard, have purchased 23 Amherst St. The former home to the Rex movie theater and later Club Liquid will be transformed into a performing arts theatre that will run in cooperation with The Palace Theater and other arts institutions in the city.
Hitchcock and Cipriano are leasing the space at 1087 Elm St.
"It's been Jeremy and Liz's idea for a while. When the space became available, they thought it was the perfect time," said Cipriano, referring to Hitchcock's husband, Dyn Inc. co-founder Jeremy Hitchcock.
"We really want to be purposeful in what we're setting up with the bookstore as far as making sure we have great events planned, making sure we have a perfectly curated selection of items and making sure our café and food items are top notched," said Cipriano. "We just want to take our time and do it right because the community deserves that."
When asked about the fate of bookstores in the digital world, Cipriano noted the resurgence in independent bookstores in the last two years.
"I think people just have so much screen fatigue. They work all day on their computer and at the end of the day they want to pick up a paper book in their hands and connect in a different way than just reading on screen," said Cipriano. "I don't think that will be an issue of people not wanting to read a physical book. And we'll offer more than books, we'll be an event center, a place to connect with your colleagues."