Donnalee Lozeau, 2017 Outstanding Woman in Business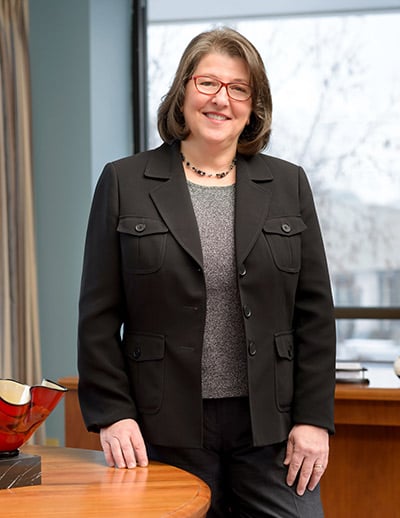 Growing up in a household with politically active parents, Donnalee Lozeau often participated in the behind-the-scenes tasks of campaigns for New Hampshire politicians like Lou Wyman, Jim Cleveland, David Nixon and Walter Peterson.
But at age 24, she realized that she did not like most politicians because they told people what they wanted to hear rather than what they needed to know.
Donna Sytek, who later became the House speaker, told Lozeau, "Real change happens from the inside out, not the outside in."
With that, Lozeau ran for a state House seat and won. She served in the House for 16 years, working with politicians on both sides of the aisle and rising to the role of deputy speaker.
In 2008, she became Nashua's first woman mayor. She served two terms, and in January 2015, she left office and returned to Southern New Hampshire Services – an anti-poverty organization where Lozeau had worked for 15 years as director of development and community programming. Today, she is the executive director, with a continued focus on how she and her team can better the community.
Q. What is an issue that has followed you through your career?
A. My whole life is the fundamental mission of community action. Southern NH Services is an organization based on community action with a nationwide initiative believing all people can achieve if they have exposure to opportunity. The sky is the limit.
That is how I look at my whole life, everything that happened to me: an opportunity was there. I believed if I reached for it, I could make it happen. I've never done it alone; I've always had my team or others that were pitching in alongside me. But it's all about opportunity. I want to ensure people we help at Southern New Hampshire Services have access to opportunities. If we can heat your house so that money can be used for something else, if we can help you get enrolled in school, if we can work with your family through Head Start, that says to people don't let your circumstances in life redefine you.
Q. Have you ever had a mentor?
A. When I think about it, there are people you learn from that you consider mentors, and certainly Donna Sytek is one of those mentors, but you often learn a lot of what not to do from people who are not your mentor. When you see some people, the approach they take, you can learn just as much from that. Those lessons are equally valuable.
Q. Did you realize the symbolism of becoming the first woman mayor of Nashua?
A. I guess – I never really thought about it that way. In New Hampshire, women have always had wonderful opportunities for elected office. When I was in the House, every committee had women. The first woman governor was sworn in during that time. New Hampshire has always been a place that didn't prevent you from succeeding. I didn't look at it that way as the first woman mayor, but when it hit home to me was having a group of Girl Scouts in for a visit to City Hall. There are portraits of every mayor on the wall and the excitement when the girls would realize I was the first woman mayor. It reminded me that it's important for them to see they can be anything they want to be.
Q. What is the biggest challenge you've faced?
A. Putting on my gender hat, it surprised me early in my career, but I think it's still true today, that often the greatest challenge is women who begrudge other women's success. It's hard enough.
To me, anybody who succeeds in a mission that we should all care about, we should help them. I think it plays into the same challenge of what I call petty politics, where people are wiling to not let something good happen to the community or greater good because they don't want you to be able to count it as a success.
That's the unfortunate part about politics – whether it's women begrudging another woman or elected officials trying to not get another one to succeed. Those are the biggest challenges to overcome.
Q. What advice do you have for women just starting their careers?
A. Take the time to get to know what it is you want to do. You don't always see in yourself what others see in you, so surround yourself with people you want honest information from, people that see skills in you that you don't see in yourself. Because when people believe in you, it changes how you believe in yourself. And you don't want to let down the people that believe in you, so you always work that much harder.
Here's what others have to say about this very deserving Outstanding Woman in Business recipient: