Division of Economic Development: The little agency that could
With scant resources, the Division of Economic Development's recruitment team makes an impact in N.H., and beyond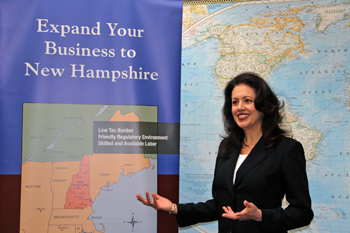 Early last year, there was a leak. The Albany Times Union was first to report it. The newspaper got hold of a letter penned by Cindy Harrington — one of two recruiters with New Hampshire's state economic development office — thanking Tech Valley Communications of Albany, N.Y., for "considering our state for your business expansion opportunities."
Tech Valley had come on Harrington's radar screen after it acquired segTEL Inc. in Lebanon, N.H., and was an appealing fit for a few reasons: It was in New York (a target market), telecommunications (a target industry), and it already had a New Hampshire connection.
Tech Valley decided not to bite, instead using the leak as an opportunity to gain good press in Albany by announcing its plan to expand and create another 60 jobs there. (A decision that was surely made easier by a $250,000 grant from New York state and $100,000 in county incentives.)
But New Hampshire's Division of Economic Development team wasn't fazed by the press. Instead, it went on an offensive blitz, mailing letters and invitations to companies throughout New York's capital city, inviting them to consider expanding or relocating to the Live Free or Die state.
"We took the opportunity and we acted upon it, and I think that's been a lot of the success: trying to determine where the opportunities arise and then working as a team to mobilize," said Chris Way, interim director of the New Hampshire Division of Economic Development.
If Albany officials were nervous about New Hampshire's aggressive recruiting, they had reason to be.
Not long prior, agency officials had successfully convinced Albany International Corp. to uproot its headquarters in Menands, N.Y., to Rochester, N.H. In partnership with French aerospace company Safran, Albany International has begun building a new manufacturing plant that officials say will employ 400 once it opens.
Albany was one of the 17 companies that the Division of Economic Development assisted in relocating or expanding to New Hampshire in 2011, and in 2012, it brought in even more — 24 businesses moved or expanded here with the division's help. In 2010, it brought in 15 companies, and in 2009, when the economy had really tanked, the department also recruited two-dozen companies to the state.
Not bad for a department with a small staff, a minuscule marketing budget, and without the big incentives that similar agencies in other states use to lure companies over their borders.
In fact, according to a recent New York Times investigation of state business incentives, New Hampshire spends about only about $30 per capita, or $39 million, annually on incentives for business — the fourth-lowest per-capita amount in the country. It is also by leaps the lowest in New England; Connecticut, second in the region, spends more than six times annually what New Hampshire does — $241 a person.
So if a business is shopping around for incentives, New Hampshire just can't compete — nor does it really want to, said Way. The state depends instead on its natural assets, especially its quality of life and unique tax structure that doesn't include sales or personal income tax.
"We don't offer large monetary incentives for anybody to come here," he said. "We don't frankly believe in that process, because should anything happen, it's the taxpayer that ends up on the line for the payment."
Since it's the larger companies that tend to play the incentives game, they're not the big target of the state's recruiting efforts. New Hampshire's recruiting "sweet spot," said Way, are companies that have between five and 50 employees.
"We take care of the smaller ones," added Harrington, "because eventually they'll grow."
Slim budget
Another tool missing from the state's recruitment toolkit is a big marketing budget. The Division of Economic Development gets $100,000 annually for marketing, but that money gets spread out between recruitment, business expansion, in-state retention, international trade and federal procurement.
Of that amount, "recruitment probably gets maybe $8,000 or so," said Michael Bergeron, the state's other business recruiter, who has held the post since 1997.
That slim budget means no allowances for attending trade shows, advertising in glossy magazines or jetting off to meet with faraway contacts.
But lacking things that other state recruitment teams might have — like big marketing reach and bigger incentives — has led the state's recruitment team to become by necessity scrappy and resourceful, using their limited resources to market the state in creative ways. One of their most effective tools — their website, which is packed with state-by-state comparisons and business relocation information — helps drive many referrals their way.
"There definitely is a high return on investment," said Bergeron. "You look at some states, they have a big staff, an overseas office, and they really spend quite a bit of money in terms of not much difference in results."
Often that creativity means teaming up with corporate sponsors to host dinners, presentations and even limousine tours to show off New Hampshire to out-of-state businesspeople.
In 2008, the state launched something called the "Open Invitation" initiative, a brazen attempt at urging Massachusetts businesspeople to consider moving their operations north.
Because the recruiters don't have funds to fly, they travel anywhere they can drive; that includes New York, Quebec, and all of New England, with a particular focus on Massachusetts.
New Hampshire's aggressive focus on recruiting from Massachusetts has not gone unnoticed there.
Bergeron's frequent trips south of the border earned him the nickname of New Hampshire's business "thief" in a 2011 feature article in The Boston Globe. In it, he was depicted sneaking over the border in an unmarked car that he'd scraped the state logo off of (not quite true — it was unmarked to begin with) and holding secretive meetings with Commonwealth execs.
Not bothered by the characterization, Bergeron has embraced the nickname.
"I'm the thief," he said with a laugh. "That was the greatest unpaid advertisement we've had in the past couple years. From that 'ad,' I received 10 leads, then (they) had a follow-up editorial, and I got another two leads from that."
Patience required
None of the leads materialized — not yet, at least — but that comes with the job, which serves up rejection much more frequently than it does success, he said.
A deal can nearly close three or four times, and then a recession hits or a board hesitates, and it falls through. Negotiations can be frantically hammered out in six months, or take years to slowly develop.
"It's being patient," said Bergeron. "Lots of things in life require patience."
Take, for example, P.A.T. Products, a small supplier that recently relocated its headquarters from Bangor, Maine, to Portsmouth. That was a company that Bergeron had worked with on and off for 10 years.
"I'm working now with a company looking at the Keene area that I started working with in the year 2000," he said.
Harrington, who has been a recruiter with the state for three years, has similar tales.
"I've had this one company from another country that three times now they've called to say, 'We're in a hurry, this is what we're looking to do,' and we go through the due diligence, then they decide we're going to wait another six months. So we just keep working," she said. "Patience and tenacity and a positive attitude is key."
After all, if they have 100 contacts, that may only lead to 10 people who express interest in the state. Of them, only five may be willing to meet and of the five, they may only get one that actually decides to move.
The recruiters are, in a way, professional hand-holders. It is their job to help corporate leaders through the entire relocation or expansion process — making sure they meet with the right people, taking them to visit potential locations, helping them with the permitting process; basically guiding them through "any aspect of doing business in New Hampshire," said Harrington.
At any given time, Bergeron estimated the department is in talks with anywhere between 200 and 250 companies. Certain industries are targeted, for their well-paying jobs and growth potential: financial services, advanced manufacturing, biotech, medical devices, and aerospace and defense.
"I don't think a lot of times people are very aware of the number of companies we're dealing with, the sensitivity of those negotiations, and sometimes how long those negotiations can take," said Way. "The fact is, sometimes a company will call us up and say, 'I'd like to meet with you, but I have to meet with you in a parking lot,' and thus the reason we have an unmarked car. We have to try to accommodate the client and what their needs are."
Except when there is a leak — as in the Tech Valley instance — recruiting activities are kept strictly confidential, as leaks can affect things like stock prices, financing deals and employee morale. That means that meetings with executives do sometimes happen in coffee shops, parking lots and other off-site spots.
Company recruiting by states does come under fire, seen by some as an act of poaching business from neighbors, resulting in jobs simply moving from one place to another without actually creating many. This argument is not lost on the recruiters.
Harrington said that's why she always opens her conversations by asking firms to consider expanding in New Hampshire versus asking them to relocate here.
"If they choose to relocate, that's their choice, but I'm not looking to see jobs go from one area to be created here — that's not a win for me. For me, a win would be seeing a company that's doing well further expand and create additional jobs. We win both ways, when companies oftentimes will close and come, but ultimately, ideally, it's when they expand."
Success for Bergeron is not necessarily measured in the size of a company he recruits to the state. While luring Enterasys back to New Hampshire — and 540 jobs along with it — in 2012 was a great success, getting even a small company to relocate to an economically challenged part of the state for him is "a really big deal."
Such was the case when he assisted Kheops International, a wholesaler of New Age items, in its move from Quebec to Colebrook in 2004. Because the company is active in the community, "they have made a big, big difference to individuals and families who love living up there."
But while recruiting makes for good press, and is important to economic development, it can be much more fruitful for the state to focus on growing its own than on bringing new business in, said Way.
"Recruiting activities are very sexy — it's enticing and has some good measurables — but I think far and away some of the best return comes from investing in retention-type activities," said Way. In other words, once the recruiters have done their job, "making sure they're happy and stay happy. It's the internal folks that have probably the best prospects for growing — they know the politics, they know the tax structure, they know the permitting structure, they have the employees. They've really got the home field advantage in terms of growth."