Digital economy drives businesses' demand for broadband
State survey illustrates challenges when it comes to high-speed access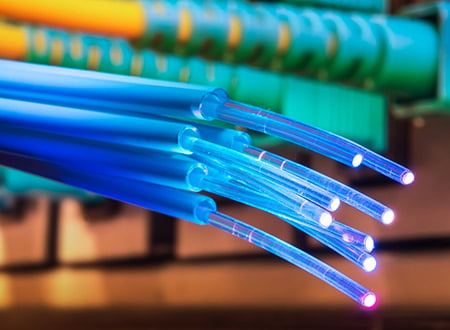 Demand for faster internet speeds is bound to increase as the internet's role in business operations evolves and employees increasingly perform work at home, indicated a new statewide survey.
Eighty-six percent of Granite State businesses surveyed said high-speed internet is very important to their business's current needs, and 61 percent anticipate high-speed internet will be much more important to their business in five to 10 years.
The survey of 579 businesses was conducted by the University of New Hampshire Survey Center for the Live Free and Start initiative, the NH Division of Economic Development and the NH Broadband Mapping and Planning Program at UNH.
"We are proud to have worked with industry and academic partners to launch the 2018 business broadband survey," said Liz Gray, who leads Live Free and Start through her position as director of entrepreneurship at the NH Business Finance Authority. "Our goal was simple and straightforward, to collect data to help us better understand the needs and challenges of businesses across the state when it comes to broadband. We're looking forward to continuing our collaboration and identifying opportunities to ensure New Hampshire businesses are able to access high-speed, cost effective and reliable broadband, and remain competitive in an increasingly global economy."
Two-thirds of the respondents employ between one and 10 workers, and one-third of them operate out of the home. Respondents were equally distributed across the state, though the most prominent industry representation was from the professional, technical and administrative services sectors (24 percent) and a grouping of the information, media, communications, finance, insurance and real estate industries (16 percent).
A fundamental tool
Some 77 percent of the businesses surveyed said they use the internet for five or more functions. Some 91 percent said they routinely use the internet to communicate with staff or customers, 74 percent access the internet for marketing and advertising, 73 percent conduct internet searches and browsing, 70 percent download large files and 60 percent stream video and audio.
Click on graph to enlarge
"We have a lot of clients that can access a much larger client base if they operate online," said Nancy Pearson, the Center for Women & Entrepreneurship's New Hampshire director, pointing to women working as national consultants or selling goods online who utilize search engine optimization. "Because so much of our state is rural, it levels the playing field so their small business, really microbusiness, can be in the arena with everybody else."
"We're seeing farmers are increasingly reliant on technology for their operations," said Britt Lundgren, director of organic and sustainable agriculture at Stonyfield.
Stonyfield has been working on an open-source software platform that will allow the yogurt company to share best practices with farmers for improving soil health, reducing carbon footprint and other matters that affect the farm's profitability and environmental impact.
The initiative follows the growth of apps to help farmers make day-to-day decisions, whether it's rotating crops or advising on animal nutrition, she said.
"Connectivity is becoming more and more important to our farmers, from the recordkeeping to how they purchase their seeds. They're still using their phones and their computers to manage large parts of their business, and many of them still struggle with inadequate internet connectivity," said Lundgren.
Underserved areas
One example is Stonewall Farm in Keene, one of Stonyfield's dairy producers.
"We do encounter problems," said Jennifer Doyle, events director at the farm. "The first issue is DSL is our only choice. We don't have another choice for high-speed access, and as a business that's an issue."
Doyle noted the farm's internet speed is limited by the type of plan it can afford.
"It's not the premium service, so where we sacrifice is upload speeds. We have very low upload speeds. We've been transitioning from our server to the cloud, but we can't upload files to the cloud in a meaningfully fast way," said Doyle.
A bulk of the farm's business functions depend on the internet, which also includes online booking for kids' educational programs and using email to coordinate wedding events.
"We host a lot of weddings. When people are here, they want to take pictures and upload them to their social media. To do that they have to access our Wi-Fi and there's just not enough juice for all of that to happen," said Doyle. "It's less of a problem on the weekends, but if we have an event that happens on a Friday, or really anytime during the week, and they require internet access, it slows us down in the office."
Nineteen percent of businesses in the survey said they access the internet through DSL — and 64 percent of them say their internet access is not sufficient.
"Copper-based technologies are usually distance sensitive," explained Rob Koester, vice president of product management at Consolidated Communications, which acquired FairPoint Communications in 2017. "We're deploying newer technology we've used for a while and will bring to the New England region. We have a baseline network capability of 25 megabits per subscriber — we're moving them to 80 to 100 megabits," he said.
Priority service
Another of the survey's findings was that 23 percent of businesses were not aware of the type of service they purchase. Of those that were informed, 55 percent purchase business-class service while 22 percent purchase residential service.
"The biggest difference in business class is you're paying for priority service for your traffic over residential traffic," said Brian Foucher, owner and founder of a WiValley, an internet service provider in Keene. "A residential customer doesn't typically notice this, but the business customer can see the difference and they're willing to pay for the difference."
With more people working from home — 52 percent of businesses said a quarter or more of their employees use the internet to work from home at least once a month — some individuals may find their internet service is insufficient for growing business needs.
"The amount of broadband doubles every year in household consumption," said Foucher.
Accessing Twitter or Snapchat "consumes lots and lots of bandwidth," he said. "Our customers tell us all the time, 'We're not watching Netflix. What do you mean we have to buy a faster speed to get more bandwidth?' and the reality is we can show them graphs and they can see stuff is happening all the time."
Much of the activity can be from devices that have their location enablers on, transmitting data to games or websites.
"Your standard webpage is so complex, with all of these hooks that are pulling data from your computer all the time," said Foucher.
"As use cases change, as more of the population works from home, we see business needs enter into the residential space," said Consolidated's Koester. But for the average subscriber, "the 20 megabits speeds are perfectly sufficient," he said.
Significant hurdles
Building out fiber to the premise is an option for businesses and residences seeking higher speeds, but the costs can be a deterrent, and the jump between options can be significant for growing businesses.
One-third of businesses surveyed pay $55 to $99 a month, another third pay $200 or more per month and slightly less than a third pay somewhere in-between. Just 28 percent of all businesses said they are willing to pay more for internet service, while 39 percent said they are not willing, and 32 percent are unsure.
Zac Luse, founder of Paragon Digital Marketing in Keene and an advisory council member of Live Free and Start, discovered business-class services offered by providers in the area were not adequate for web meetings of three to four people, but for a long time could not afford the enterprise option.
"I think we're now getting to a size where — I don't want to do it — but I can afford those really expensive fiber options," said Luse. "Talking to a rep, I think this fiber option is overkill for what I need, but there's nothing in-between. When we were half this size it was definitely a challenge where I wasn't quite sure how we would make that leap."
The Hannah Grimes Center, a business incubator and co-working space in Keene, installed fiber to the premise when it was founded.
"I think the strength of our presence downtown is also the fact we do have very reliable, fast internet. It's a huge asset for us," said the center's program director, Kate Hickey. "We have folks who've moved to the region, and they don't know if they're going to get internet at the home they just purchased. If you're operating as a consultant or working remotely, you have to have internet for video conferencing, webinars, whatever. Having fiber is a huge asset to our center, for economic development, but in the long run, we want to make sure the whole region has access to this."
"High-speed internet access should be [treated] like water and sewer and electricity — it's become that crucial to a business," said Luse. "If we don't have good broadband infrastructure, I don't know what that means for us for the future. Without the information highway, that leaves us at a severe disadvantage."