Details emerge in winning Brookstone bid; fate of Merrimack employees unclear
300 employees will remain, but most of them will be part-timers in airport stores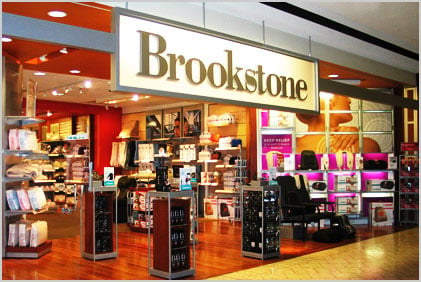 Bankrupt specialty retailer Brookstone agreed to sell most of its assets as a going concern for $72.7 million in cash and will lease its headquarters in Merrimack after selling the facility, though it will greatly reduce the number of employees there.
Under an agreement detailed Tuesday, the new owners, Blue Star Alliance LLC and Apex Digital Inc., will offer jobs to some 300 Brookstone employees, mostly part-time workers staffing some 34 airport stores and those who support them.
The deal must be approved by a bankruptcy court judge in Delaware after a hearing that will be held Thursday
The company's Merrimack headquarters were sold separately for $6.1 million to Manchester-based Brady Sullivan Properties, a deal approved by the bankruptcy court on Monday. Brookstone's buyers will lease the headquarters temporarily until they can find "a smaller, more appropriate space is identified," the company said in a statement released Tuesday.
The deal will not include 102 mall stores (including a store in the Pheasant Lane Mall in Nashua and an outlet store in Settlers Green in Conway), which Brookstone closed down last week and proposed to abandon.
The deal also does include Brookstone's trademarks in China, used at some 550 stores in that country, mainly owned by Sanpower Group Co. Ltd. Sanpower, headquartered in Nanjing, is Brookstone's parent company, its largest supplier and its largest creditor.
The Blue Star/Apex bid calls for Sanpower to relinquish its contested claims on secured and unsecured debt, which range between $85 million and $126 million, according to Brookstone. It's unclear whether Sanpower will agree to that.
Remaining jobs
Brookstone, founded in 1965 and known for its high-end gadgets, filed for bankruptcy on Aug. 2 for the second time. (A Sanpower-led group picked it up in a bankruptcy auction in 2014 for $174 million). Brookstone had been losing money for years — $60 million in 2017 alone –primarily due to slow mall traffic. It only survived thanks to Sanpower's loan.
In addition to Sanpower, the company also owed more than $80 million in other debt. The new owners will not be saddled with any of it.
Of the 300 workers offered jobs, 262 – 214 of them part-timers – will work at the airport stores, none of which is located in New Hampshire, according to the Blue Star/Apex bid. Another 26 will support them in the field and at the Merrimack headquarters, would also be kept on. Some 17 of the 54 employees in the distribution center in Mexico, Mo., would likewise hang on to their jobs.
The same cannot be said for all 24 workers involved in the customer care center, the 13 workers in the e-commerce division and nine out of the 10 workers at the wholesale business. As for the remaining 40 field and corporation employees, the new owners said they will "interview and consider" them.
It's not clear whether they will be considered for permanent position or for "short-term ordinary course transition services (up to 90 days)," in the words of the bid details.
Blue Star, which is founded in 2006, owns, manages and markets a portfolio of brands with retail sales of $2.5 billion, including Limited Too, Tahari, Bebe and Kensie. It said it would issue a press release about its plans for Brookstone in the near future.
Apex, a California consumer electronics firm, has a bit of a rocky history. Its founder and current chairman, David Ji, was once featured as among the most influential global entrepreneurs by Time magazine, but in 2005, Ji was arrested in China on fraud charges. Supporters said he was simply caught up in a commercial power struggle, and he was later released.
In 2010, Apex filed for Chapter 11 bankruptcy, a case that finally closed in January 2018. NH Business Review was unsuccessful in trying to reach the company on Tuesday, though it did leave messages with Apex's attorney and several executives featured on LinkedIn. Some of its websites were under construction and older phone numbers were disconnected.
Blue Star/Apex only had one competitor in the auction, ThreeSixty Group and Hudson Group, whose bid would have kept more employees but was deemed of lesser value. ThreeSixty, a California branding company, is best known for its acquisition of FAO Schwarz, the famous New York City toy store. Hudson Group owns the Hudson News stores located in numerous malls and airports.