Dena Lee DeLucca, 2016 Outstanding Woman in Business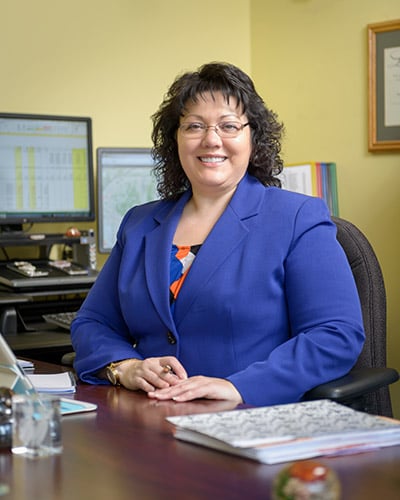 'Be yourself. There are a lot of people in life who will have opinions on who or what you should be, but you should be true to yourself. And trust your instincts.'
Dena DeLucca has risen in the ranks at NH Electric Cooperative because of her ability and willingness to take on new challenges.
After a 13-year career in state government, DeLucca was initially hired for the PR and government relations role at the co-op. But her work got the attention of the former CEO, who asked her if she would take the CFO position.
She did, and DeLucca built up the cooperative's financial strength from post-bankruptcy negative equity to a healthy figure with an A+ credit rating and $130 million in revenue.
In 2012, DeLucca managed the $35 million Smart Grid Project, which consisted of upgrading the communications systems infrastructure as well as installing 83,000 "smart" meters to remotely transmit readings. DeLucca's vigilance in managing the project resulted in completing it under budget, allowing funds for a land-mobile radio system.
DeLucca's energy and self-motivation has led her to oversee a wide variety of areas for the cooperative, including information technology, information security compliance, metering, risk management and more.
Speaking at industry conferences at the local, regional and national level, DeLucca is a recognized leader in the national electric cooperative industry.
Q. What challenges did you face installing the Smart Grid Project?
A. That was probably one of the biggest projects the company had ever done, not just in dollars but because it was changing out the metering system. There was a team leader for each functional area that was impacted on the master team. And it was intense; it was an amazing project. I can't speak enough to the power of the team; it was really a great process.
Q. What value do you find from participating in community organizations?
A. I like to make a difference. I think I was still in college when I started volunteering for Make-A-Wish, and I caught the bug. I enjoyed that I could be a part of that and help children and their families look forward to a wish, something they really wanted. And the only limitations were their minds in creating a wish.
I started out in the early 1990s and, after a few years, they asked me to be a part of the board. And since I really, really loved the organization and what they stood for, and how they did it, I was committed, so I joined the board and became chairman of the board. And to this day I am with that organization. I love it.
There have been other boards along the way, either I knew somebody or they asked me to get involved. I'll really get involved if I have the time to commit. I don't just want my name on a roster; I want to have an impact.
Q. Did you have a professional mentor and have you served as a mentor?
A. I've had a lot of mentors and probably never technically called them a mentor. But there are a lot of people along the way. I may have walked through doors, but they opened them. There are a lot of people I'm still learning from. I could probably name a half dozen. It's helped me be who I am today.
Officially, yes, I like to help people. If people seek me out for my opinion, I'm happy to share it. A lot of times I play devil's advocate, where I try to add perspective. It's more I want to find what they want to do and what they want to achieve.
Q. What advice would you give to young women just starting their careers?
A. Two things. Be yourself, there are a lot of people in life who will have opinions on who or what you should be, but you should be true to yourself. And trust your instincts. I think we have lot of instinct, and we sometimes ignore it, sometimes because of what society says. Trust them.
Q. How do you balance your personal and professional lives?
A. I probably don't do that really well. Balance – it's like beauty is in the eye of the beholder. Balance is what they're willing to do and how they balance it. I'm all in no matter what I'm doing. Whether it's my job, my commitment to the community – I'm all in.
When I say "yes" to things, it means I can't be at an important meeting because I have a family, and I'm fortunate to be with a company that understands that. It's very family-oriented. I call it my co-op family because we're that close, but then again, I'm OK at 9 at night finishing some emails. I still need to get what I need to get done.